Axxess CARE initiates an automated background check when a user signs up on the app and each year on the user's signup anniversary. Background checks are managed by our third-party partner, Checkr.
When there is a delay in processing a user's background check, Axxess CARE now sends an automated text message to the user's phone, and Checkr contacts the user through email to provide further instructions. Users can also contact Checkr's support team using the phone number provided in the text message.
Users will only receive one text message per account regarding delayed background checks on Axxess CARE.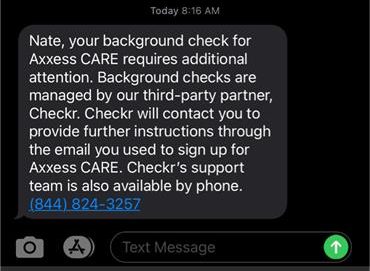 Updated on 9/24/2020