Axxess CARE streamlines scheduling by enabling organizations to post internal visits that only staff at their organization can view and apply for. Once an internal visit is posted, organizations can make the visit external for all clinicians in the area to view and apply.
When posting a visit to Axxess CARE, check the box in the confirmation window and click Confirm Posting to post the visit internally.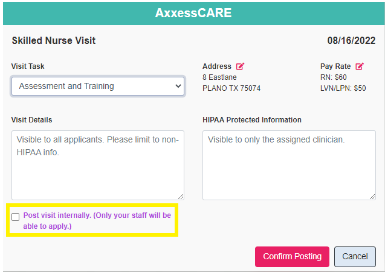 Organizations can easily distinguish between internal and external visits by looking at the color-coded heart next to the visit. Internal visits are labeled with a purple heart. External visits are labeled with a teal heart.

When viewing posted visits in the Axxess CARE web portal, internal visits appear with a purple heart.

Organizations can filter visits by visit status using the Posted/Pending Acceptance toggle.
If the visit is posted internally, a banner appears next to the patient name on the Visit Details screen. To post an internal visit externally, click Post Externally on this screen.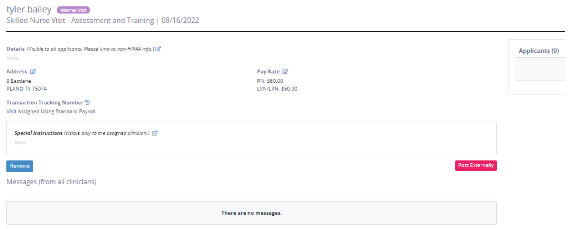 Once a visit is assigned to a clinician, organizations can choose payment options. Organizations can use their standard payroll for internal visits along with a credit card.