The updated Earnings page in AxxessCARE enables clinicians to download payment history, calculate anticipated payments, and reconcile AxxessCARE earnings with bank receipts.
To Access the Earnings Page:
Navigate to the three-line menu in the top left corner of the app and select Earnings.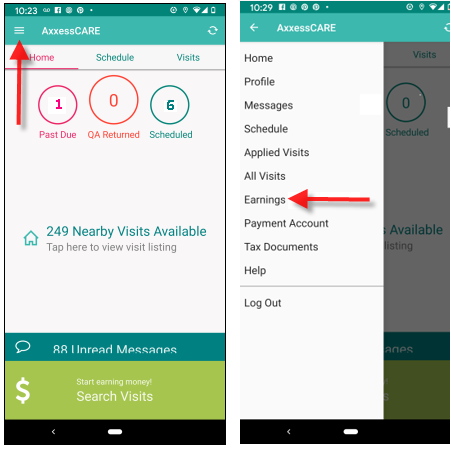 The total earnings and number of visits completed for the previous month appear at the top of the screen.
All transactions made through AxxessCARE are categorized as Received, Pending Release or Anticipated under All Transactions. Select a section to view payment details.
Received shows payments that have been released and sent to the user's bank account.
Pending Release shows payments that are being processed for completed visits that have been approved in the QA Center.
Anticipated shows payments for scheduled and assigned visits that are awaiting completion or pending QA approval.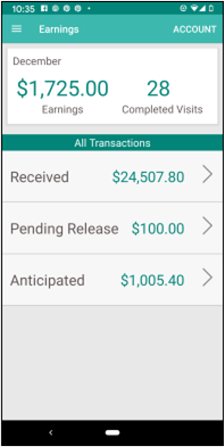 Select the icon in the top right corner of the screen to download and/or print payment details. Use the buttons across the top of the screen to filter payment information by month, year or a selected date range. Use the Sort By button to sort payment details by date, agency name or patient name.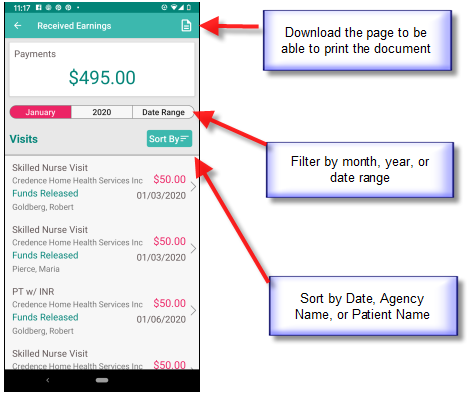 Updated on 1/13/2020