Axxess CARE now temporarily restricts accounts for clinicians with visit documentation that is seven or more days past due.
By reducing challenges associated with late visit documentation, this functionality facilitates compliance, streamlines processes and optimizes revenue for organizations and clinicians using Axxess CARE.
When a clinician has visit documentation on Axxess CARE that is seven days or more past due, the clinician's Axxess CARE account will be restricted and the clinician will be notified by email, push notification and an alert on the home screen in Axxess CARE.
Once a clinician's Axxess CARE account is restricted for late visit documentation, the clinician cannot apply for new visits on Axxess CARE until all past due documentation is resolved.
Resolve Past Due Visit Documentation
---
To resolve past due visit documentation, log in to the Axxess CARE app and click the Past Due bubble on the home screen.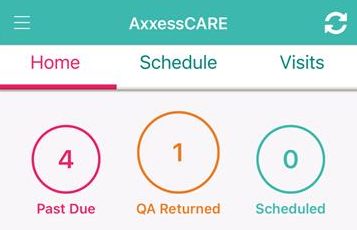 To complete past due documentation, click the Documentation button and complete the documentation. Click Complete, enter your electronic signature and click Submit.
Once all past due visit documentation has been submitted, the account will be restored and the clinician can continue applying for visits on Axxess CARE.
Updated on 12/21/2020