When completing a visit note on Axxess CARE, users can now load previous documents to save time and streamline documentation processes.
This functionality enables users to easily compare a previous assessment to the current assessment and quickly identify significant changes in the patient's condition.
Portions of the assessment that must be documented on each visit will not populate, so users will still be required to document things like vital signs, last bowel movement, last physician visit and care coordination in the current assessment.
To load previous notes into current notes on Axxess CARE, users must have permission to view previous notes in Axxess Home Health.
Load Previous Notes When Completing a Visit Note
---
When completing a visit note, users can load previous documents by selecting Load Previous Note at the top of the current note and selecting a previous note from the drop-down menu. The last five completed visit notes of the same type will populate in the drop-down menu.
Once a previous visit note is selected, the current note's fields will populate with data from the selected visit note. All fields will remain editable for the clinician to adjust as needed.
The following information must be documented on each visit and will not load in the current note: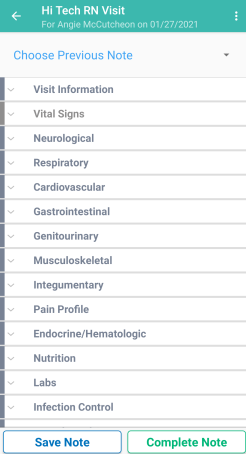 Updated on 02/03/2021