Axxess CARE now automatically alerts users when a payment method has expired or been declined. This enhancement streamlines operations and saves time by minimizing steps in the visit assignment process.
To receive payment method alerts, users must have permission to manage payments in Axxess CARE.
Manage Axxess CARE Payment Permission
---
To give a user permission to manage Axxess CARE payments, edit the user's profile in Axxess Home Health and navigate to the Permissions tab. In the Administration section, select Manage Axxess CARE Payment. Click Save to finish granting the permission to the user.
Admin tab ➜ Lists ➜ Users ➜

➜ Permissions tab ➜ Administration section ➜ Manage Axxess CARE Payment ➜ Save
Payment Method Expiration Alerts
---
When a visit is assigned to a clinician and the payment method on file is expired or declined, users will receive the following alerts.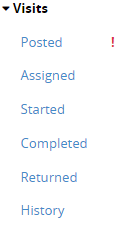 If the visit is expanded to view all details, a message will appear at the top of the screen, requesting a new payment method be added.
Update Payment Methods
---
To add a new payment method:
Navigate to the Admin section on the left side of the screen and select the Payment Methods tab.

Tap Add Credit Card.

Enter the information for the new method of payment and click Add Card.

Return to the Posted Visits page and find the visit in question.

Post the visit again using the new method of payment.
Updated on 02/16/2023