Axxess CARE now provides a Visit Filled label to alert clinicians when a visit they applied for has been filled. This feature streamlines operations and facilitates seamless communication between clinicians and organizations on Axxess CARE.
Clinicians can navigate to the Applied Visits screen under the three-line menu to view all visits they have applied for on Axxess CARE.

➜ Applied Visits
Visits that have been filled now appear with a grey Visit Filled label to alert the clinician that the visit has been filled.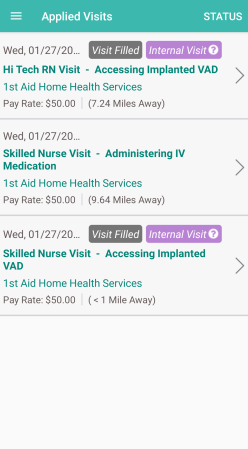 When the clinician clicks on the visit, the system provides an alert indicating that the visit has already been filled.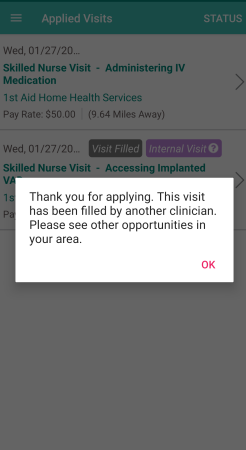 Once the scheduled visit date has passed, the visit will delete automatically.
If the visit is declined or returned by the assigned clinician, the Visit Filled indicator will disappear until the organization reassigns the visit to another clinician.
Updated on 02/03/2021