The Axxess CARE dashboard has been updated so users have real-time, immediate access to incoming messages, easy access to add and update payment methods on the Payment Methods screen, continuous access to Terms of Services from the Documents screen and more.
Message Center
---
Axxess CARE messages now update in real time so users can see messages as soon as they come in, without having to refresh the screen.
To view your messages on the Axxess CARE mobile app, navigate to the three-line menu in the top left corner and select Messages from the drop-down menu. Messages are also visible from the Visit Details screen. On the Axxess CARE web app, messages appear on the right side of the Dashboard and toward the bottom of the Visit Details screen.
Mobile/Web
Ways to Access Your Messages
Axxess CARE Mobile App
Three-line menu in top left corner ➜ Messages
Select a visit on the Schedule screen ➜ Click Message on the Visit Details screen
Axxess CARE Web App
Dashboard ➜ Messages section
Dashboard ➜ Visits section ➜ View Visit button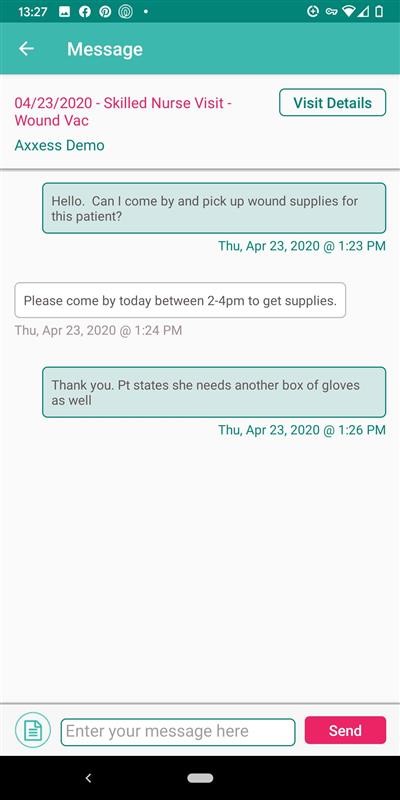 Add/Remove Payment Methods
---
Users can now add and remove payment methods on the Payment Methods screen in Axxess CARE.
To access your payment methods, navigate to the Admin tab using the left-side menu and select Payment Methods.
On the Payment Methods screen, select the trash can icon to delete a payment method. To add a new payment method, click Add New Card in the top right corner of the screen on mobile, or Add Credit Card in the top right corner of the screen on web. Enter the card information and select Add Card to save the credit card or Cancel to discard the information.

Documents Page
---
The new Documents page is available under the Admin tab on the left-side menu of the Axxess CARE dashboard. This page displays the initial and current Terms of Service documents for agencies' continuous reference.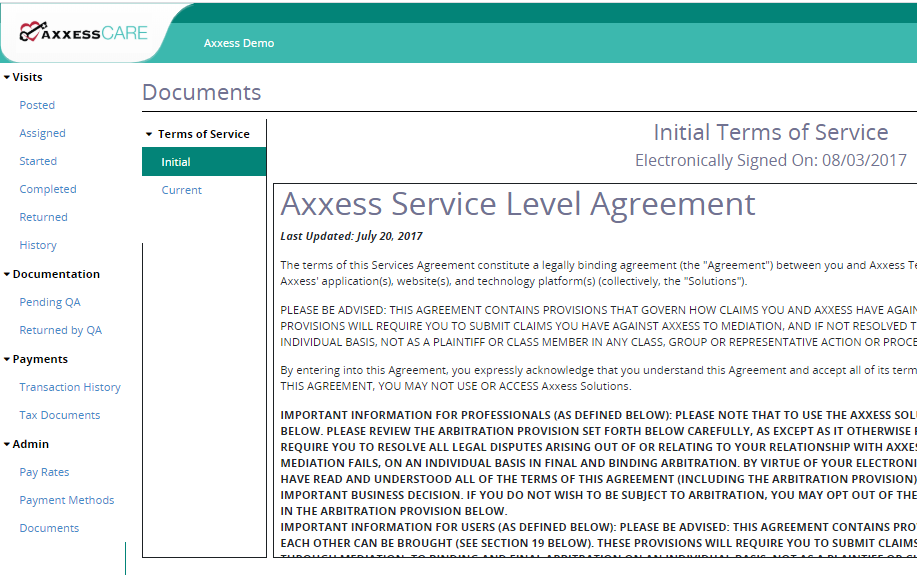 Switch Agencies/Platforms
---
Users can now easily switch between agencies or Axxess platforms by hovering over the name tab in the top right corner of Axxess CARE.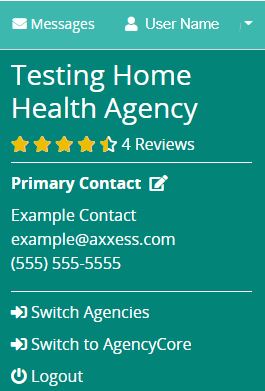 Visit Applicants Page Number
---
When a visit has six or more applicants, agencies now see a page number in the bottom right corner of the View Visit page to easily identify the current page and navigate to the next or previous page of applicants.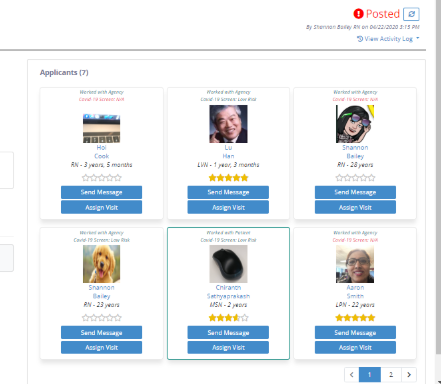 Updated on 4/23/2020