The Preferences tab in Axxess CARE now enables administrators to enable and disable visit status alert messages. When these alerts are enabled, administrative users will receive a message each time the status of a posted visit changes.
Visit status alerts will be sent to administrators through the Axxess Home Health Message Center and on the Axxess CARE dashboard.
Enable/Disable Visit Status Alert Messages
---
To enable or disable visit status alert messages in Axxess CARE, navigate to the Preferences tab under Admin on the left side of the dashboard. Select Enable or Disable under Posting Visit Status Alert Message.
Dashboard ➜ Admin tab ➜ Preferences tab ➜ Posting Visit Status Alert Message ➜ Enable/Disable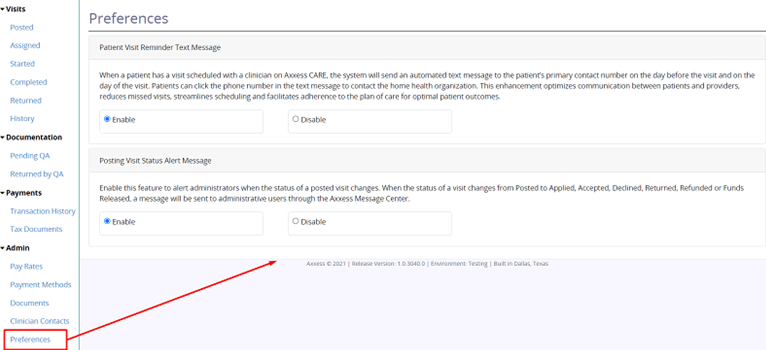 When enabled, administrators will be alerted to the following status changes for posted visits:
| | |
| --- | --- |
| Applied | |
| Accepeted | |
| Declined | |
| Returned | |
| Refunded | |
| Funds Released | |
Updated on 07/22/2021