Axxess CARE now provides automated text messages to alert users when their bank account information must be manually verified. This functionality streamlines the signup process so clinicians can start fulfilling visits and getting paid through Axxess CARE.
When a clinician's bank information cannot be verified, a text message is sent to the clinician's phone. The text instructs the clinician to log in to Axxess CARE and provide a government-issued photo ID to verify his or her identity. Only one text will be sent per bank account.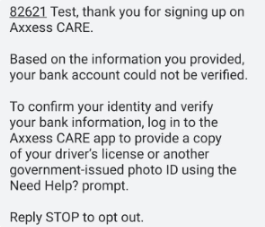 Providing a government-issued photo ID enables Axxess to verify the clinician's identity to manually verify banking information on the Axxess CARE account. Once bank information is verified, the clinician can start applying for visits and earning money on Axxess CARE.
To provide a photo ID and manually verify your bank information:
Log in to the Axxess CARE app on your mobile device.
Navigate to the three-line menu in the top left corner of the app and select Help from the drop-down menu.
Click Email Us under Need Help? to generate an email with the required information for Axxess to review.
Attach a copy of your government-issued photo ID and click send.

➜ Help ➜ Need Help? ➜ Email Us ➜ Attach ID ➜ Send
Updated on 8/13/2020