The Axxess CARE Posted Visits Summary in Axxess Home Health now provides applicant counts for all visits posted to Axxess CARE.
By enabling users to easily view the number of applicants for each unassigned Axxess CARE visit, this enhancement streamlines scheduling and visit assignment so organizations can maintain appropriate visit coverage to meet patients' needs.
To view the Posted Visits Summary, log in to Axxess Home Health and select Posted Visits Summary under the Axxess CARE tab.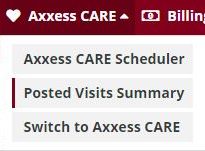 On the Posted Visits Summary screen, the Assigned To column displays the total number of applicants for each unassigned visit.
Axxess CARE tab ➜ Posted Visits Summary ➜ Assigned To column

Updated on 9/29/2020