Axxess is committed to helping home healthcare clinicians provide quality patient care. To better serve your needs, Axxess CARE includes a simple scheduling feature to help plan your schedule and efficiently manage your day.
Using this feature, you can pick up visits for your own organization in addition to visits posted externally by other organizations in your area. To see how this easy-to-use feature works, click here.
This feature enables you to create and control your own schedule:
Browse upcoming visits posted by your primary organization and accept those which coincide with your availability and location. Keep in mind, visits posted internally by your organization are available only to your organization's staff.
Track and manage all your scheduled visits conveniently from within the Axxess CARE app.
The Axxess CARE app is seamlessly integrated with the Axxess Home Health platform, making it familiar and easy to use.
To get started, download the Axxess CARE mobile app from the App Store or Google Play Store and complete the sign-up process.
Watch this short video to see how easy it is to use Axxess CARE.
Getting Started
---
Click here to download the Axxess CARE app from the App Store or Google Play Store. You can sign up for Axxess CARE using your Axxess Home Health email and password.

To set up your profile, click on the menu icon on the top left of your screen and select Profile.
Under the Profile Editing section, tap Basic Information and input the requested information. Keep in mind, this information must be complete as it will be used to run your background check. Complete your profile step by step, selecting Next as you complete each section.
Please note, your credentials are an important part of your digital HR file. Please ensure that your license information is complete as it will be used as part of the license verification process. Photos of your certifications should also be added to keep on file as verification.
The skills assessment is used to match you with visits that best meet your preferences and experience. As you develop new skills, you may update this self-assessment at any time.
Verification of your vaccinations will be kept in your digital HR file.
Upload a photo that can be used for your profile as well as your digital ID badge.
Your organization has the option to pay you via direct deposit. Input your direct deposit information in the Payment section.
Apply for Visits
---
To apply for visits, log in to the Axxess CARE app. Tap Visits in the banner at the top of the screen.
To view visits posted by your organization, tap the Filters button on the bottom-right corner of your screen and ensure that the Internal button under Visit Type is switched on. Then tap Apply Filters.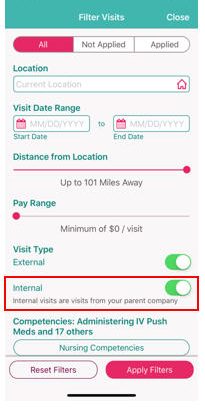 Visits posted by your organization will be marked with a purple banner labeled Internal Visit.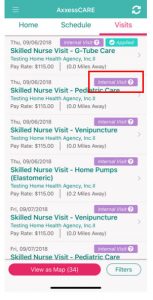 To apply for a visit, tap to open the visit and select Apply.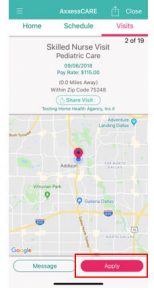 Once you have applied for a visit, your organization will assign you to the visit. Once this happens, you will see a purple banner notification appear. Tap the corresponding button to Accept or Decline the visit within the allotted time. The time allotted for your response will depend on the time remaining before the scheduled visit.
Tap Schedule on the top menu to view your scheduled visits. Visits for your primary organization will be marked with the purple Internal Visit banner.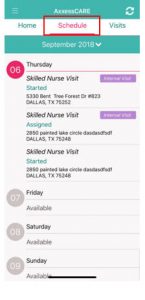 To start the visit, select the pink Start Visit button. Starting the visit will initiate the electronic visit verification process. Once you have completed the visit, you may obtain the patient's signature and submit the visit note by selecting Complete.
Please note, selecting Complete will submit your visit note. Further changes cannot be made unless the note is returned by the organization. If you are not ready to submit your documentation, select Save instead.