Before you dive into using Axxess CARE, there are a few steps you need to complete, including registering for Axxess CARE, setting up your Axxess CARE account and posting your visit.
Registering for Axxess CARE
---
Log in to Axxess Home Health. If you are an administrator, you will see a Get Started pop-up window on your dashboard. Click Get Started. By initiating this action, you are agreeing to terms of service for Axxess CARE.
After the above action, refresh your browser and you will see the Axxess CARE tab on your Axxess Home Health dashboard between Schedule and Billing.
Setting up Axxess CARE Account
---
To switch from Axxess Home Health to Axxess CARE, log in to Axxess Home Health. Hover your mouse over the Axxess CARE icon between Schedule and Billing. A drop-down menu with three Axxess CARE options will appear. Select Switch to Axxess CARE from the drop-down menu.
Setting Up Pay Rates
---
You will receive a congratulatory message.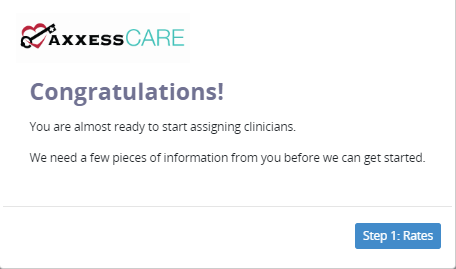 Once you have switched to Axxess CARE, select Step 1: Rates and set the pay rates.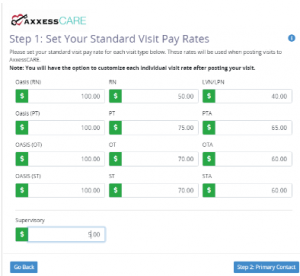 Once the pay rates have been entered, proceed to Step 2: Contact Person. Pay rates can be changed at any time.
Setting Authorized Axxess CARE User
---
The authorized user should be the most readily available point of contact for clinicians.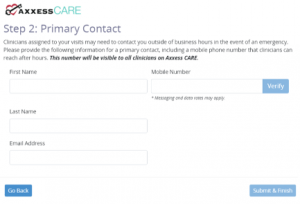 Once registered, follow the steps in the next section.
Setting your Payment Method
---
To set your payment, navigate to the Admin menu and select Payment Methods. Once selected, click Add Credit Card, enter your payment information and select Add Card.