Professional licenses are required and automatically verified each month on Axxess CARE. When a clinician's professional license cannot be verified, Axxess CARE now alerts the clinician through text message.
The text instructs the clinician to resolve the license verification issue by reviewing the Credentials page in Axxess CARE and updating the information as needed. The text also provides instructions for updating the clinician's name in Axxess CARE if necessary.
This functionality helps clinicians maintain up-to-date license records to stay compliant and fulfill visits seamlessly.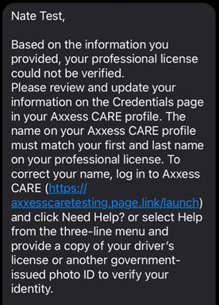 Updated on 10/01/2020