Axxess Palliative Care now enables users to document hospitalizations on the Health History tab in each patient's chart. By enabling users to document patients' past and present hospitalizations, this enhancement streamlines operations, facilitates thorough documentation and improves the patient experience.
Document a Hospitalization
---
To document a hospitalization for a patient, navigate to the patient's chart and select Edit Profile. On the Health History tab, navigate to the Clinical History section and select the checkbox next to Patient Has Recently Been Hospitalized.
Patients tab ➜ Patient Charts ➜ Edit Profile ➜ Health History tab ➜ Clinical History ➜ Patient Has Recently Been Hospitalized

Select Add Hospitalization to add a hospitalization.

In the Add Hospitalization window, enter the admission and discharge dates.
To add a diagnosis, click Add Diagnosis. Enter the ICD-10 code, description and start date, and click Add to finish adding the diagnosis. If the diagnosis is unknown, click the checkbox next to Unknown.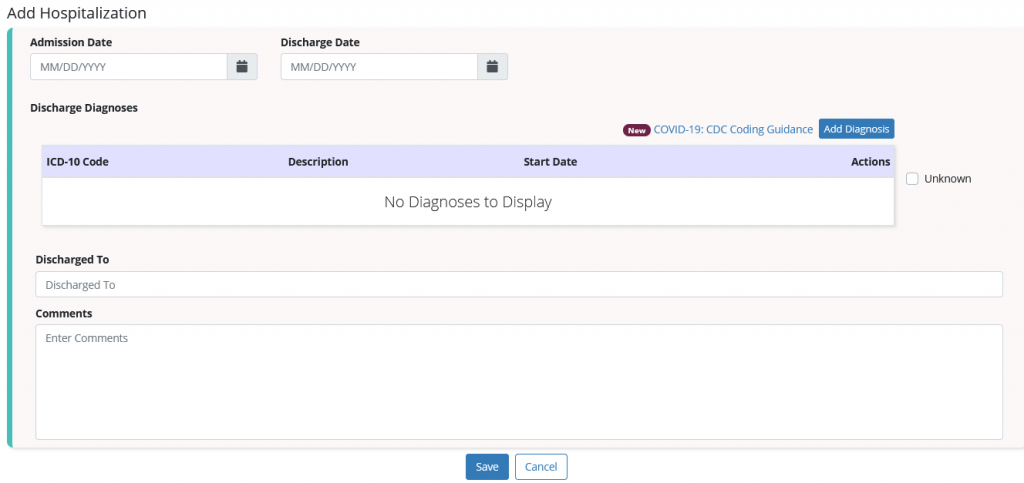 Once all the necessary information has been entered, click Save at the bottom of the screen to finish adding the hospitalization to the patient's chart.
To edit or delete a hospitalization, click the respective button under Actions.

Updated on 03/22/2023