The schedule reports in Axxess Palliative Care provide real-time visibility into scheduling operations, so organizations can ensure that care delivery accommodates patient needs and adheres to frequency orders. These reports facilitate seamless visit scheduling for continued compliance and optimal care.
Schedule Report Permissions
---
Users must have schedule report permissions to view and export schedule reports.
To give a user permission to view schedule reports, navigate to the Permissions tab in the user's profile. Select View next to Schedule Reports in the Reports section. To enable the user to export schedule reports, select Export next to Schedule Reports. Click Save to complete the process.
People tab ➜ People Center ➜ Edit ➜ Permissions tab ➜ Reports section ➜ Schedule Reports ➜ View/Export ➜ Save

Access Schedule Reports
---
To access the schedule reports, navigate to the Report Center under the Reports tab. The Schedule Reports section appears on the right side of the Report Center.
Reports tab ➜ Report Center ➜  Schedule Reports
The following reports are available in the Schedule Reports section:
Visit Alerts
Scheduled Tasks
Missed Visits by User
Visit History by Date Range
Select Learn More next to any report to view a description, the report parameters and the information included in the report.
Select the title of a report to open the report page in a new browser tab. In the top right corner of each report page, users can select the Report Center button to return to the Report Center.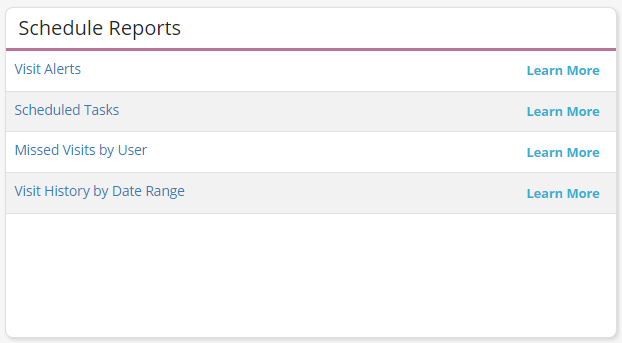 Access Schedule Dashboard
---
To access the schedule dashboard, navigate to the Schedule Dashboard under the Reports tab.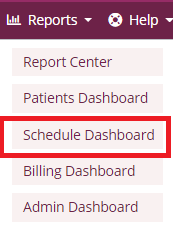 The schedule dashboard is an one page overview of the organization providers scheduled tasks and important visit alerts.

Scheduled Tasks
---
To see only select branch schedules select the branches filter in the upper left hand corner and select the branches you want to see on the dashboard.
To see past or future dates use the forward or back arrows located under Scheduled Tasks.

To see only certain discipline schedules or orders, select the discipline tile that is associated with the discipline you would like to see. Selecting the discipline will auto adjust your view to see only those schedules or orders.
Visit Alerts
---
Visit alerts are a count of visits within the past 91 days. For detailed reports, you can click each tile to generate a detailed report.