The My Dashboard screen displays a personalized landing page based on permissions granted to the user.
A banner across the top of the page displays the date and time. On the right side of the banner, the palliative care organization's name, city and zip code are displayed. Under the banner, six tiles display important information. Moving from left to right, the Home tiles include:
Welcome Panel
Today's Tasks
Unread Messages
News & Updates
Census by Status
Claims Ready for Billing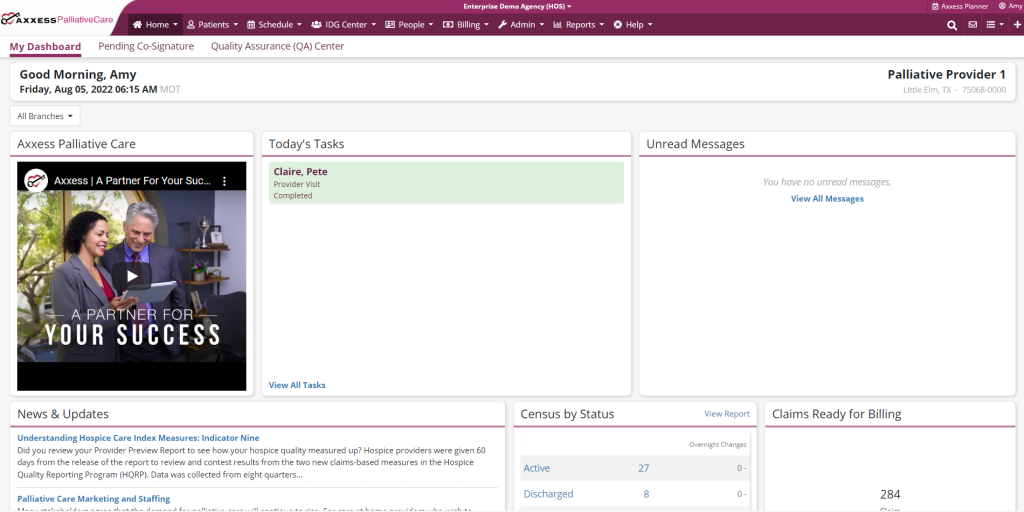 Welcome Panel
---
The welcome panel in the top left corner of the screen features current noteworthy video content. Axxess updates this panel with current announcements, relevant training videos, software updates or other important information that users should review upon logging in.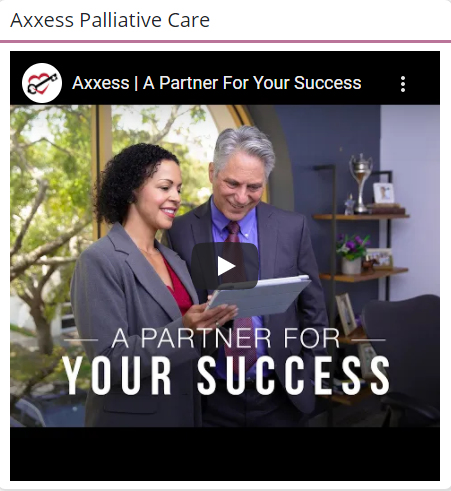 Today's Tasks
---
A daily to-do list is provided in the Today's Tasks tile. Users can quickly access a patient's chart and/or task for the first five patients on their to-do list by clicking on the task hyperlink on this tile. In the bottom left corner of the tile, clicking View All Tasks will direct the user to his/her complete schedule.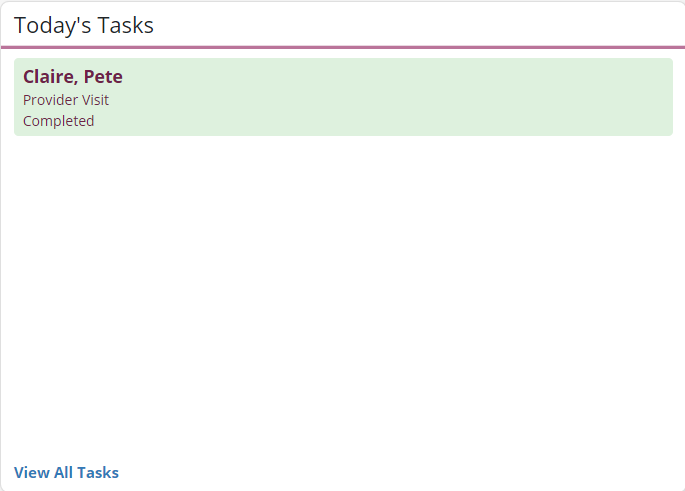 Unread Messages
---
Any unread messages in the user's Message Center are displayed here. Selecting the hyperlink to View All Messages directs the user to the Message Center.
The Message Center is a HIPAA-compliant feature that allows all users at a hospice organization to communicate securely. Messages stay fully contained in the Axxess system and protected behind each user's unique login/password, so messages regarding a patient's condition or care, employee schedules and license expiration, and organization-wide memos can be sent without fear that information may be compromised.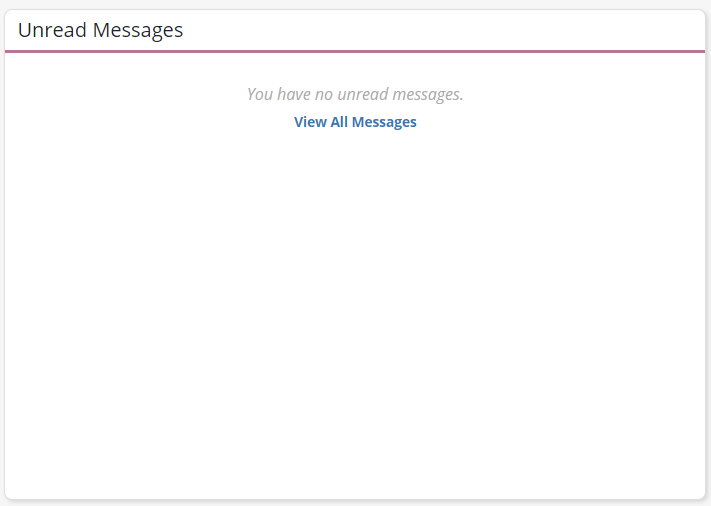 News & Updates
---
The News & Updates tile features links to Axxess blog posts, educational articles, regulatory updates and other important information and resources to help palliative care organizations succeed. Clicking View All News and Updates in the bottom left corner of the tile will direct the user to the Axxess blog page.

Census by Status
---
The Census by Status tile displays the number of patients that are in active, discharged, pending and deceased status, and the number of referrals and admissions. Admissions show all patients who changed status from Pending to Active over a set time period. Each status is a hyperlink that users can click to view a list of patients in that status.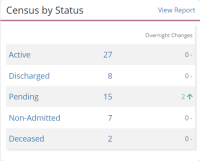 Claims Ready for Billing
---
The Claims Ready for Billing tile displays the number of open claims.