The Admin tab in Axxess RCM provides the following subsections: Users, Payers, and Providers.

Users
---
The Users tab houses all users with access to the Axxess RCM platform. Search for users by name or email. Delete users by selecting the Remove button. Select the <, > or number buttons to move through the entire list of users. Select Cancel Invite to remove the pending new user.
Select Invite User to add an additional user. Enter the email that the employee uses to log in to Axxess Home Health. The Set Permissions section enables users to set system functions/limitations for the new user. Select View Only to select all View boxes. Select Reports Only to select all Reports boxes. Select Full Access to select all boxes. Click Invite User to invite the user to access the RCM platform. The user will receive an email with setup instructions.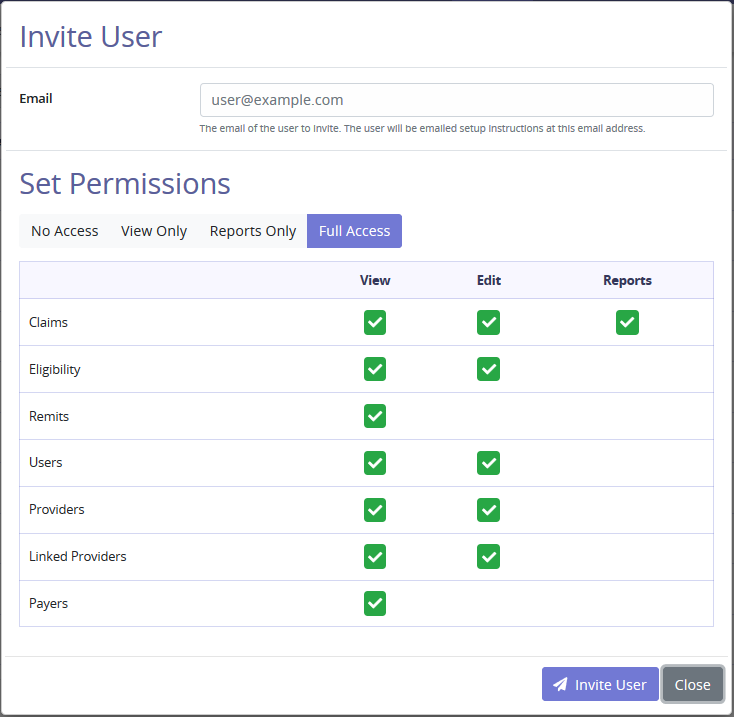 Note: Removing a service user removes the ability to communicate between applications.
Payers
---
The Payers tab lists all insurances inside the agency's Axxess Home Health database. Search for payers by Name or ID. Select <, > or number buttons to move through the entire list of payers.
Providers
---
Linked Providers:
This section lists the branches/provider numbers linked to the agency. Search for providers by name. Select the <, > or number buttons to move between pages. Each page contains up to 10 providers.

This section will link different providers with Axxess RCM.
Provider – The name of the billing provider to link. This should match the NPI registry.
Agency NPI – The 10-digit registered NPI for the above billing provider.
Tax ID – The 9-digit registered tax ID for the above billing provider.