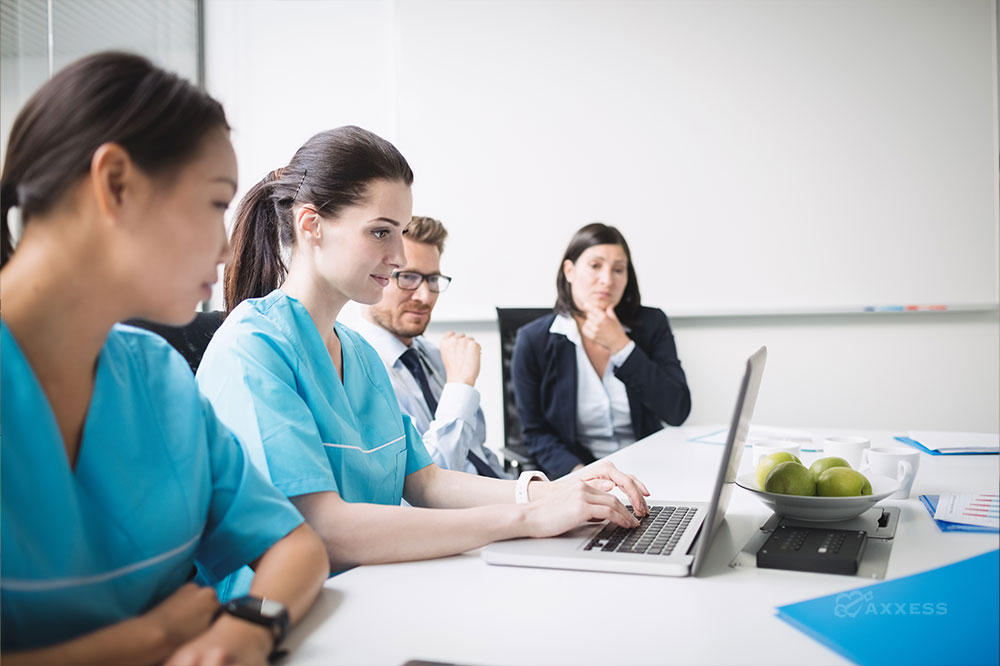 Home health organizations must prepare for the update of the Outcome and Assessment Information Set (OASIS) to OASIS-E, which will replace OASIS-D on January 1, 2023. The Centers for Medicare and Medicaid Services (CMS) finalized the plan to implement OASIS-E in the 2022 Home Health Proposed Final Rule. In this blog series, Axxess will be reviewing changes in each section and how providers can be prepared:
The Why Behind OASIS-E
OASIS is a group of standard data elements for home health organizations to integrate into their comprehensive assessment to collect and report quality data to CMS. OASIS data is collected for skilled Medicare and Medicaid patients 18 or older, except those receiving prenatal or postnatal care.
According to CMS, the OASIS instrument was revised to increase standardization across post-acute care settings to uniformly collect social determinants of health data and have a standardized quality measure that can be used across different settings.
Additionally, the OASIS will play a key role with patient outcomes in the upcoming value-based purchasing environment. OASIS information will serve as a primary data source in calculating up to a 5% bonus or 5% reduction in reimbursements. Therefore, exceptional OASIS skills must be a priority for every clinician in every organization. Providing professional staff members a high level of OASIS-E assessment strategies will significantly boost patient outcome levels.
New Sections and Information
CMS has released a new training manual for OASIS-E, which provides each organization with the opportunity to train or re-train each staff member. Changes to the OASIS training manual include new sections, in alphabetical order and with the following information:
Item Display: Item-specific guidance begins with a screenshot, which displays the item from the OASIS-E instrument. This allows the user to learn about the specific item and see its alpha-numeric identifier.
Intent: States the reason(s) for including this item in the OASIS-E. TIP: This guidance will provide clinicians with a full understanding as to what information the item is attempting to collect.
Time Point(s) Items Completed: Lists when the information for the data element is to be collected during the patient's episode of care. TIP: Many time points collect information for different reasons. It is important for staff to understand when certain items are collected for proper data collection and transmission.
Item Rationale: Explains the purpose, meaning or importance of the item. TIP: This is one of the most important sections, as it provides the why behind the item. Knowing the rationale will give each clinician a plan for collecting further data and preparing an individualized care plan for each patient.
Response Specific Instructions: General instructions for how to complete the item that apply to most, if not all, situations. It also notes how users should collect information to complete the item. TIP: This provides the assessing clinicians with the tools they need to respond to individual findings during the assessment. Responses and corresponding scoring/coding will provide information for an individualized patient response.
Coding Instructions: Provides additional information to supplement the instructions found in the data element. TIP: Coding here is not referring to ICD-10 coding. While the entire assessment and physician information will lead to correct ICD-10 coding, these coding instructions refer to the OASIS item scoring.
Coding Tips: Any special situations, outliers or uncommon scenarios, or any tips to clarify confusing or equivocal circumstances when coding. TIP: This guidance will provide information needed to correctly score patient assessments in unique situations. This item deserves extra attention because responses here could affect patient outcomes at discharge or transfer.
Examples: Illustrates examples of appropriate coding for several of the OASIS-E sections and items. TIP: CMS has provided specific examples that will support a decision pathway to the best response to each item.
Train and Prepare Your Team for OASIS-E
Axxess will be releasing resources to help providers prepare for the changes to OASIS-E, including this blog series, webinars and handouts. It is critical for home health teams to be aware of the changes that are coming and educated on how to properly code the updated items. Accurate assessment will lead to better outcomes.
Axxess Home Health, a cloud-based home health software, includes OASIS features built in for accuracy, like an OASIS scrubber that audits documentation for inconsistencies and warnings.