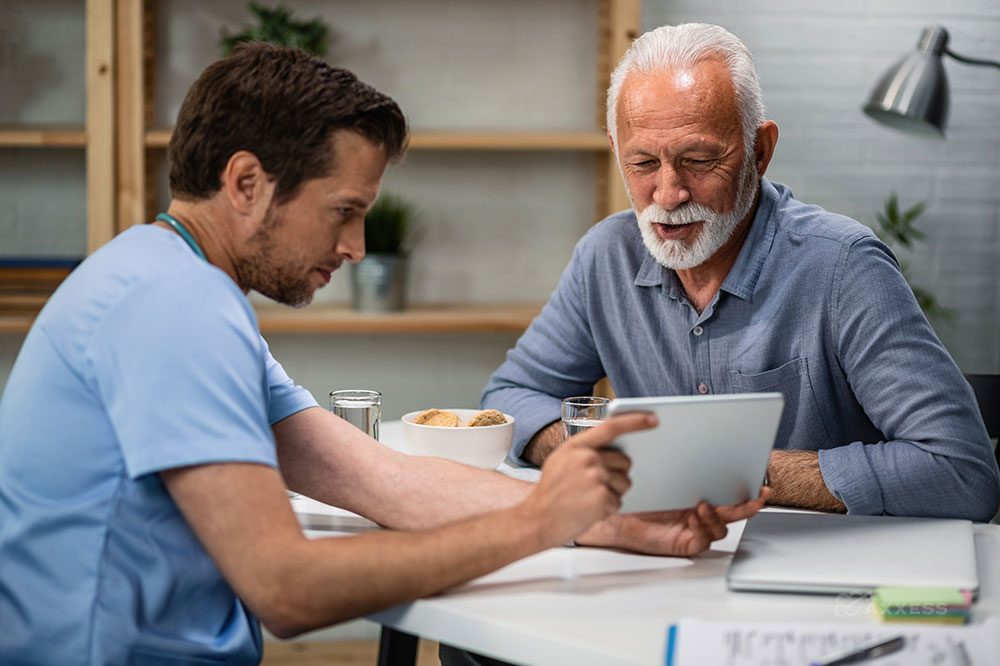 When clinicians are completing a comprehensive assessment for a new patient, they may notice whether the patient is able to obtain, process and understand basic health information. Section B of the Outcome and Assessment Information Set (OASIS) covers items related to a patient's hearing, speech and vision capabilities, which can have significant impact on a patient's ability to understand their care and make the best decisions for themselves.
Home health providers must use OASIS-E beginning January 1, 2023. Providers need to be aware of changes to the OASIS instrument with this updated version. This is the second blog in the Axxess series reviewing changes in each section.
Benefits of Changes in Section B OASIS-E
There are a few elements in OASIS-E that should not be overlooked. According to the manual, "Items in this section assesses the degree to which individuals have the capacity to obtain, process, and understand basic health information needed to make appropriate health decisions." This is important to remember in addressing all OASIS items, because a patient's hearing, vision or speech deficits could impact how clinicians develop the care plan. For instance, a patient with vision problems that make it difficult for them to see obstacles in their path could be at a higher risk of falling.
The one significant change in this series of data elements is B1300 Health Literacy. This is new to the industry. It is an added data point as part of the "National Action Plan to Improve Health Literacy" to improve society's understanding of health information, needs and solutions. This is the first time the home health industry has had the opportunity to be part of this solution.
Health Literacy in Home Health
Health literacy in this part of the training manual will be the most significant challenge clinicians will encounter. The Centers for Medicare and Medicaid Services (CMS) noted that the intent of this item is to specifically identify the patient's self-reported health literacy. It will be important for educators within the organization to take the time to ensure specific, effective and individualized assessment for this element to be achieved.
One of the most important components clinicians should be mindful of is how a determination of the most definitive answer here will impact the individualized plan of care and general care planning. This assessment is not simply an evaluation of the language spoken by the patient and their family. It is, however, an assessment of the understanding the patient has in regard to health information provided by healthcare providers, such as a hospital, physician or pharmacy.
All practitioners have the responsibility to educate individuals on various aspects of care and treatment. Sometimes those individuals are unable to learn and retain such information for various reasons, including cognitive dysfunction, functional issues, illiteracy and even embarrassment. Assessing health literacy is new to home health clinicians, and organizations will need to place considerable effort into educating each clinician on the accuracy of such assessments.
Proper focus on health literacy as a goal in care planning will enable clinicians to improve the quality and safety of healthcare, while reducing costs and improving quality of life.
Axxess Home Health, a cloud-based home health software, includes OASIS features built in for accuracy, like an OASIS scrubber that audits documentation for inconsistencies and warnings.