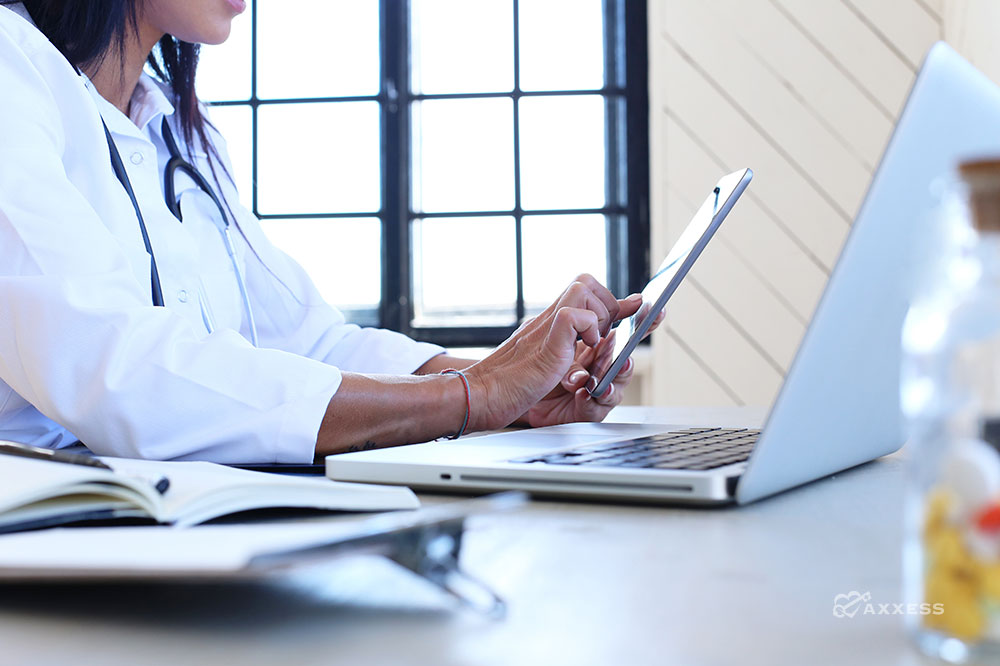 An intuitive, innovative home health software is necessary for organizations to keep up with the pace of regulatory changes and the evolution of the industry. Each of Axxess' in-house product team members bring an average of ten years of home health experience, collaborating with engineering to build features that help organizations remain competitive. Here are five of those updates and feedback from actual organizations on why they love them.
1. OASIS Analysis Comparisons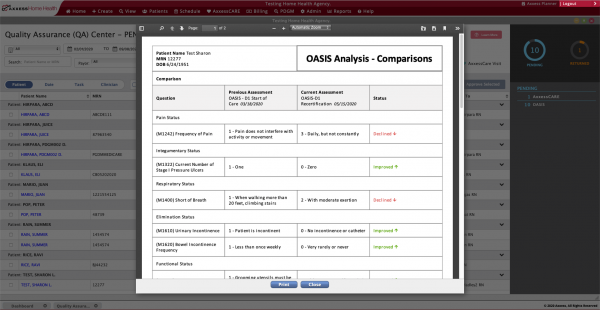 "Before finalizing OASIS assessments, I check the OASIS analysis tool. This helps my team look for any changes between assessments and inconsistencies. Additionally, it is a great way to look at what M items patients are declining and improving on so our agency can address those areas as we continue to care for the patient." – Ana Gutierrez, RN, Administrator at Mi Marantha Home Health, Inc.
The new permission-based OASIS analysis feature, available in the Quality Assurance Center, enables staff to view side-by-side comparisons of M items on a per-patient basis across past and current OASIS assessments to screen for inconsistencies and areas of patient improvement and decline. This timesaving window can serve as an educational tool, and it enables the care coordination team to consider where to focus clinical staff and resources in administering a patient's care—impacting future outcomes that can help maximize Medicare reimbursement.
2. Patient-Driven Groupings Model (PDGM) Tools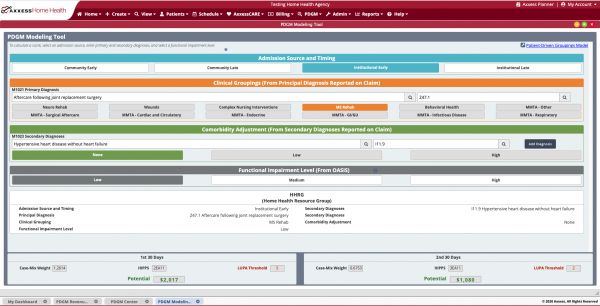 "The built-in PDGM Modeling Tool helps us consider diagnosis selection when thinking about maximizing reimbursement. I monitor Medicare patients on a weekly basis, and the 30-day calendar feature shows potential LUPAs. I'm excited to say that we haven't had any avoidable LUPAs since the start of PDGM because of this important tool!" – Paul Thompson, MA, CCC-S, Director of Operations at Helping Hands Home Care in Ocala, FL
Dashboards and interactive tools have been built into the software's clinical workflow to help users manage PDGM requirements. The modeling tool enables users to input factors like admission source and diagnosis to inform decision-making on whether to accept particular referrals or not. The revenue impact analysis accounts for past episode data, including questionable encounter codes that will not generate payments under PDGM.
The PDGM Dashboard can drill down to the patient level in looking at expected payment and other critical components such as visit utilization, risk of hospitalization and the number of outcomes with the potential to improve. While in the PDGM Center, administrators receive a high-level overview of episodes at risk of having a Low-Utilization Payment Adjustment (LUPA). The average length of stay, number of upcoming recertifications and gross margin are other valuable key performance indicators provided.
3. COVID-19 Management Features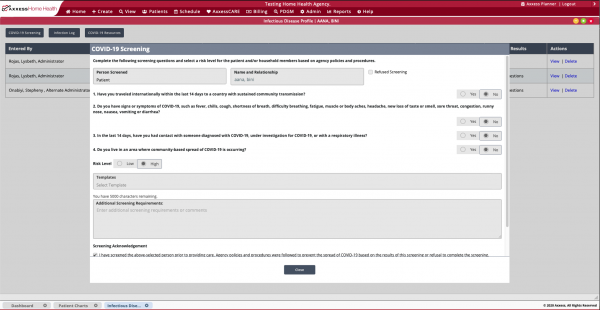 "When coronavirus started, our team was worried about tracking COVID-19 for our employees using paper. Axxess reacted immediately to the changing requirements by quickly releasing mobile COVID-19 screening tools. Our agency can now remotely monitor infectious disease for clinicians and clients right from the software's logs and reports." – Ana Gutierrez, RN, Administrator at Mi Marantha Home Health, Inc.
With the onset of the coronavirus, our team moved quickly in building a COVID-19 screening tool, tracking logs and infectious disease report that helped organizations decide when to implement additional infection control procedures for staff. The risk stratification feature on the PDGM Dashboard identifies at-risk patients, and organizations can use the telehealth visit note to document virtual visits, if required, instead of in-person care notes. Additionally, clinical managers can monitor infectious disease profiles and logs for each patient by pulling screening reports, including the COVID-19 screening tool report, for both patients and staff.
4. Wound Manager Documentation Flowsheet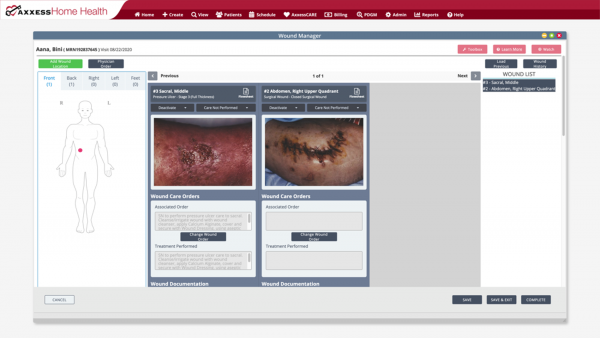 "I love the new wound manager feature, wound history and flowsheet! It will play a tremendous role in ensuring wound care documentation is accurate and minimize mistakes with charting. This provides valuable information to the status of the wound, whether progressing, deteriorating, or maintaining the same which will assist in being able to request appropriate modifications to the wound care as needed." – Robyn Hurst, RN, BSN, Vice President of Clinical Operations, Standards Home Health
The Wound Manager provides nursing staff a flowsheet, history and data visualization of auto-generated wound scores across visits to track wound treatment and progression. Within the software, newly entered wounds must be associated with physician orders, making wound care orders-driven to ensure proper documentation compliance. Documentation is easy with the feature's ability to upload photos, enter a location on an anatomical figure and use auto-generated templates to document treatment performed. Real-time quality assurance validations ensure that all necessary fields are completed before the clinician signs the note.
5. Partner Integrations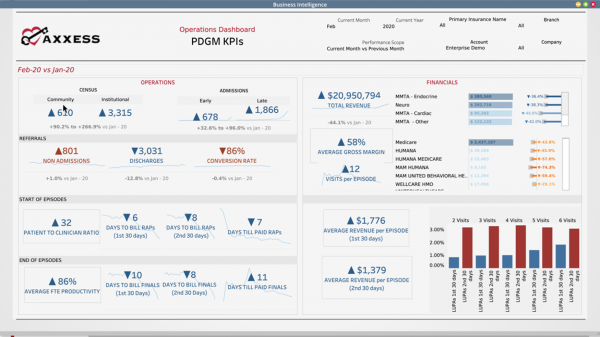 "Using WorldView's integration with Axxess for orders management has saved my agency around 20 hours a week and reduced overhead, because we no longer need an employee in the office to constantly scan and copy documents. The Tableau integration is a fantastic way to view a high-level snapshot of our agency's metrics. Now, I can dig into our KPI Overview dashboard without needing to do anything in spreadsheets. This data has been helpful in management, because it helps drive our decisions for the organization." – Christian Wallace, Operations Manager at Aspire Home Care
Axxess has been working to build more than 40 top industry partnerships and integrations into the software so organizations can run their entire business—including documentation, scheduling, billing, reporting and human resources—in one streamlined solution.
Recent integrations with WorldView for seamless document management enable organizations to track orders and send electronic faxes instantly from within the software, and the Axxess Business Intelligence integration powered by Tableau (as shown in the image) helps organizations build robust, customizable dashboards to monitor performance across locations.
Organizations recognize the benefits of these new features in Axxess Home Health, a home health software designed to help improve patient outcomes, streamline operations and grow business. To learn more about other Axxess Home Health features, visit our webpage or schedule a demo today.