The Consumer Assessment of Healthcare Providers and Systems (CAHPS) Hospice Survey empowers hospice organizations by attracting referral sources, driving business growth and sustaining compliance with industry regulations, including the current pay-for-reporting requirements and the shift to value-based care on the industry's horizon.
By evaluating hospice patient and caregiver experiences, the CAHPS Hospice Survey delivers valuable insights to hospice organizations and contributes to ongoing efforts to improve care delivery. Understanding the impact of the CAHPS Hospice Survey and how to improve ratings is essential to hospices' long-term growth and sustainability.
Question 14 – Listening to Problems and Concerns
Question 14 is one of six questions comprising the Communication with Family domain, designed to assess the hospice team's communication proficiency.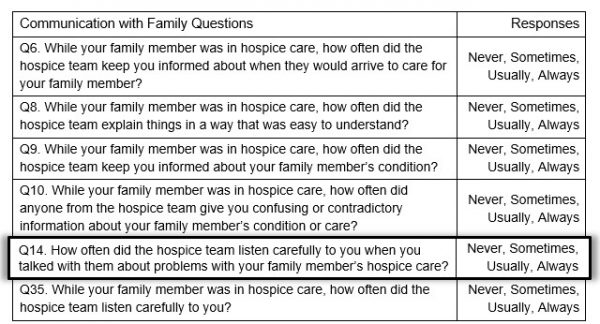 This question evaluates the caregiver's perception of how frequently hospice providers listened to problems they discussed regarding the patient's care. To optimize performance on this question, hospice organizations should train staff on executing active listening skills and company-wide protocols for addressing problems that arise during hospice care.
Tips to Improve Communication with Patients and Families
Ensure that all hospice providers apply active listening skills when communicating with patients and family members.
Use teaching tools to train staff on active listening and communication proficiency.
Establish and enforce company-wide procedures for addressing patient and family concerns.
When hospice patients or their family members voice concerns, it's imperative for providers to listen carefully to understand and mitigate the issues. Hospice organizations should have structured policies for addressing patient and family issues, and staff should be thoroughly trained to execute the established protocol. The following items provide a basic framework for handling patient and family member concerns effectively.
Understand Common Problems to Avoid
Hospice providers should be well-versed on problems that are common in hospice settings and ways to address them. For example, when a patient or family member expresses concerns with the patient's pain level, protocol might instruct providers to document the concerns and immediately notify the primary physician to review and adjust pain management measures. In addition to providing steps for addressing common issues, hospices should educate staff on who to consult to resolve issues that aren't explicitly covered in the hospice's policies.
Empower Patients and Families to Voice Concerns
At the start of care, providers should encourage patients and their family members to voice all questions and concerns throughout the course of care. Providers should invite questions and input on every visit and confirm that the appropriate contact information is readily accessible to the patient and family for needs that transpire between visits.
Listen and Demonstrate Acknowledgment When Problems Arise
When a patient or family member voices a concern, providers should demonstrate active and empathetic listening. They should ask questions to gain a complete understanding of the person's concerns and use language that demonstrates empathy for the person's experiences. The next installment in this series will explore specific ways to execute active listening and elicit care recipients' confidence that their concerns are taken seriously.
Intervene and Resolve Problems Quickly and Effectively
Once a problem is discovered, the hospice team's goal should be correcting the situation as quickly as possible. If the problem cannot be addressed immediately, providers should inform the patient and family member of next steps toward addressing the issue.
Document Problems, Follow-Up Steps and Solutions
Best practices include documenting problems and concerns in your organization's hospice software, along with follow-up steps and resolutions to the identified issues. Documenting problems as soon as they're identified facilitates quick and appropriate intervention and ensures that all providers assigned to the patient are always aware of what's happening.
Our intuitive hospice software, Axxess Hospice, is designed to accommodate the specific needs of hospice professionals for organizations of all sizes. Axxess Hospice enables all members of the interdisciplinary group to document comments, preferences or problems, and the interventions used to address them, in the patient's plan of care. In addition, the system streamlines IDG review processes so organizations can remedy issues collaboratively and execute continuous quality improvement.
Check our blogs for the series on improving CAHPS Hospice Survey scores by reviewing each survey question and exploring opportunities for improvement. Our next installment will continue the discussion on optimizing communication between hospice providers and recipients to improve the quality of patient and family lives.