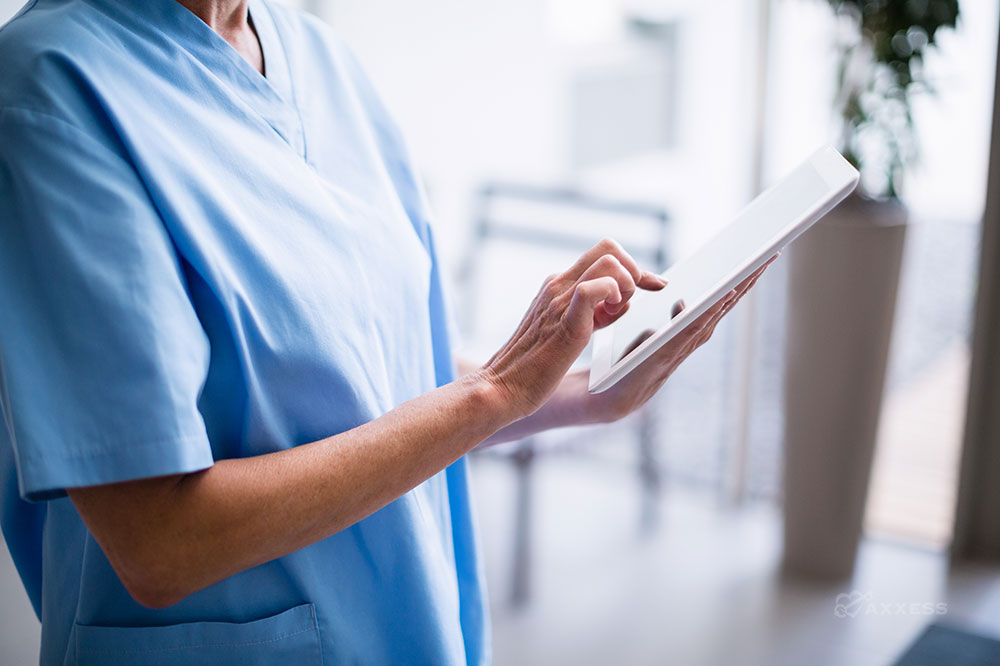 There are three key strategies clinicians should use to make the most of the Axxess CARE staffing app, with the first two discussed in a previous blog.
Now that you have completed your profile and submitted the necessary licenses, bank information and tax forms and have been approved as a qualified clinician, it is time to begin applying for home health visits on Axxess CARE.
Another Key Strategy to Use on Axxess CARE
3. Visit management tips for success:
Only apply for visits you can comfortably perform and document. Late documentation has consequences, including holding payment and a possible suspension from picking up more visits offered on the app.
The visit is to be performed on the day it was scheduled. If the visit cannot be performed on the scheduled date, return the visit to the organization to allow it to be reposted for the new date.

Go to your schedule and tap on the visit; use the "Return Visit" button at the bottom right and complete the required fields. You can reapply for the new date.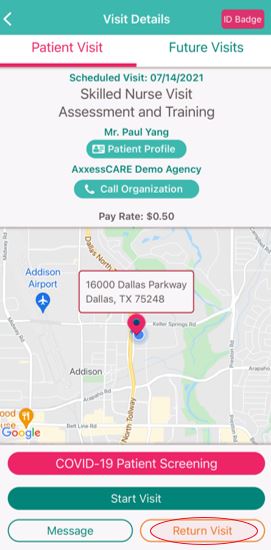 Communicate often with the organization. The Medicare Conditions of Participation (CoPs) require coordination of care among the disciplines involved.

Axxess CARE provides contact phone numbers and secure messaging from each visit. It is also possible from the "Organizations" tab in the three-line menu and in the patient profile under the "Care Team" icon.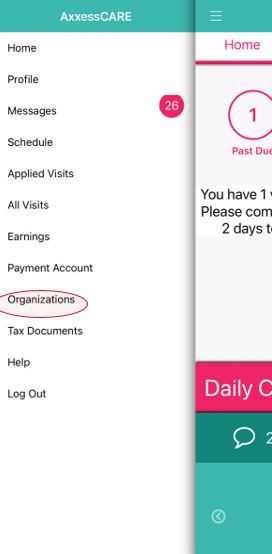 Start your visit while you are with the patient. This may seem like an odd thing to say but there are many clinicians who do not start the visit on the device while with the patient.

On Axxess CARE, the "Start Visit" button enables electronic visit verification (EVV) and opens the visit note.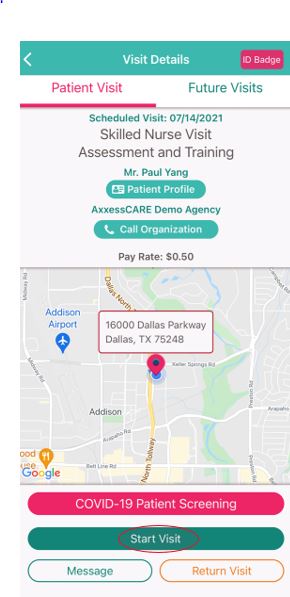 Documentation at the point of care is the most accurate. Axxess CARE has the "Load Previous" feature, making documentation at the point of care much easier.

While completing your assessment, view the patient's previous documentation and only update areas that have changed or need more detail. Compare and address the abnormal findings from previous visits—have they improved or worsened?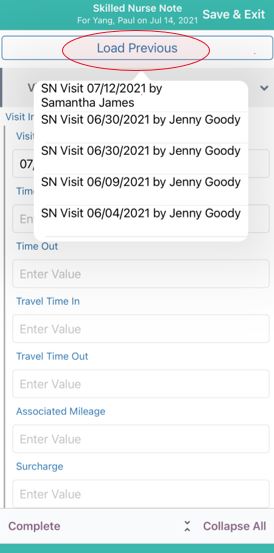 Documentation is to be submitted within 24 hours, as clinicians are to document at the point of care.

Remember the first bullet point of this strategy. Late documentation can result in changes in your patient's assessment, medication or treatment to be missed, which can potentially cause harm and is more detrimental than losing reimbursement. Committing to and prioritizing timely documentation will decrease your stress and increase your quality as a clinician, which boosts your value and star ratings on the app.
Completing your profile, separation and early preparation of your earnings management and using these tips for visit management will ensure you get the most out of this staffing app. Axxess CARE gives you the flexibility to set your schedule and earn extra money while doing what you love.
Axxess Home Health, a cloud-based home health software, includes use of the Axxess CARE staffing and scheduling platform for providers.