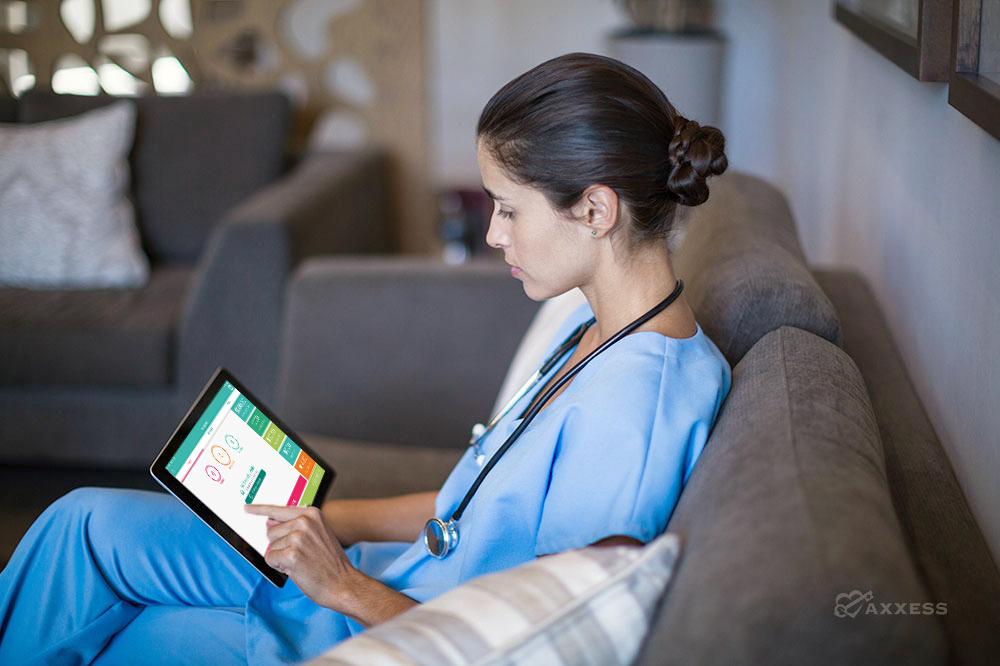 The Axxess CARE app gives home health clinicians the freedom to work when and where they want while earning extra money doing what they know and love.
There are three key strategies for success using Axxess CARE. The first two will be covered in this blog, while the final strategy will be detailed in a follow-up blog.
Strategies for Success Using Axxess CARE
1) Spend time completing your profile.
Your clinician profile on the app is your mobile human resources packet. This houses required professional documents, as well as those that elevate your visit application when compared to other clinicians.
Your professional license and CPR certification are required documents from the time you sign up. You will not be able to apply for visits without these documents. The name entered on your clinician profile must match the name on your professional license to be verified. Axxess CARE automatically verifies licenses monthly.
Adding your additional certifications gives organizations confidence in your abilities. If you are certified in wound care, Outcome and Assessment Information Set (OASIS) documentation or intravenous (IV) care, upload those documents. Uploading additional certification documents helps demonstrate to organizations what sets you apart and is valuable in positioning yourself to be selected for visits.
Some organizations will ask for additional documentation required by their state, accrediting agency or internal policies. This is to be expected. To upload additional documentation, navigate to the Certifications tab in your clinician profile and select Other. Label the certification and upload the document or a photo of the document.
Be intentional with your skills assessment. The skills assessment attests to your level of independence with relevant skills. It also acts as a filter for the tasks you will see attached to the visits you can apply for. Some organizations require a signed skills check-off for the accreditation. If you have a skills check-off with your home health organization, upload a copy to your profile.
2) Set yourself up for easy management of your earnings.
Adding a bank account for direct deposit is required. Your bank account on Axxess CARE can be any checking account. It is recommended that you have a dedicated account for your Axxess CARE earnings, so you can easily reconcile account deposits with your earnings on the app. This helps you prepare for tax filing and enables you to easily view the fruits of your labor.
Upload your tax documents now. Once you have earned $600 or more from an organization on Axxess CARE, the organization is required to issue you a 1099 form and report this to the Internal Revenue Service (IRS). You will need this form when filing taxes. Waiting to upload your W9 form will cause stress for you and the organization who needs it. Complete this step when onboarding. You will only need to upload this form once. Once on your profile, the form will be available for all organizations who need it. You will not need to update it unless any information changes, such as your name, address or tax classification.
It is recommended that you set aside 25-30% of the earnings for your tax liability. Best practice is to send in this amount quarterly to the IRS to ease your end-of-year burden.
Keep receipts of supplies and equipment you use for your business. Consider your malpractice insurance, devices and home office space when filing your taxes.
The future of healthcare is in the home, making home healthcare a specialty. Home healthcare can be meaningful and fulfilling for clinicians. Using these strategies will make visits on Axxess CARE smooth and enjoyable.
Axxess Home Health, a cloud-based home health software, includes use of the Axxess CARE staffing and scheduling platform for providers.