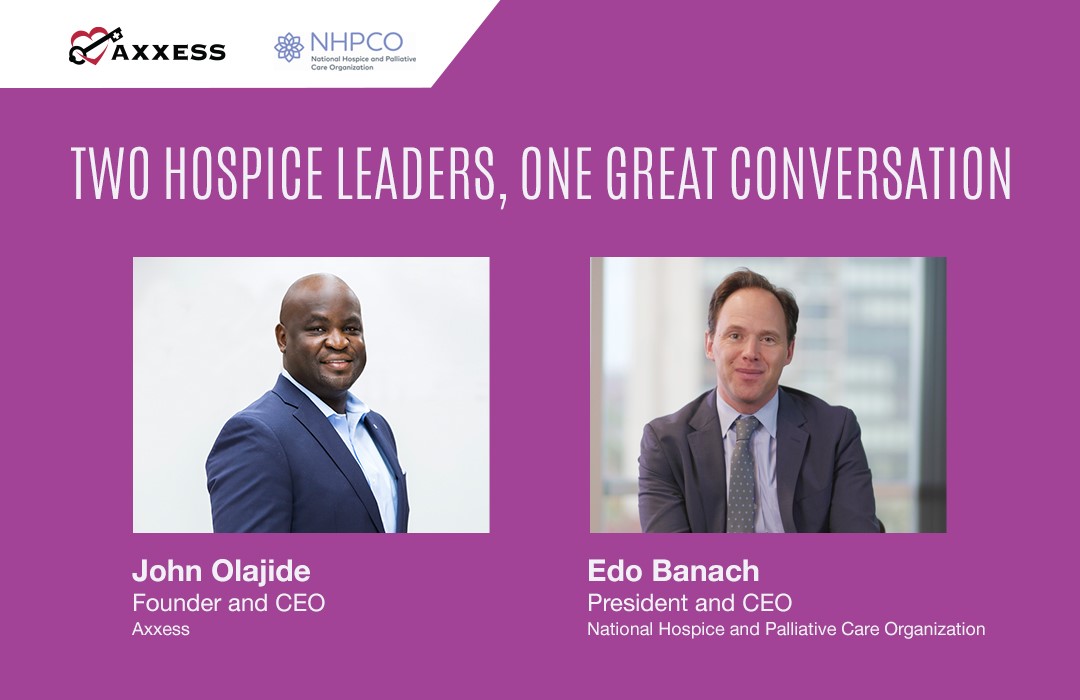 Axxess founder and CEO, John Olajide, recently sat down with Edo Banach, the president and CEO of the National Hospice and Palliative Care Organization (NHPCO), for a conversation featured in NHPCO's new podcast series, Leading Person-Centered Care. The wide-ranging conversation covered everything from John's roots in Nigeria to how healthcare is changing in the wake of COVID-19, and gives listeners a chance to learn more about John and Axxess.
Home Healthcare Calls for Technology
Since March, home healthcare has been in the spotlight in a way it never has before. With people spending much more time at home, elected officials began to understand the need for access to quality healthcare at home and the value of care in the home. Technology can enhance that care and make it more efficient.
A brief history lesson: care in the home stretches back six centuries. Beginning in the 1500s, care was provided in the home in Europe and spread to America as the world population headed west over the next few centuries. Hospitals began in the 1800s, and in recent decades the growth in high-tech treatments drew more people into facilities for their medical care. However, a technology device that fits in your pocket has turned healthcare on its head.
"Your cell phone can be more powerful than large medical equipment," Olajide said. "I mentioned earlier that I'm from Nigeria. I'm glad that the work I do right here in Dallas, Texas, can impact people all over the world."
Software Made to Enhance In-Home Care
The healthcare industry experts at Axxess design cloud-based technology for home health, home care and hospice organizations. This in-home care enterprise software helps clinicians and caregivers provide excellent care with built-in regulatory processes, while also improving business efficiencies.
Technology helps democratize healthcare, bringing it to everyone. But care is only as powerful as the person who provides it. "No technology can replace the one-on-one interaction a caregiver can provide a patient," Olajide said.
Collaboration on the Future of Healthcare Starts Now
Olajide and Banach discussed how healthcare is changing, especially at home. We now see that telehealth is a much more widely accepted option to receive care. However, there are additional opportunities for healthcare leaders to collaborate. To continue advancing the care-at-home industry and serving the public, we must address social concerns about isolation and depression that the pandemic has exacerbated. The good news is leaders understand this and are working to build solutions.
The pandemic has occurred during a unique time for Olajide. He currently serves as the Chair of the Dallas Regional Chamber of Commerce. In this role, he provides strategic direction for the Chamber as it works to develop an ideal business environment in the nation's ninth-largest city.
"I believe that beyond making money, businesses have the ability and the opportunity to make a real difference in the communities they operate in. If ever there was a time when leadership was needed, it is now."
You can download this podcast and subscribe to Leading Person-Centered Care by visiting iTunes, Stitcher or GooglePlay.