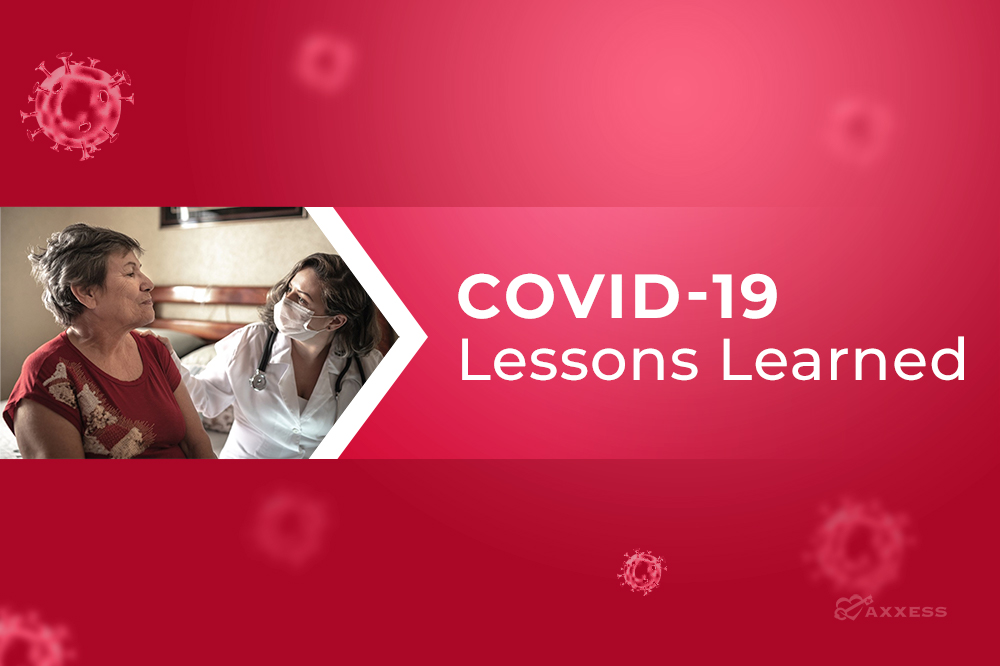 It's been a year since we had our indoctrination to the COVID-19 pandemic. As we seem to be gaining momentum on vaccinations in the United States, we need to start thinking about the "other side" of COVID-19.
What will our health world, and more specifically, our home health world, look like after the pandemic is over?
It's important to recognize the impact of these adaptations within the healthcare continuum and consider the lessons we have learned that will forever change the care-at-home landscape on the other side.
Gather a Team to Help
In looking forward to the changes that will occur after the pandemic, we will need to be creative. Most things will never completely return to the way they were pre-COVID. For instance, waivers will go away, and policy improvements by the Centers for Medicare and Medicaid Services (CMS) may occur as a result of positive outcomes related to the original waivers.
Administrators should look for change agents within their organizations to assist in this effort. An "On the Other Side" team working as change agents with a structured plan could be helpful. This team could be instrumental in developing ongoing and permanent policies and procedures and researching areas for improvement within the organization, such as telehealth or remote care monitoring.
This team can be used to keep staff updated on new processes activated as a result of these changes.
Working From Home
One of the major changes (that almost every organization has experienced) is that working from home is now a normal occurrence.
Some businesses will continue office work and renting space. However, home care organizations may need to look at their current office spaces and determine if transitioning to a smaller space makes more financial sense.
Point-of-care documentation invites providers to complete all documentation in the patient's home. We now know that we can communicate well (and stay HIPAA-compliant) by phone, text and telehealth. Perhaps the office space we previously needed can be repurposed or eliminated with this pivot to working from home.
Survey Readiness
In many organizations, infection control manuals and emergency plan documentation require intense and quick updating.
We have always known that keeping our policies and procedures up to date on an ongoing basis was necessary. However, it was clear that many organizations were not ready for what transpired on March 3, 2020. As a result, infection control surveys caught healthcare organizations unaware, leading to dire consequences. In the first six months of the pandemic, CMS issued $15 million in fines to nursing homes for Immediate Jeopardy situations, tripling the rate of citations since 2019.
Immediate Jeopardy situations still continue to grow. Healthcare organizations must prepare for other emergency situations and must always be ready for surveys.
Medical Reviews and Audits
Sir Winston Churchill once said that the government "should never let a good crisis go to waste."
The COVID-19 pandemic is no exception. The post-COVID-19 era will require the healthcare industry to stay prepared for increased scrutiny on many levels. Over the next few years, we will need to be prepared for additional analyses and reviews by many levels of government and payers.
For instance, the Office of the Inspector General (OIG) has already announced they will be examining patient and billing records for errors in payments received, particularly as they relate to telehealth and remote care coordination.
Many national healthcare publications have indicated that Medicare Administrative Contractors (MACs) are expected to open the flood gates for additional documentation requests (ADRs), Recovery Audit Contractor (RAC) contracts and Unified Program Integrity Contractors (UPICs). We should also expect to have additional oversight by Medicaid and private insurers.
Telehealth and Remote Care Monitoring
Technology became very prevalent for those in the Medicare program. One study found that Medicare beneficiaries in the first six months of 2019 received 134,000 telehealth visits. In contrast, within the first six months of 2020, more than 10 million beneficiaries received at least one telehealth visit.
Physicians and other providers have found that most telehealth visits are just as effective as on-site appointments in practitioners' offices. CMS has indicated that they see value in telehealth and related technology and continue to analyze reimbursement avenues that can satisfy practitioners, patients and the Medicare system.
While physicians currently see revenue from such technology, the certified home care industry has not yet been acknowledged as an industry for which payments may be made. However, with the volume of data we now have, we look forward to positive change in potential payment in the post-COVID-19 period.
The Rise in Demand for Home Care
As a direct result of the pandemic, home is now recognized by the majority of patients and family members as the preferred place for care.
We should expect increases in referrals for care at home. In-patient facilities, such as hospitals, nursing homes and assisted living have shown themselves to be breeding grounds for the virus. While in-patient care will likely always be available, we now see scores of patients choosing home over facility care.
COVID-19 has proven the importance of in-home care, causing many industry leaders to predict that the future of healthcare will exist in the safety of home.
Delivering care "on the other side" of COVID-19 will come with challenges, but it will also highlight the value of home healthcare organizations and the essential services these clinicians provide.
Axxess offers a library of COVID-19 education and resources so in-home care organizations can adapt to the new caring field and provide exceptional patient care during and after the pandemic.