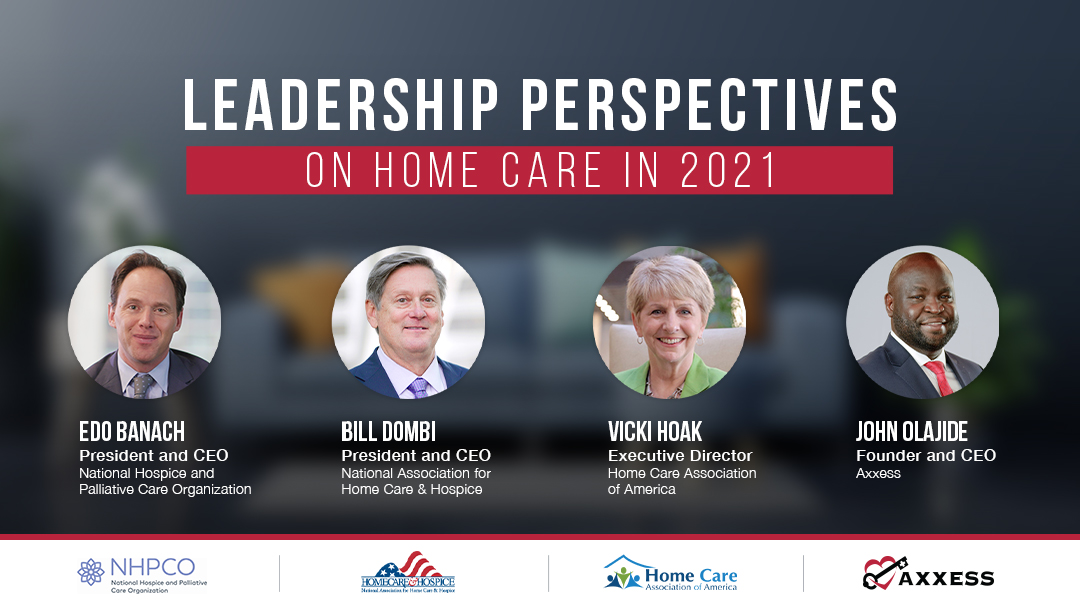 I was delighted to have three well-respected national home healthcare leaders join me in a candid conversation about their personal thoughts on leadership at a time of tremendous change and opportunity.
These leaders – Edo Banach, Bill Dombi and Vicki Hoak – each represent the healthcare at home continuum, advocating nationally for their respective provider members' interests. Our conversation shed light on their shared commitment to ensure the future of healthcare delivery is in the home.
It Starts with a Vision: The Leadership Mandate
It's clear that we are facing a leadership mandate: a call for a renewed vision for the future. The leadership mandate for Axxess has always been and will always be that the future of healthcare delivery will be in the home.
Vicki Hoak, the executive director of the Home Care Association of America, believes the industry is perfectly poised to realize its full potential. "I think everyone now realizes that home care was almost like a prescription for COVID… While what we are living through is completely tragic and challenging, it also is an opportunity for home care to really prove its value."
According to Edo Banach, CEO of the National Hospice and Palliative Care Organization: "It seems at times when we're talking about [care at home], that we're spitting in the wind, and that the medical industrial complex is not necessarily listening. Well, they're listening now."
"Lead together," is the simple but powerful advice from Bill Dombi, president and CEO of the National Association for Home Care and Hospice.
"In the height of the first phase of the surge of the pandemic, we didn't give up on an issue of which we've been advocating for 13 years – the ability for non-physician practitioners to certify Medicare eligibility… Persistence paid off," Dombi said.
Interoperability is Not Just a Buzzword
I want us to address interoperability and data. It's not simply a buzzword for our industry. It's required to fundamentally revolutionize the way healthcare is delivered to people globally.
Dombi identifies this is where that interoperability between sectors is so crucial:
"At what point do providers across the continuum work together to determine if hospice becomes the best option for an individual to consider?"
Hoak points out leading the charge for data collection in home care comes with built-in obstacles due to a lack of regulatory consistency. She believes that interoperability is the answer. "Personal care providers are in the infancy stage of developing usable data… [We need to begin] learning from our colleagues in home health and hospice and developing useful metrics."
Banach iterates the foundation that ultimately positioned these three associations on the same ground. "I think we have to recognize what an outrage it is that the government has spent billions of dollars on technology and interoperability in the institutional setting. I think where I'd start is a reprioritization of the Office of the National Coordinator for Health Information Technology on down."
The Role of Technology in Expanding Healthcare Access
As the CEO of a healthcare technology company, I'm invested in these industry leaders' thoughts about technology partners being critical for home healthcare provider success moving forward.
Hoak is hopeful for innovation. "To get healthcare technology to work with our technology vendors, such as Axxess, and really work to determine those standard metrics for this sector of home-based care…we've got to do this together."
However, determining standard metrics is only at the cusp of technology's potential, as the leaders firmly agree that available data should be used for the public good. Banach points out: "The government has to be a bit more muscular and say look, we're paying for this. We have an interest in making sure that this information is brought together, and we learn from it."
Dombi agrees and throws the ball of opportunity into my court. "You're gathering data from private pay home care, personal care services; your competition is doing the same. We'd like to see if we can pull those pieces together into a single data set that's available, protecting privacy… To use it to create those kinds of best practices, pathways that will make everything so successful."
I challenge healthcare providers and other technology leaders to join our fight for visibility and cohesiveness.
We are all in this together. The future of healthcare is in the home, and together we will fight for that right.