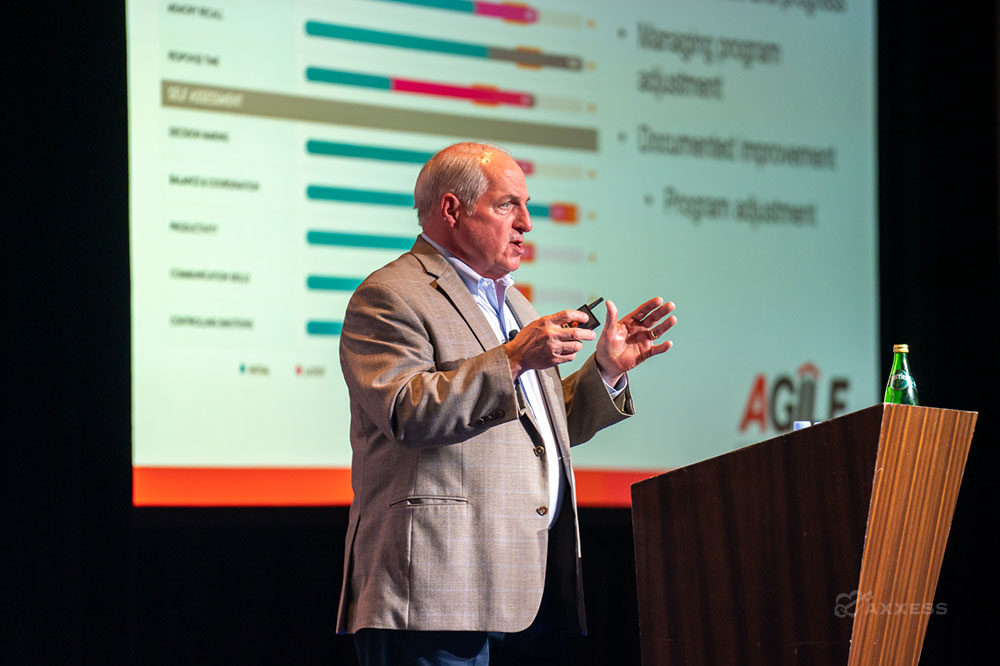 There is an increasing trend of home healthcare organizations using technology to assist with routine patient care and predict patient outcomes. For patients who need support with cognitive function, technology can assist with improving cognitive outcomes, leading to increased patient satisfaction and decreased hospitalization.
In an education session at the 2023 Axxess, Growth, Innovation and Leadership Experience (AGILE), Arlene Maxim, RN, HCS-C, Senior Vice President of Clinical Services at Axxess, and Jim Bland, Founder and CEO of Seniors Home Services, explained how to best assess cognitive impairment in patients and how technology can help improve patient outcomes.
Establish Baseline Data
Maxim encouraged clinicians to focus on detailed information gathering when establishing the baseline data for a patient's cognitive function. Clinicians should speak with family members and use the first phone call with the patient to look for cognitive impairment clues like confusion and difficulty making decisions.
"We want to focus on the patient's inabilities rather than their abilities," Maxim said. "We want to look at what they're not able to do so we can…show improvement by the time we discharge them, so that we're going to be in good shape by the time we go to value-based purchasing."
Maxim also stressed that organizations need to ensure that clinicians are trained thoroughly in completing the Brief Interview for Mental Status (BIMS), Confusion Assessment Method (CAM) and Patient Health Questionnaire (PHQ) items two through nine.
"That BIMS and CAM assessment should be taking us time," Maxim said. "It's not something that we can just ask a few questions and check off some boxes and be done with it."
Clinicians need to be able to show improvement in cognitive areas for better value-based purchasing (VBP) scores, so taking the right amount of time and care to complete assessments and develop a cognitive improvement plan is imperative.
Improve Cognitive Outcomes with Technology
Bland detailed how using science and studies of the brain can help clinicians better address cognitive functionality and improve patient outcomes. Bland encouraged clinicians to focus on activities with patients, as this will help impaired areas of the brain rebuild connections and stem cells.
"The less activity we have, the more loss of cognition," Bland said. "We have the loss of cognition, we have a fall, we get hospitalized or worse, we come home and without some intervention, that spiral just continues to get worse and worse. I can also tell you that if we intervene with some programs to improve that cognition, that patient's outcome will be totally different than doing that."
Bland shared that while the BIMS and CAM assessments are beneficial in assessing cognitive function, a quantitative assessment may be better suited for the patient. One such program is Zing Performance, which records the patient's current status and documents improvement toward targeted areas. Technology programs like these can be used to improve memory and cognition as well as balance and coordination.
Improving VBP Scores
When cognitive functions are not addressed, they can lead to decreased patient satisfaction and re-hospitalization. Shifting the focus to cognitive improvement will lead to better outcomes and higher VBP scores, Bland said.
"How we caused that patient to improve in memory, in balance, in reaction…improv[es] functionality, [which is] 35% of your scoring under value-based purchasing," Bland said. "The other section [that] is 35% is limiting hospital readmits, ER visits. Well, if you're improving functionality, balance, coordination, there is a pretty good chance that readmits will be decreased as well."
For organizations navigating VBP, technology can fill in gaps typically left by traditional care models. Through its use, technology can not only help secure higher scores, but it can also help predict the effectiveness of future care.
"It's all predictive knowing that if you have data and if you do not do something, you can predict someone's going to go south," Bland said. "If you do something and you use technology that's proven to work really well, you can predict that you're going to have an improvement and you're going to have a very good outcome with that patient."
With more than 250 attendees, more than 40 sponsors and countless connections made, AGILE 2023 was a massive success for everyone. Check out the recap video and mark your calendar for AGILE 2024, April 21-24 in Dallas.