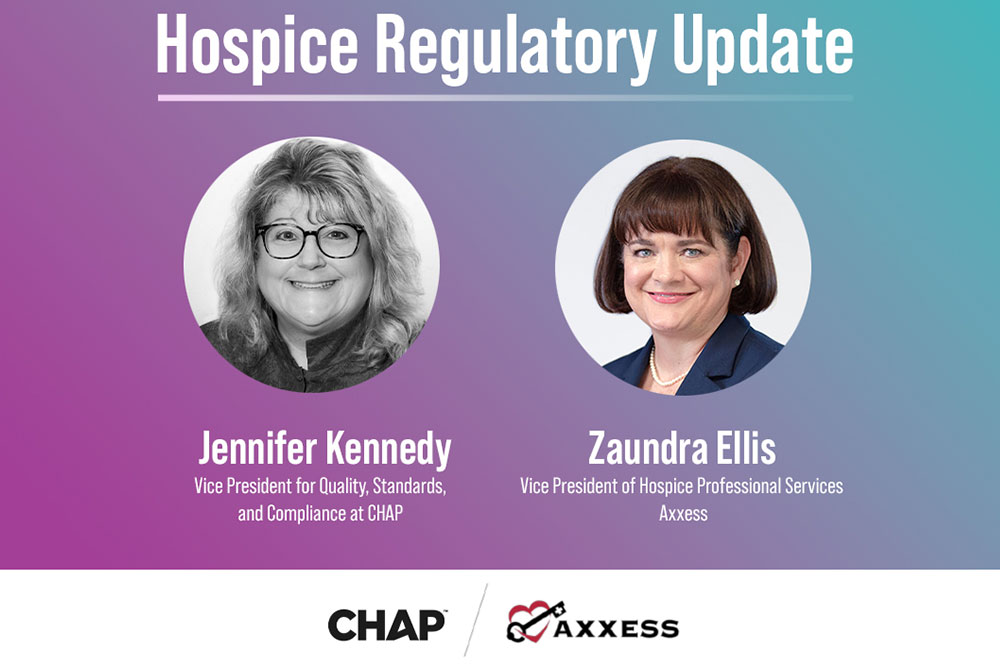 Hospice providers digesting the recent FY 2024 final rule saw an increase in per diem payments but it wasn't enough to match the rise in inflation. And as the saying goes, "the devil is in the details" because the 3.1% increase comes with a caveat. Wage index calculations are just one of the important regulatory updates hospices must adjust to in order to remain compliant while delivering quality end of life care. Other items include a new special focus group that could penalize hospices, as well as a closer look at health equity in hospice care.
Axxess and Community Health Accreditation Partner (CHAP) explained the important regulatory updates that hospices need to know for 2024 in a recent webinar. Zaundra Ellis, Vice President of Hospice Professional Services at Axxess and Jennifer Kennedy, EdD, BSN, RN, CHC, Vice President of Quality and Standards at CHAP, shared insights and best practices on the top issues impacting hospices.
Understanding Hospice Wage Index Calculations
Ellis and Kennedy emphasized the importance of hospice providers understanding wage index calculations. These calculations were developed by the Centers for Medicare and Medicaid Services (CMS) as a method to pay providers based on the area where care is provided. Wage index calculations can be complex, but it is crucial for service providers to understand them since they directly impact the organization's financial status.
"If you're doing business in an urban area, we would expect that you would have a higher wage index increase because it obviously costs more to do business in that area as opposed to if you're doing a rural kind of service area," said Kennedy. "CMS actually is looking at that calculation and also other factors like cost report information and they're trying to structure any kind of update if there is going to be an update for hospice providers based on that information."
Ellis added, "It's not enough to submit your HIS data or make sure your CAHPS data is submitted in a timely manner. You need to make sure that you're meeting that threshold and that those, especially the HIS, that those are accepted files."
The Hospice Special Focus Group Report
Ellis and Kennedy also spoke about the special focus group report that was included in the proposed 2024 Home Health Rule. The program could impose penalties against hospices that perform poorly during surveys and has raised concerns among hospice providers because of fears that it could do more harm than good.
"I really feel that as it's written now that algorithm will penalize hospices that are actually giving good quality care, and it may not capture the hospices that really need to be in this special focus program… It has to be fair because the consequences are hefty, they're weighty and again, the weighting in that algorithm I think needs to be looked at again," said Kennedy.
Ellis encouraged hospices to be proactive. "Organizations cannot take for granted that they're going to be well positioned to not be selected to be in a special focus group," she said. "I think a strategy hope is not a strategy. So, I think really understanding exactly where you are with surveys, care index, your CAHPS, take a look at your complaint logs, make sure you're following up on those complaints so that families or patients or others don't feel like that they need to call a complaint in on your organization."
"If you have a good handle on comprehensive assessment and care planning, you're going to be just fine," noted Kennedy.
Health Equity in Hospice Care
CMS has been highlighting equity in hospice care and calling for more efforts to ensure equitable care since 2021, Kennedy pointed out. "We've seen CMS…infusing [health equity] into everything that they're doing…I think there really needs to be adjustments done." She noted that hospices have not started focusing on health equity and that additional focus is needed.
Ellis and Kennedy urged hospices to use the panel report as a roadmap for how to improve the equity in their services.
To learn more about important hospice regulatory updates, watch the full webinar.
Axxess Hospice, a cloud-based hospice software, includes simple tools such as intuitive medication management and real-time plan of care updates to help keep organizations compliant.