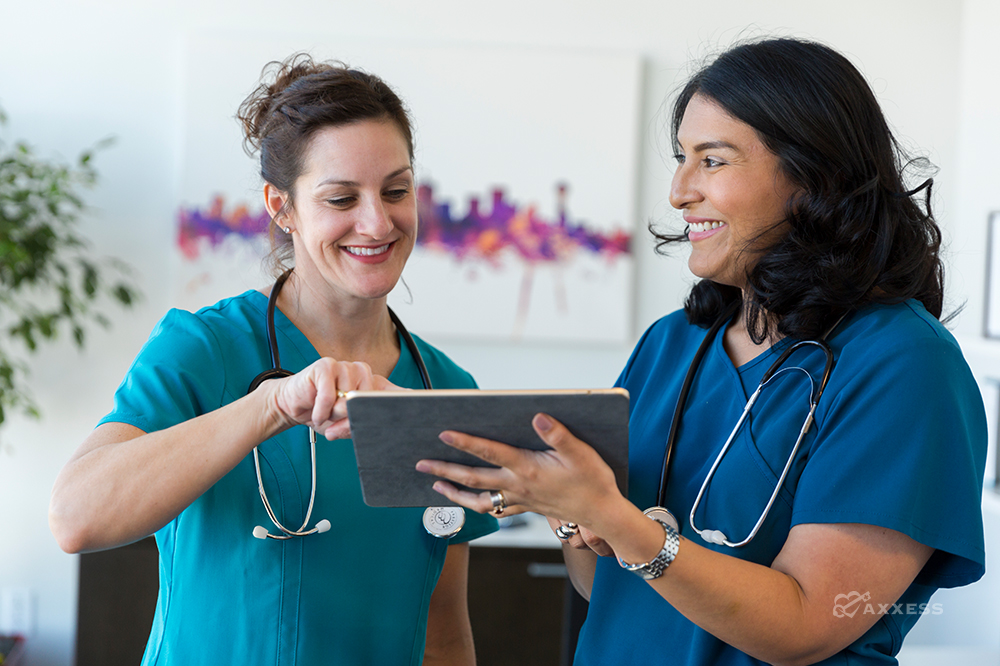 When Axxess was founded in 2007, it was done with a commitment to innovation to improve lives by providing caregivers the tools they need to deliver the best possible care. That same year, a technology company in Silicon Valley already synonymous with innovation changed the way we live and work by introducing the first mobile device with touch control. Since Apple introduced the iPhone and a few years later set another industry standard with the introduction of the iPad tablet, computing power in the palm of our hand has enabled us to be increasingly productive anytime and anywhere.
Recognizing that trend, Axxess has become the undisputed leader in providing mobile capabilities for agencies of any size using our home health software, and our clients are reaping the benefits by maintaining greater control while operating with more convenience and efficiencies. And beyond being the only industry software that can be used with any mobile device (whether iOS or Android, phone or tablet), our clients operate with confidence knowing our mobile app is regularly updated to ensure the care they provide complies with the latest regulatory standards.
Unsurpassed Convenience and Benefits
When Axxess developed our mobile capabilities, it was not a given that the industry would take advantage of these new possibilities. But the industry over the past few years has embraced a more sophisticated way of delivering care by taking advantage of the latest technologies, and today Axxess has more than 30,000 unique daily users of our mobile technology.
Axxess' mobile capabilities have been designed with administrators and clinicians in mind. After logging in with our two-step authentication process to ensure greater security, among the benefits most enjoyed by administrators and clinicians, are:
Real-time access to care plans,
Scheduling and tracking visits remotely from anywhere, and built-in navigation to make finding the point of care easier,
Secure messaging enabling private communication to coordinate care,
Documenting at the point of care to ensure accuracy (including the ability to document with one hand, if necessary), and
Ability to confidently work offline without an Internet connection, knowing all data will sync as soon as an Internet connection is reestablished.
A significant advantage of the mobile functionality involves managing medications at the point of care. Clinicians can review and sign medication profiles, and the app automatically runs drug interactions. The convenience of having all of this information onsite and in the palm of the hand also helps clinicians better train patients on medication management.
Even More Mobile Benefits Coming
In addition to being a one-stop shop for users of Axxess' flagship AgencyCore platform and those using Axxess HomeCare for skilled, pediatric and private pay personal services, Axxess has created a scheduling and staffing solution with mobile functionality to enable agencies and clinicians to connect more easily when extra help is needed. Currently in pilot in Texas and Illinois, AxxessCARE will soon be available nationwide to revolutionize how care in the home is delivered. Axxess is also creating a mobile solution for hospice care that will be available this fall.
With the workforce in home health and home care becoming increasingly mobile, Axxess clients enjoy unsurpassed ease of use at the point of care, and confidence in using the industry-leading, fully-compliant solutions that advance coordination of the best possible care. And given Axxess' commitment to leading innovation to improve care in the home, we're just getting started in giving administrators and staff previously unimagined flexibility and control.