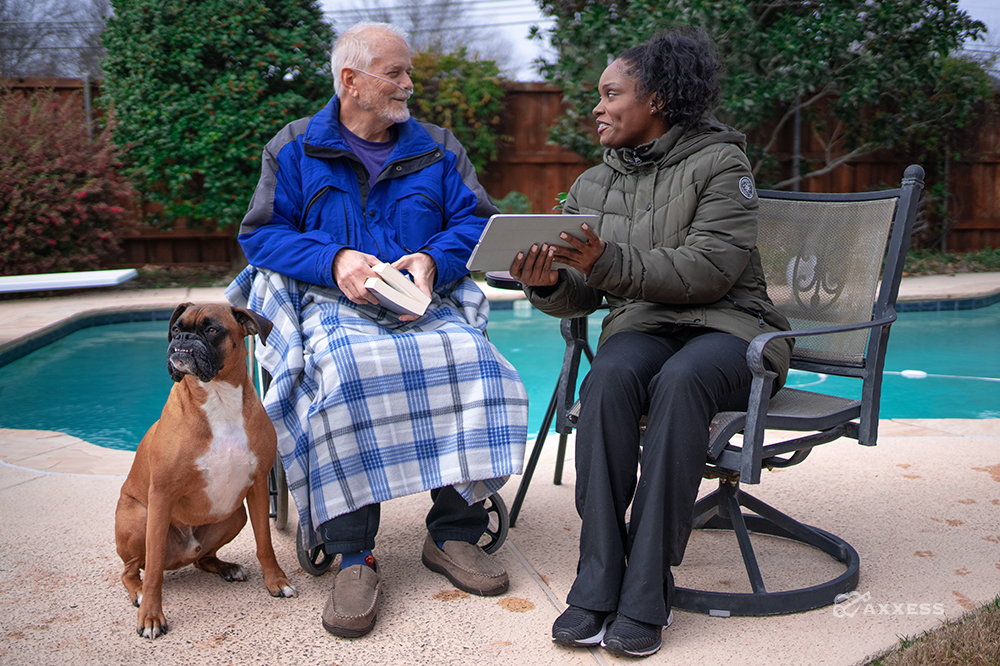 Axxess believes that the future of healthcare delivery is in the home.
That's why our mission is to empower home-based care organizations and clinical professionals with the world's best cloud-based technology to automate their business operations so they can focus on what's most important: delivering-high quality healthcare to people at home.
Why Choose Home?
Healthcare at home has been identified as a cost-effective solution to both the nation's healthcare and fiscal crises as it achieves the right care delivery at the right cost in the setting people prefer most.
People want to age in their own homes and communities where they can maintain their independence and dignity and spend time with family and friends. Home healthcare is the only care setting that makes this possible, especially in today's post-COVID environment.
The Roadblocks to Care at Home
While home-based care can help solve our nation's healthcare and financial crises, longstanding challenges have delayed this aspect of care from realizing its potential and maximizing the value and benefit to both people who need care in the home and our nation. Inadequate Medicare and Medicaid provider reimbursement, along with state and federal regulatory burdens, have threatened our nation's home-based providers' stability and financial viability and compromised our nation's community-based safety net.
State and federal legislative and regulatory decision-making taking place in Washington D.C., and in state capitals today and over the next several years will rewrite the future of healthcare delivery in America. New regulations and laws will establish the future business environment in which home health, home care and hospice agencies operate and compete.
While healthcare at home is growing, it is one of the most regulated industries in the nation. Legislative and regulatory advocacy at the highest levels of government are vital to ensuring that the voice of the home care provider is heard when Congress and state legislatures vote on new laws, and federal and state administrations establish regulations that govern home care delivery, and determine home care provider reimbursement rates.
Without proactive legislative and regulatory advocacy, lawmakers and policymakers will make uninformed decisions that can have long-lasting unintended consequences,harming home-based care providers and the people they care for. If home-based care providers lose their businesses due to regulatory scrutiny, underpayment or legislative red tape, we all lose.
You Have a Seat at the Table
We must have a seat at every decision-making table to ensure our industry voice is heard. The good news is that we do.
The five national associations and organizations that represent home-based care providers are strong and united like never before. The leaders of The National Association for Home Care and Hospice (NAHC), The National Hospice and Palliative Care Organization (NHPCO), The Partnership for Quality Home Healthcare (PQHH), The Home Care Association of America (HCAOA), and the Partnership for Medicaid Home-Based Care (PMHC) are advocating and getting results. Hear what they are doing in this brief video.
Axxess is proud to be a longtime advocacy partner, aligned with the state and national associations to create a future that is advantageous for the home-based care industry, our clients, our employees, and every individual who can benefit from receiving healthcare in the home. Your voice is important and needed to amplify the national association efforts. Action alerts are posted on each of the association websites and are a quick and easy way to reach out to your members of Congress by email or Tweet to weigh in on a current national advocacy issue. It takes less than three minutes to make a difference and create a better future. Please join us in our advocacy to ensure that the future of healthcare is in the home.
Collaborative policymaking, which includes the perspective of the home-based care provider, patient, primary care physician and the patient's family will lead to a good healthcare policy where the patient can receive care in the place they prefer most – their own home.