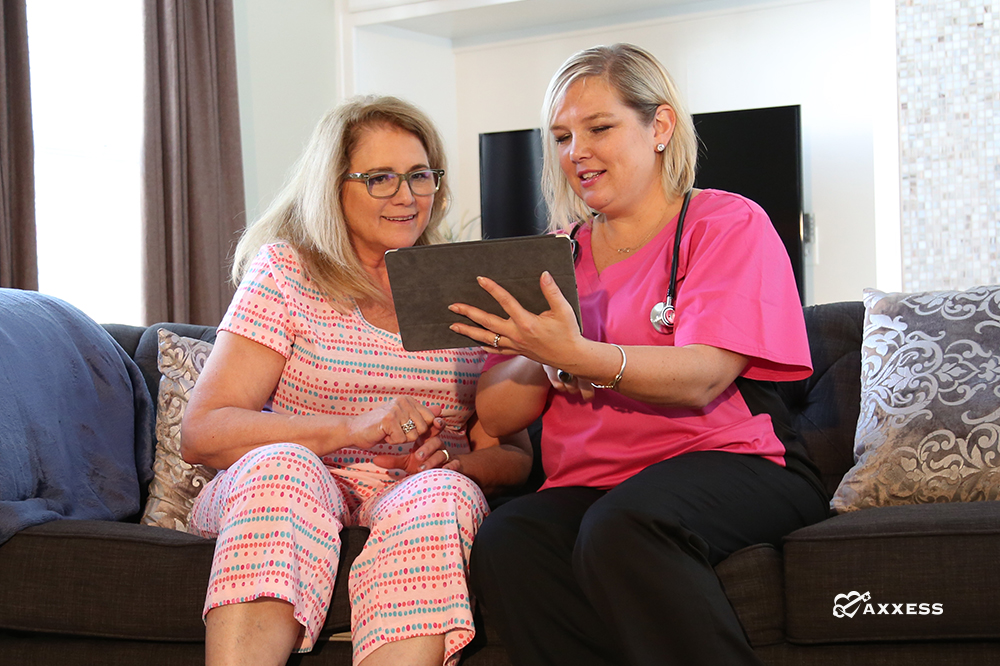 The Home Health Consumer Assessment of Healthcare Providers and Systems (HHCAHPS) patient engagement survey impacts the bottom line of home health agencies substantially, by attracting referral sources and value-based reimbursement. It is imperative for organizations to understand the HHCAHPS survey, and work on improving each measure to maximize long-term growth and sustainability.
Home Safety – Question 3
Question 3 is one of seven questions included in the Home Health CAHPS survey Specific Care Issues domain, designed to assess how effectively healthcare providers discuss medicines, pain, and home safety with patients.
Specific Care Issues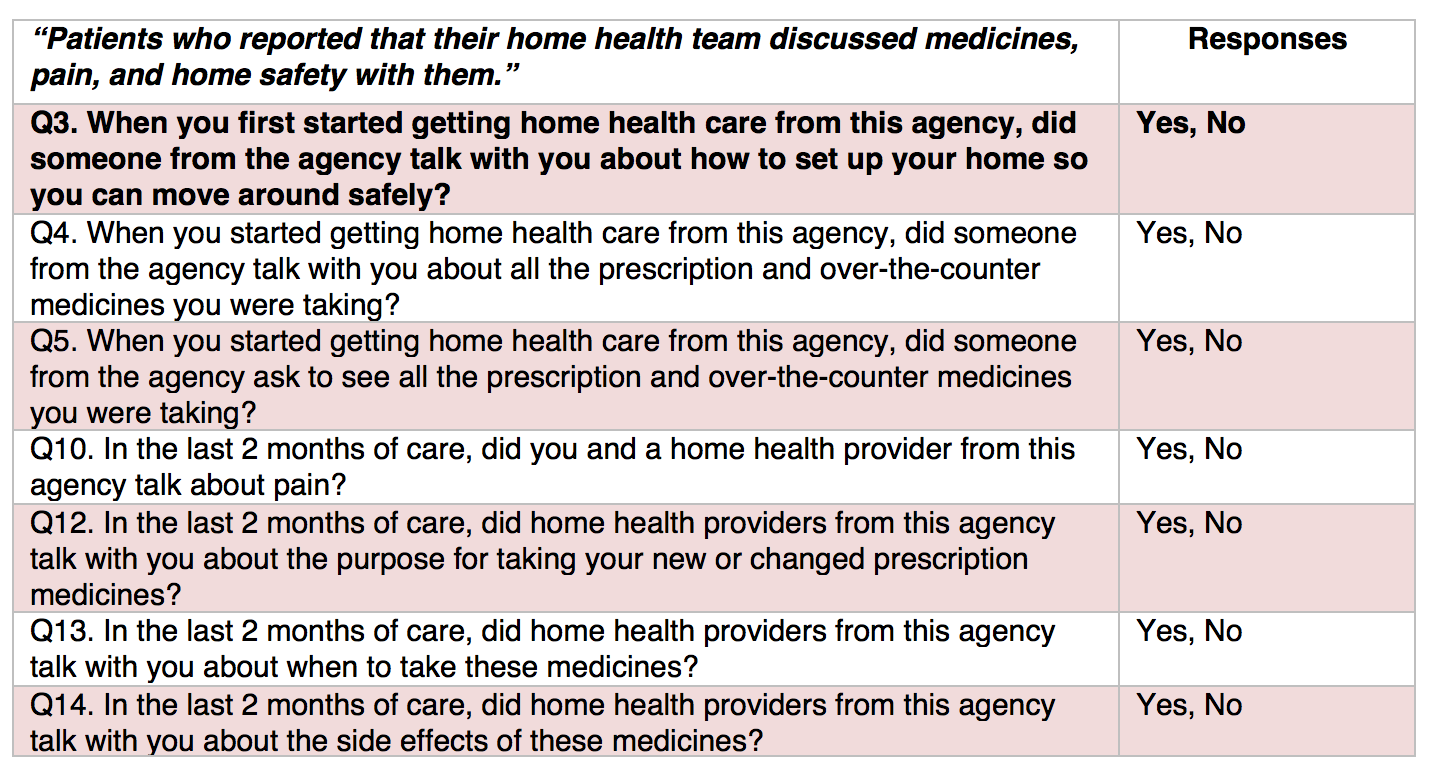 This question seeks to assess the patient's perception of whether the home health team discussed home safety with the patient. Optimizing performance on this question relies on an organization's ability to evaluate home safety, make recommendations for improvement, and foster discussions with patients that reinforce the importance of home safety.
Suggestions for Improving Specific Care Issues
Establish clear and thorough organizational standards around home safety, and provide ongoing staff training on expectations.
Provide home safety evaluations routinely at the Start of Care and notify patients of any recommendations to improve home safety.
Administer follow-up safety inspections throughout care to ensure home conditions remain safe.
Following home safety evaluations, provide a copy of key findings to the patient, and leave a copy in the home.
Home safety conditions play a critical role in maintaining the safety and independence of individuals receiving home healthcare. Home health providers must understand how to identify safety hazards in a patient's home, and what actions should be taken to ensure patients remain safe in secure living conditions.
Stopping Elderly Accidents, Deaths, and Injuries (STEADI) Initiative

The Centers for Disease Control and Prevention's Injury Center launched an initiative called Stopping Elderly Accidents, Deaths, and Injuries (STEADI), to assist healthcare providers and organizations incorporate fall prevention, enhance safety measures, and enrich patients' wellness and independence throughout care. Among a vast collection of tools and resources, STEADI provides a Check for Safety brochure, which includes a Home Fall Prevention Checklist for Older Adults. Review this resource for workable guidelines and tips on implementing home evaluation standards at your agency. Several highlights are outlined below.
Check bathroom for safety hazards – Is the bathroom floor, bathtub, or shower floor slippery? Non-slip rubber mats or strips can be placed on the bathroom floor, shower floor, and/or bathtub to reduce the risk of slipping. Does the patient require support when getting in/out of the bathtub, or moving around the bathroom? Grab bars should be installed next to the toilet and/or bathtub to allow safe and secure maneuvering around the bathroom.
Check bedroom for safety hazards – Is the path from the patient's bed to bathroom safe, with adequate lighting? A nightlight or lamp can be installed for adequate lighting at night. Some nightlights have the capability to automatically turn on after dark. Consult the patient to select the best lighting option for optimal bedroom safety. If the patient prefers a non-automatic nightlight or lamp, it should be in close proximity to the bed, so the patient can easily reach it at night.
Check any stairs or steps for safety hazards – Are there any items on the stairs (e.g., shoes, jackets, etc.)? Advise the patient to keep items off stairs/steps at all times, to reduce the risk of tripping. Are any steps loose or uneven? Is carpeting on stairs loose, ripped, or torn? Arrange for these issues to be fixed in the patient's home. Does the patient have sturdy and secure handrails along the stairs? If not, help the patient coordinate for handrails to be installed. When assessing the safety of steps/stairs, remember to inspect both indoor and outdoor steps and stairs.
Check kitchen for safety hazards – Are any kitchen items kept on high shelves? Advise the patient to keep all frequently-used kitchen items on lower shelves, ideally about waist high. Step stools should only be used if absolutely necessary. Discuss potential hazards of using a step stool with the patient, and if he/she must use a step stool, inspect for sturdiness and verify that the stool has a bar the patient can hold on to for stability.
Check floors for safety hazards – Is furniture set up in a way that requires patients to maneuver around obstacles (e.g., chairs, couches, or tables) to walk through a room? The patient should have a clear pathway through each room in the house. With the patient's permission, move furniture as needed to create unobstructed walkways for the patient. Are there any wires or cords (e.g., lamp, phone, or extension cords) on the floor? Wires and cords should be coiled and/or taped to the walls, so they are not a tripping hazard. If needed, consider arranging for an electrician to install an additional outlet for optimal patient safety.
Agencies should have standard guidelines, such as those listed above, to ensure home safety evaluations are routine and thorough. Another tool provided in the collection of STEADI resources is a Risk Factors for Falls Fact Sheet, which highlights the need for healthcare providers to "talk to patients about their health goals. Then, determine which modifiable fall risk factors can be addressed to help them meet their goals." Home safety evaluations should incorporate standard safety precautions coupled with patient input and decisions, to maintain a patient-centered environment where patients are equal partners in their care. The Occupational and Physical Therapy Evaluations in Axxess AgencyCore offer a seamless method of assessing patient health statuses and needs. These can be utilized to establish the most effective treatment plans for optimal home safety.
Check our blogs for the series on improving your agency's HHCAHPS scores by systematically reviewing each of the HHCAHPS questions and sharing opportunities for improvement.