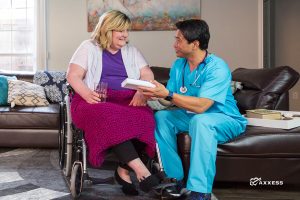 The Home Health Consumer Assessment of Healthcare Providers and Systems (HHCAHPS) patient engagement survey impacts the bottom line of home health agencies substantially, by attracting referral sources and value-based reimbursement. It is imperative for organizations to understand the HHCAHPS survey, and work on improving each measure to maximize long-term growth and sustainability.
Discussing Medications – Question 4
Specific Care Issues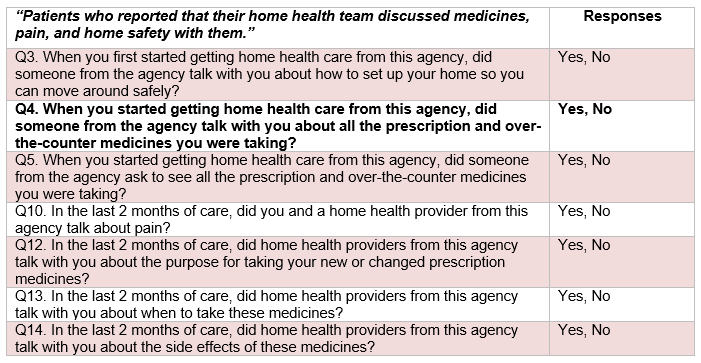 Question 4 is one of seven questions included in the Home Health CAHPS survey Specific Care Issues domain, designed to assess how effectively healthcare providers discuss medicines, pain, and home safety with patients.
This question seeks to evaluate the patient's perception of whether home health providers discussed the patient's medications when initiating care. Optimizing performance on this question relies on an organization's ability to effectively facilitate routine assessment and review of patient medications initially and throughout care.
Suggestions for Improving Specific Care Issues Related to Medications
Ensure clinicians always request and discuss patient medications at Start of Care, Resumption of Care, and Transfers (M2016).
Reassess patient medications on each visit, and address any changes as needed.
Use teaching aids liberally and leave instructional resources in patient homes.
Effective communication is essential to equip patients with the education needed to manage their medications successfully. A recent literature review on medication adherence (the degree to which patients follow the prescribed dose and frequency of their medication regimens) recounts a 2003 World Health Organization report indicating that patients adhere to their established medication regimes only about 50 percent of the time, and subsequent research reflects little improvement in adherence rates since the 2003 report.
To optimize patients' medication management skills, and ensure productive treatment, healthcare providers must remain aware of adherence barriers (e.g., forgetfulness, unwillingness to ask questions, polypharmacy, etc.) when discussing medicines with patients. A previous blog in our HHCAHPS improvement series discussed health literacy and methods of communicating in ways that elicit patient comprehension. Communication best practices, including teach-back and encouraging patients to ask questions, should be implemented across all patient communications, and are expressly pertinent in effective patient-provider discussions on medication management.
Productive discussions on medications should be supplemented with educational tools and resources to help patients retain critical information between visits. Since home health patients tend to be especially susceptible to conditions requiring multiple medications, and age-related cognitive impairments such as memory loss, adhering to medication regimens can be more difficult. Supplying educational resources allows patients to review information that may have been forgotten following an appointment, and allows healthcare organizations to infuse added structure into their protocols around medication instruction. An extensive selection of resources exists to assist healthcare agencies and professionals optimize medication management procedures throughout patient care delivery. Examples of workable resources are outlined below.
Campaign for Meds Management
The Quality Improvement Organization (QIO), a federal program led by the Centers for Medicare & Medicaid Services (CMS), has developed a Campaign for Meds Management to help healthcare providers and patients manage medications safely and effectively, while promoting the patient voice and experience. Among other tools provided in the campaign's Resource Center, the Healthcare Provider Medication Management Checklist delivers a seamless method of reviewing medications with patients, and identifying corresponding tools to improve patients' medication management skills in areas requiring betterment. For example, an item on the list reads, "My patient has a complete and up-to-date list of prescriptions, vitamins, and over-the-counter medications." If the provider checks "No" denoting that the patient does not have a complete and current medication list, the suggested resources include a Medication List Template where the patient can keep track of medication names, color and shape, dosage, frequency, purpose, and date of the initial prescription.
Another item on the checklist reads, "My patient is able to get his/her medications." If the provider checks "No," the corresponding suggested resource is a Family Caregiver's Guide to Medication Management that comprehensively reviews key aspects of medication management for family members. Topics include ordering/refilling prescriptions, carefully reading and understanding medication labels and instructions, checking medication expiration dates, administering medication with the appropriate frequency and dosage, monitoring possible side effects, addressing potential insurance issues, establishing financial assistance, and questions to ask healthcare providers.
Additionally, the American Medical Association (AMA) has constructed a Medication Adherence Learning Module for identifying and correcting medication nonadherence in clinical practice. The module highlights the importance of including patients in key decisions, and the impact of patient involvement on successful medication management, stating that "patients who are included in decisions about the medications they are prescribed are more likely to adhere to their treatment plan."
Check our blogs for the series on improving your agency's HHCAHPS scores by systematically reviewing each of the HHCAHPS questions and sharing opportunities for improvement.