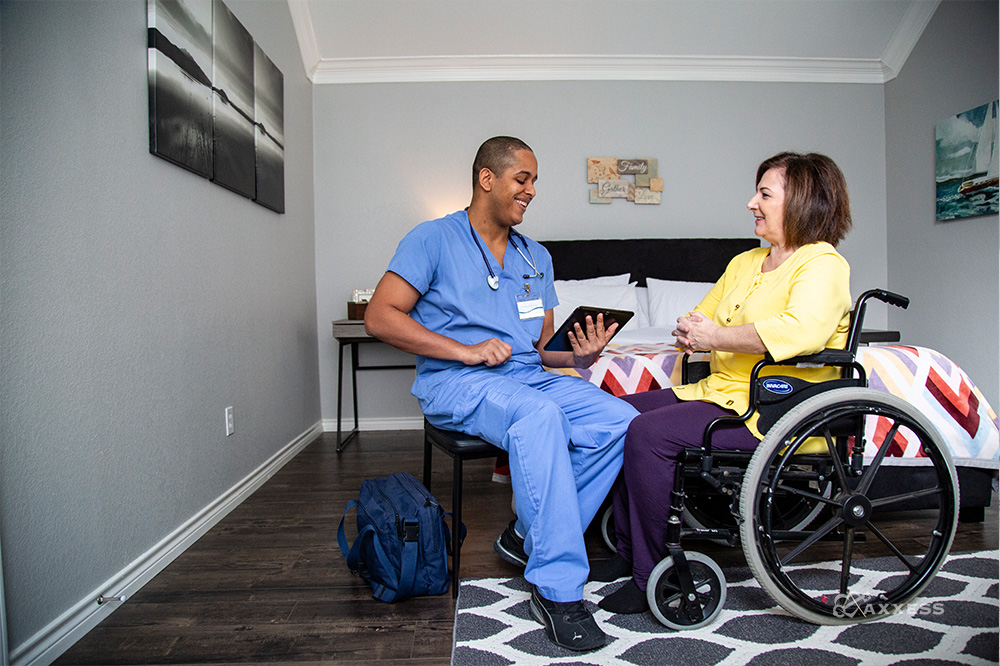 The Home Health Consumer Assessment of Healthcare Providers and Systems (HHCAHPS) patient engagement survey impacts the bottom line of home health agencies substantially, by attracting referral sources and value-based reimbursement. It is imperative for organizations to understand the HHCAHPS survey, and work on improving each measure to maximize long-term growth and sustainability.
Discussing Medication Intent– Question 12
Question 12 is one of seven questions included in the Home Health CAHPS survey Specific Care Issues domain, designed to assess how effectively healthcare providers discuss medicines, pain, and home safety with patients.
Specific Care Issues

This question evaluates the patient's perception of whether home health providers explained the reason for taking any new prescription medication or changing medications throughout care. This evaluation builds on the initial medication assessment in questions 4 and 5, gauging patients' knowledge of their medication and its contributions to achieving treatment goals. Optimizing performance on this question relies on an organization's ability to ensure any changes made to a patient's medication regimen are routinely accompanied by thorough patient-provider communication on the rationale behind medication changes. Medication-related issues constitute about 26% of hospital readmissions and are therefore a critical component of patient care management.
Suggestions for Improving Specific Care Issues Related to Medications
Reassess patient medications on each visit to ensure continued effectiveness and sustained progress toward treatment goals.
Identify and address any need to change medications, allowing patient input to help direct the decision-making process for medication changes.
Use teaching tools (e.g., teach-back) to verify patients' understanding of medication purposes and engage patients in ongoing discussions on medication to ensure critical information is retained throughout care.
Educating patients on the purpose of medications is essential to sustain a collaborative patient-provider relationship and secure positive patient experiences. In a patient-centered care environment, patients remain involved in key healthcare decisions, including decisions on medication. Providers should sustain open communication with patients, especially regarding medication use and symptoms (which should be reviewed at a minimum on each visit) and engage patients any time a need to adjust medications is identified. The below examples highlight best practices to engage patients during medication adjustments:
Explaining the Purpose of Medication Changes
Prior to implementing any medication changes (e.g., route, frequency, dosage), home health providers should ensure patients understand why medication adjustments are necessary, how adjusting medications will address current issues, any potential side effects that may transpire, and how implementing the proposed changes will facilitate progress toward overall treatment goals.
Example scenario: A patient is taking medication to treat hypertension. Since starting the medication, the patient's blood pressure has lowered, but not significantly enough to reach the target blood pressure (established when first introducing the medication). In assessing the patient's progress, the healthcare provider considers increasing the medication dosage to move further toward the established goal.
Best practices: The provider initiates a discussion with the patient, allowing him to review the trend of blood pressure readings since the medication was started. Electronic Health Record (EHR) systems should ideally display the patient's vital signs graphically, for easily reviewing trends and identifying necessary adjustments. After allowing the patient to review blood pressure progress in the EHR vital signs chart, the provider recommends increasing the medication dosage to reach the target blood pressure. The patient is given an opportunity to ask questions and provide input before any decisions are finalized to adjust medications. The home healthcare provider reviews common side effects and explains that increasing dosage could cause the patient to experience side effects that did not transpire at the current dose. (Even side effects that are uncommon or easily manageable should be discussed with the patient to maintain complete transparency and allow patients to make informed decisions related to medications.) The provider again encourages the patient to ask questions and provide feedback before reaching a consensus.
Check our blogs for the series on improving your agency's HHCAHPS scores by systematically reviewing each of the HHCAHPS questions and sharing opportunities for improvement.