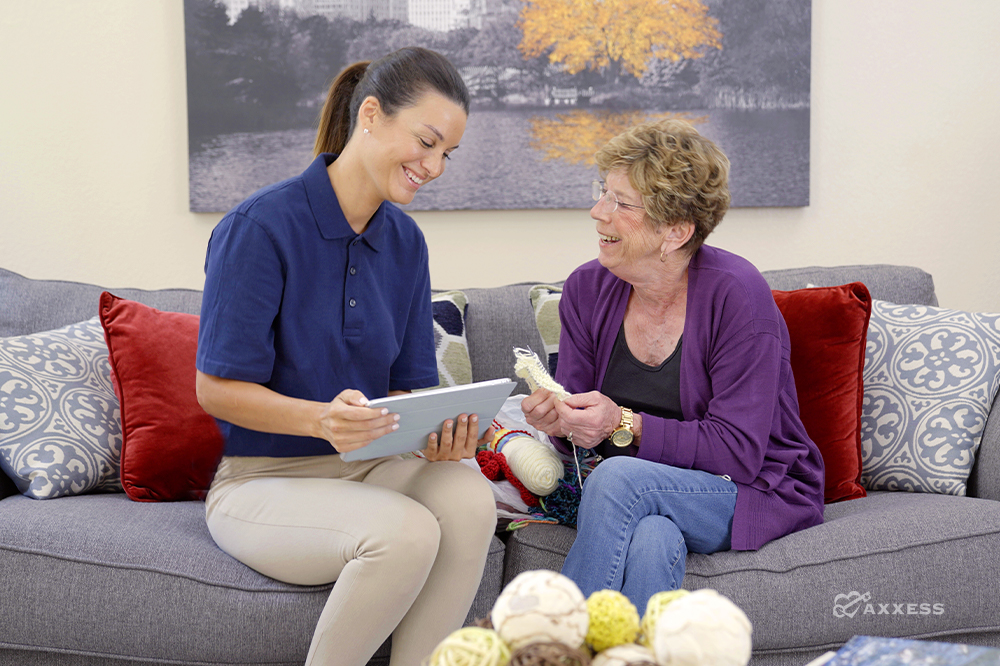 The Consumer Assessment of Healthcare Providers and Systems (CAHPS) Hospice Survey empowers hospice organizations by attracting referral sources, driving business growth, and sustaining compliance with industry regulations, including the current pay-for-reporting requirements and the shift to value-based care on the industry's horizon. By evaluating hospice patient and caregiver experiences, the CAHPS Hospice Survey delivers valuable insights to hospice organizations and contributes to ongoing efforts to improve patient and family experiences. Understanding the impact of the CAHPS Hospice Survey and how to improve ratings is essential to hospices' long-term growth and sustainability.
Question 6 – Communicating Provider Arrival Time
Question 6 is the first of six questions comprising the Communication with Family domain, designed to assess the hospice team's communication proficiency.
Since the CAHPS Hospice Survey is administered two months after the patient's death, the patient's primary informal caregiver is the survey recipient and intended respondent. Primary informal caregiver refers to the person most knowledgeable about the patient's care. Examples include a spouse/partner, child, parent, another family member or a friend of the patient. Although the patient-caregiver relationship is not always familial, the term "family member" throughout the survey refers to the hospice patient.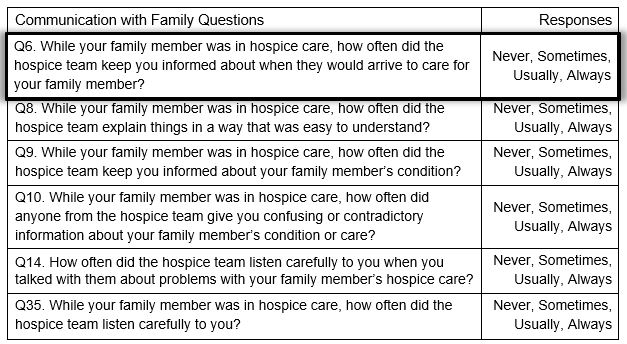 This question evaluates the caregiver's perception of how frequently the hospice team communicated their visit arrival times throughout the patient's care. Optimizing performance on this question relies on the hospice team's ability to keep the patient's primary informal caregiver aware of visit times and facilitate clear and continuous communication regarding scheduling and arrival.
Tips to Improve Arrival Time Communication
Establish visit expectations at the start of care by setting up a schedule that meets the patient's needs and accommodates input from the informal caregiver.
Notify the patient/caregiver when unforeseen delays in arrival time arise (e.g., the provider is running late in traffic).
Provide reminders for upcoming visits using agency-established protocol (e.g., routinely call the day before morning appointments and the morning before afternoon appointments).
Communicate with the patient's caregiver any time the patient's status warrants a schedule adjustment and invite input before making any changes, to ensure continued feasibility and convenience.
As an organization, maintain a culture that empowers providers to sustain communicative relationships with patients and their informal caregivers and acknowledges the integral role they play in hospice care.
Best Practices and Talking Points
Communicating visit arrival times is a critical element of optimizing patient and family engagement in healthcare. Hospice organizations should employ standard protocol that informs patients and caregivers when visits are scheduled and includes ongoing correspondence that reminds patients and caregivers of upcoming appointments as care progresses. The following best practices and talking points facilitate productive communication related to visit arrival:
At the start of care, identify the appropriate contact for providing visit reminders. If the patient and caregiver live separately, providers can direct visit reminders to the patient but reach out to the caregiver after each appointment to confirm completion of care. I'm going to call your son to confirm that I just visited you.
Inform the patient/caregiver when to expect visit reminder calls and what phone number to expect them from. I will call you the day before each appointment from this number. If you need to reschedule an appointment, call me at this number.
At the end of each visit, inform the patient and caregiver when the next visit is scheduled. The next visit is scheduled for Tuesday next week at 9 AM. I will call you on Monday to remind you.
The most recent Facts and Figures published by National Hospice and Palliative Care Organizations (NHPCO) indicates that approximately half of hospice patients receive care in nursing and inpatient facilities. For these patients, faxing or sending weekly schedules to the respective facility offices is a good way to ensure caregivers at the facility are aware of patient schedules and can anticipate providers' arrival.
Plan and arrange schedules strategically to ensure they fulfill each patient's needs and work in the context of providers' schedules with other patients. Electronic health record platforms can help streamline scheduling operations and increase seamlessness as hospice providers manage the day-to-day demands of delivering comforting care to patients and their families.
Check our blogs for the series on improving CAHPS Hospice Survey scores by systematically reviewing each survey question and exploring opportunities for improvement. Our next installment will continue the discussion on optimizing communication between hospice care providers and recipients to improve the quality of patient and family lives.