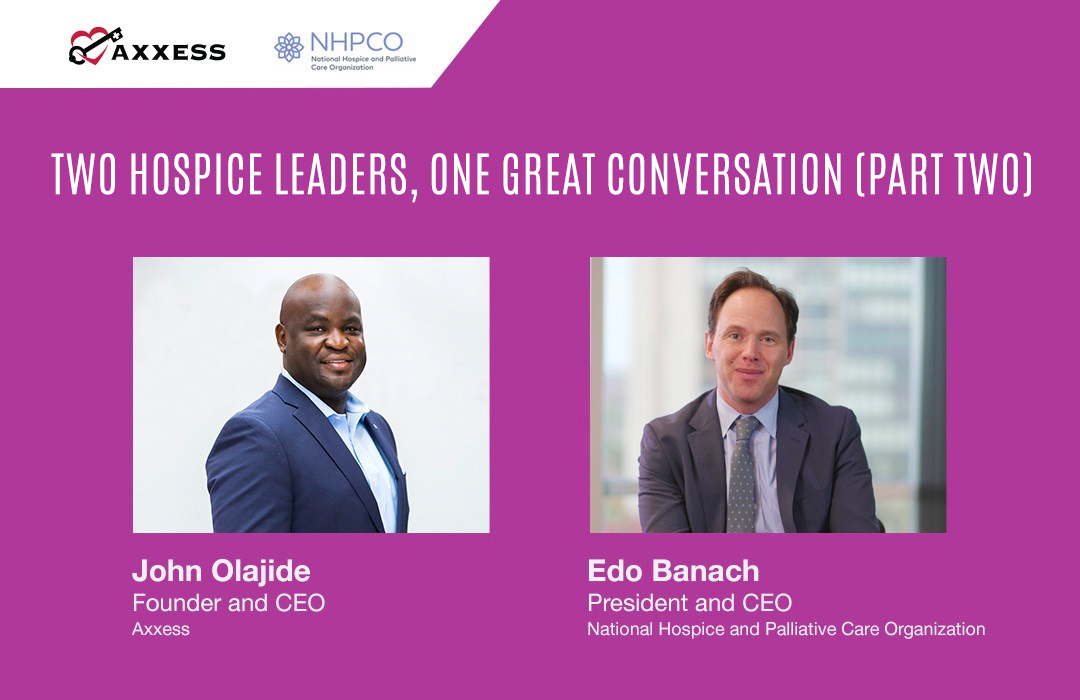 In a recent conversation between Axxess founder and CEO John Olajide and the National Hospice and Palliative Care Organization (NHPCO) President and CEO Edo Banach, the two hospice leaders covered a myriad of issues that have made 2020 a historic year. One of those major themes has been race relations.
Bringing More Voices to the Forefront of Business
After a charged spring and summer with the deaths of several Black Americans, including George Floyd and Breonna Taylor, many conversations have broadened to include more voices. Equity and diversity are now at the forefront of many business conversations in a way they never have been before.
Olajide, who was born in Nigeria, shared his perspective with Banach, who was born in Israel.
"Leaders have a greater responsibility because we have the ability to influence," Olajide said. "Today, all leaders of all colors, black leaders, white leaders that have influence, have a responsibility to use their influence for good. We have a responsibility to create a space that is more just and more equitable for all."
Responsibility in Action
Olajide was recently tapped to serve on the National Association for Home Care and Hospice's Diversity and Inclusion Task Force. His work in the Dallas business community as the 2020 Chair of the Dallas Regional Chamber of Commerce has shined a spotlight on healthcare in the home.
Olajide leads Axxess as a place that intentionally hires a diverse array of people to foster collaboration and wide array of ideas that lead to innovation. As a growing company, Axxess has team members from at least 40 different countries and counting. That intentional action was rooted in Olajide's childhood.
"Growing up, I always admired America. Everything about America truly seemed exceptional. I believe in America. The idea that you can come from any place and be able to do what you can to make a difference."
More Conversations Equals More Opportunities
Olajide sees what has happened in 2020 as an opportunity to come together, coalesce around the idea of progress and realize how far we have come.
"I have total confidence that this nation will continue heading in the direction of change," Olajide said. "Edo, just a few decades ago, I couldn't have this conversation with you. Let's be candid about this, that's progress! There's still a long way to go."
Olajide's parting thoughts included a charge to leaders and those seeking change and progress.
"We are a nation of immigrants and, as we accept that, we do what's necessary to move our nation forward. People think progress is inevitable. It's not inevitable. Leaders have to show up and say, 'This is what this nation was founded on. It will be challenged. It will be tested.' But I believe that entire process helps us become strengthened and renewed. We may not look like the nation we were before, but I'm confident that all this is helping us build the necessary muscle to be a better society."