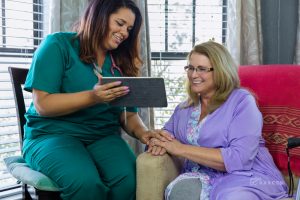 Nurses are an essential part of the home healthcare team through their constant interactions with patients. These interactions are also important in helping grow an agency's business because clinicians represent their agency in every interaction. As more agencies work with clinicians through our scheduling and staffing solution AxxessCARE, it is important that clinicians are following best practices while on visits. Client satisfaction is key to the success of any business but is particularly important in home healthcare with the growing emphasis on patient engagement surveys that impact value-based reimbursement.
There are important best practices that help nurses deliver an exceptional experience to patients. These best practices are beyond the standard medical practices and are more complex than just 'good manners'. They can help the clinician develop a relationship with the patient that will help in their care and ensure the patient is satisfied with the care they receive.
1. Tell them who you are: A warm greeting with an explanation of who you are and what you are there for, along with a strong handshake, helps the first impression. Patients like to know who is walking into their home to take care of them and a warm introduction prevents unnecessary anxiety and confusion.
2. Make acceptable and appropriate conversation: Try not to be too personal when making a conversation or asking questions. If the patient gets angry or irritated, keep it professional and just state the facts. Resist any impulse to use foul language. Always address patients appropriately as "Mr." or "Mrs." Only use the patient's first name if they have given you permission. Avoid using terms like "Sweetie" or "Honey".3. Your body language will give you away: Gestures and body language are both important aspects of nonverbal communication because they can reveal what you are thinking and how you feel. Be aware of the different cultures that you will be dealing with and avoid body language or gestures that can be culturally offensive. Avoid sign language unless you are fluent, as it might be misunderstood.
Put on your brightest smile. Don't stare but do make eye contact to show you are sincere and care.
Stand tall and don't slouch.
Have a confident posture and avoid frequently shifting your stance.
Avoid making your hands into a fist or putting your hands into your pocket.
Avoid crossing your hands on your chest or putting your hands on your hips.
Don't shift your gaze, as it gives the impression of not being sure of yourself or being untrustworthy.
4. Dress appropriately: Tom Ford says: "Dressing well is a form of good manners". Dressing well boosts confidence and helps you appear more professional. Make sure that your scrubs and shoes are clean and professional. Clothes should not be too tight or short, hair should be pulled away from the face, and always wear your ID badge where the patient can see it clearly. Patients feel more secure in the care of a professional.
5. Make an appointment: Call ahead to make your appointment with the patient. If you are running late, make sure to let the patient and caregiver know. This shows that you respect their time. Communication is the key to effective and efficient care, which is why you should always review the patient's Plan of Care with them and make sure to let them know of any changes.
6. Remember you are there to work: In home healthcare, the patient's home is your workplace. The patient's home is not the place to bring along your children or other family members. Most patients prefer to receive care at home because it is a familiar surrounding filled with familiar people. Patients who receive home healthcare should be your sole focus while at their home, not distractions from your personal life.
7. Always practice standard precautions: A professional should always follow good hand hygiene and universal precautions to prevent infections. Taking these steps is not only good practice but also shows you respect your patient.
8. Maintain good personal hygiene: Good hygiene will enhance your self-confidence and show your patient you respect yourself, which can give them confidence in your care. Poor hygiene can often have the opposite effect and lead to a strain in the nurse-patient relationship which can hurt the patient's care.
9. Respect the patient's property: Remember that you are in the patient's private space and must respect their home. Do not keep your nursing bag directly on the patient's furniture. Always keep a barrier between your nursing bag or tools to prevent direct contact with their furniture.
10. Always remember that you are a professional: Don't ask for any favors from your patient. Avoid asking for water, using their hand soap or towels, or even using their restrooms. Never accept monetary benefits of any kind.
Following best practices can build a stronger relationship between a nurse and the patient. This relationship is important for everyone involved: the nurse is respectful and respected, the patient receives exceptional care, and the agency has a higher likelihood of receiving positive referrals that grow their business.