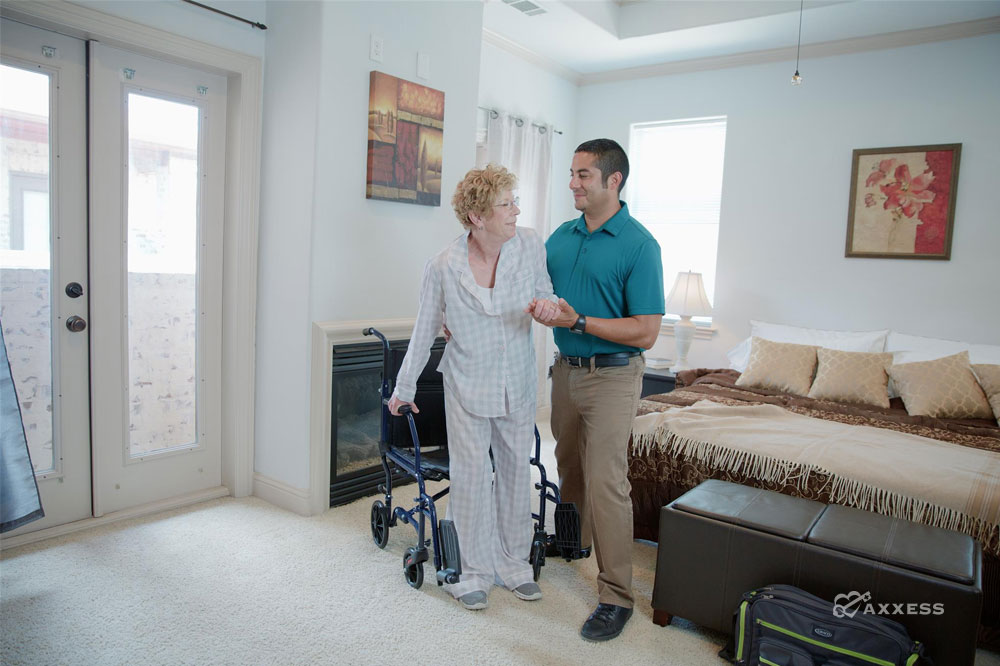 Decreases in mobility as individuals age can lead to a decline in independence and more frail health, which in turn leads to significant increased risk of hospital admission or readmission. Beyond that, older adults are also at greater risk for isolation due to that lack of mobility and function, which can add to adverse health effects.
Isolation and lack of social integration contribute to poor health more than genetics. Among the many impacts of isolation are loss of movement, high blood pressure, risk of heart disease, higher risk of stroke, and increased cognitive decline. Additionally, as one's functional mobility declines, older adults become at higher risk for falls resulting in injury, muscle atrophy, development of wounds and exacerbation of illness, all of which increase chances of hospital admission or readmission.
Personal Home Care Services Provide Valuable Support
Engaging personal home care services can reduce the effects of immobility and isolation, and ultimately reduce the odds of hospital readmission. Personal home care ensures appropriate supervision and support as a person moves and completes daily tasks. A caregiver in the home also supports activities of daily living (grooming, dressing, meal preparation), and provides social interaction that is so essential to quality of life.
Personal home care services can have a positive impact on overall healthcare costs. According to 2017 data from the Hospital Readmission Reduction program, hospital readmissions that occur within 30 days of patient discharge cost Medicare approximately $17 billion annually. Patients between 75-84 years of age account for the highest number of those hospital readmissions. Similarly, the Centers for Disease Control and Prevention estimated the total medical costs for falls in the elderly at more than $50 billion in 2015, making fall injuries among the most expensive medical issues. As hospital systems continue to be penalized for patient hospital readmissions, personal home care can be a vital partner in preventing hospital readmission.
Personal Home Care Means Individual Attention
Personal caregivers are educated to encourage client's optimal participation in functional activity with the most appropriate assistance to guide and promote the client's independence. Caregivers evaluate and support their clients through alternative strategies for self-care and completion of daily tasks in a safe and meaningful way. They work with clients to reduce health and injury risk by addressing numerous issues and promoting improved functional mobility. Additionally, caregivers know their clients well and are attuned to subtle changes in symptoms and client behavior that can help with timely medical intervention and avert avoidable trips to the emergency room.
Data Collection Is Key
A key to personal home care success is data collection. Establishing a functional baseline and understanding the client's prior level of mobility, independence, self-care, and usual living situation is critical to implementing appropriate and effective interventions that lead to positive outcomes.
Using the OASIS assessment with a focus on the functional scoring components, including grooming, bathing, transferring, dressing, ambulation and risk for hospital readmission, provide the foundation for a comprehensive personal care plan leading to a successful outcome. Implementing OASIS data collection allows organizations to track client outcomes leading to appropriate care modifications and tools to better support all clients.
As a best practice, consider aligning client care plans using the established OASIS assessment as a platform for a thorough assessment and measuring functional abilities. The Axxess HomeCare software solution contains the OASIS assessment in the software to promote this vital data collection.
Conclusion
Personal home care has many benefits for our aging population, most significantly by improving client's quality of life, increasing functional mobility, and reducing hospital readmission. Implementing data collection to substantiate good client functional outcomes can lead to continuously improving care delivery, increased client census, and more effective community partnerships.