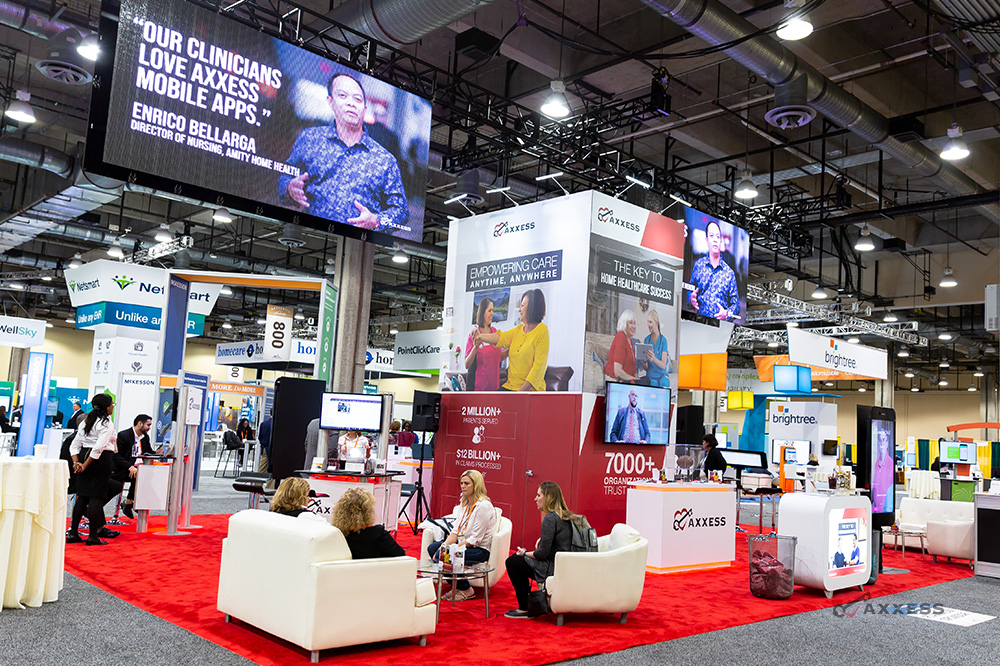 As a first-time attendee of the National Association for Home Care and Hospice (NAHC) Conference and Expo earlier this month, I came away with a better understanding of our industry and the people who bring it to life with their passion for making lives better.
At the conference, there are plenty of opportunities to interact with professionals from thoughout the industry, during the educational sessions, and events held before, during, and after each day's scheduled activities. Here are a few of the highlights.
Regulatory
The leadership of NAHC shared a lot of valuable insight into their plans for the upcoming year and the changes that are looming over home healthcare. NAHC President Bill Dombi spoke to the crowd in a general session about the work the organization has done to support the industry, including saving, by their estimate, $29 billion over the next decade through various policy victories. During one of Axxess' boothside chats, Dombi shared that NAHC plans to take a more active role in grassroots advocacy. The organization is looking to hire a person full-time to lobby on behalf of its members. This is something to watch as home health organizations prepare for the Patient-Driven Groupings Model (PDGM) and the Review Choice Demonstration (RCD) changes on the horizon.
Networking
Nearly a thousand people attended the conference near Dallas, which made it very easy to meet new people. The conference offered a lot of opportunities to network and connect with home healthcare professionals from all over the country. These proved to be an excellent way to bounce ideas off someone else or get a fresh perspective on a problem. NAHC set up the event to include receptions and meals where a first-timer could meet someone new. Exhibitors like Axxess even hosted a party on the second day of the conference to let people connect to each other in a less formal setting.
Learning
Working in home health, home care, and hospice comes with a lot of changing regulations, new business practices and management challenges. As part of the conference, there were several dozen education sessions to share the latest information on regulatory updates, best practices, and new approaches to familiar problems in our industry. These sessions also provide continuing education credit. As a presenter in two sessions, I saw first-hand the hunger for knowledge from the audience. The education sessions offer a chance to interact with the presenters and truly understand how to use the information after the conference.
New Relationships
The conference is not the only part of this annual gathering. There is also an expo that happened over the course of three days. Nearly 200 companies set up exhibitor booths to meet the attendees and share ideas to grow their business. Axxess had an impressive set up that helped the team welcome in many people looking for solutions that are easy to use and compliant with regulatory standards. The expo created the perfect opportunity for attendees to find new ways to run their business, increase their revenue, and simplify their scheduling challenges.
Axxess also debuted the new Axxess Hospice software, which will be available in the coming months. It has been built for hospice professionals by hospice experts to be the ultimate intuitive solution for every size hospice organization. The engineering and hospice clinical team have built a software that will ensure compliance and maximize efficiency so that clients can focus on providing compassionate care. To learn more about Axxess Hospice, click here.