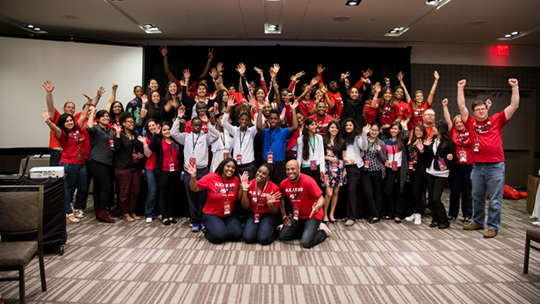 Successful companies have a responsibility to their communities to give back in ways that matter. Healthcare technology company Axxess takes this responsibility to heart.
Axxess President and CEO John Olajide recently participated in the Dallas Regional Chamber's 'Principal for a Day' program at Kennedy-Curry Middle School, a part of the Dallas Independent School District. From this program, an ongoing partnership was formed between Axxess and Kennedy-Curry to help address various needs among the school's approximate 800 students.
Last month, Axxess hosted an 'expo style' event at the Westin Galleria for Honor Students to learn about Axxess as well as college and career paths in software engineering, marketing, human resources, healthcare, customer service and business operations.
The students learned about these different career options through hands-on demonstrations, guided discussions and personal interaction with people who are doing this work every day at Axxess. The theme of the event was 'We dream, we build, we empower!'
Community involvement such as this event ties in well with the school's Principal Dennis Taylor's five-year goals including:
Fifty percent of the students have opportunities to participate in a Science, Technology, Engineering and Math (STEM) program
Increased awareness of the importance of college among students
Successful implementation of partnerships with community programs
One student, who wants to go to Princeton, said that "[the event] provided insight into what I need to do when I grow up. I think programs like this with Axxess are important because this is real life. This is an opportunity for us to see what the real world is like."
Principal Taylor and President Olajide believe the local business community can play an important role in exciting and motivating children about their futures by sparking their imaginations at a young age.
Earlier this year, Axxess donated school uniforms for 100 Kennedy-Curry students.
Olajide added "We're looking forward to doing more events like this in the future and keeping the partnership between Axxess and Kennedy-Curry Middle School strong to ultimately benefit the entire community – neighborhoods, schools and businesses."