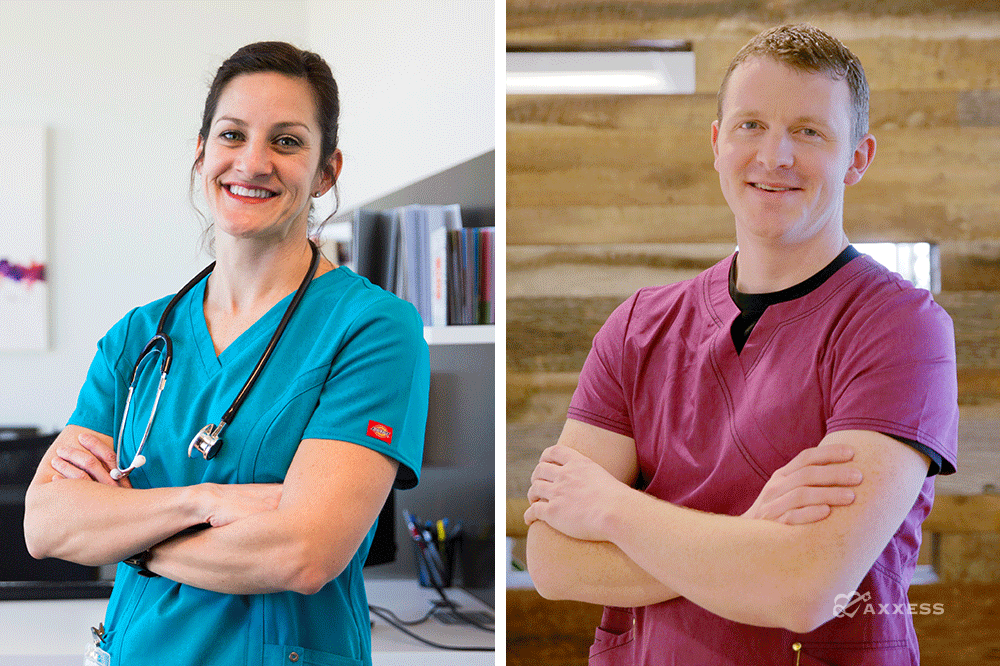 As noted by my colleague Sonya Sobush recently, America's growing population of older Americans (from 15 percent of the total population today to 20 percent by 2030) amplifies the need for increased variety in medical care options. As leaders both inside and outside the medical community work to meet the burgeoning demand, Axxess is proud to celebrate National Home Care & Hospice Month and the work being done by millions of caregivers. Sonya wrote about why many find providing care in the home so rewarding. Below are some of the many special rewards for hospice workers.
Hospice Caregivers: Special People Doing Rewarding Work
It is often said that working in hospice takes a special kind of person. The emotional toll it can take can prevent some people from considering it as a career. However, for those who do commit to working in end-of-life care, the opportunity to make a meaningful difference in someone's life can be an incredibly fulfilling reward.
Collaboration: Hospice caregivers, work as a team, to care for patients and their loved ones. The hospice interdisciplinary team includes physicians, nurses, social workers, spiritual counselors, hospice aides and bereavement coordinators. Whether during normal business hours or in the middle of the night, hospice caregivers coordinate with one another to provide the care that the patient needs at the time
Holistic Care: In addition to traditional clinical services, hospice care may include massage, music, art or reiki therapy at the time. Working in concert to provide a variety of services to provide comfort, care and support for patients and their loved ones enriches the lives of hospice patients and their caregivers.
Ever-Changing Environment: It is often said that every day is a new adventure for hospice caregivers. The provision of hospice care is never routine. Hospice patients come with a variety of diagnoses, socioeconomic backgrounds, may live at home, in a nursing or assisted living facility and have a wide variety of needs and concerns that need to be addressed by the interdisciplinary hospice team. When a hospice patient has a change of condition, it may require the hospice caregiver to completely change their schedule for the day. Although it can be challenging, hospice caregivers enjoy the variety that hospice caregiving provides.
Holding Space: Holding space is the practice of meeting a patient and their beloved where they are, walking the final miles of their life's journey with them, offering comfort and compassion when they are most vulnerable without trying to "fix" their life by judging them or offering them unsolicited advice. Holding space is a way to honor a person and their life in the most compassionate way. Working to provide care in a supportive and accepting way is not commonplace in healthcare. Hospice caregivers are allowed, and even expected, to take the time needed to connect, build relationships and hold space for and with their patients.
The Small Things: Hospice caregivers participate in the most vulnerable part of their patients' lives. Recognizing the small things that their patients love, hospice caregivers often get the opportunity to make their patients feel special. Whether it's taking a patient outside to feel fresh grass on their bare feet or listening to the story that has been told a hundred times, and asking new questions providing delight for their patient, hospice caregivers create special moments for their patients and their loved ones and reap the reward of knowing that they make a difference.
Empowerment: Hospice professionals empower their patients and their loved ones every day to make decisions that will add quality, joy and laughter to a life that may be few in days. Educating patients and their loved ones about what their disease and its progression, empowers them to think about their priorities in a different way, to have conversations that may be long overdue and to find hope, joy and to create memories. Hospice caregivers are empowered to provide comfort, compassionate care and to find ways to say "yes" every day.
Giving the gifts of peace and dignity: The goal of hospice care is to provide comfort and care at the end of life. Hospice caregivers struggle when the patient they have cared for dies. They feel the pain of loss like everyone does but they also feel gratitude. The gratitude that comes with ensuring that their patients are at peace and not struggling with symptoms that could rob them of their dignity. The secret is that hospice is really a gift, the gift of dignity and peace in one of the most sacred times of life.
Strength of the human spirit: Daughters taking care of their children and their own father at the same time; mothers that hold on for another day to see their child one more time; young adult children caring for their parent that is much too young to be dying; hospice caregivers are witness to the strength of the human spirit. Joining loved ones in the care of their family member, walking alongside them on the hospice journey, providing with education and support along the way, allows hospice caregivers to witness the strength of the human spirit and to know that they are making a difference, one patient and family at a time.
Axxess is proud to celebrate those whose life's work is to improve care in the home – whether to improve a patient's health or provide compassionate care at the end of their life.