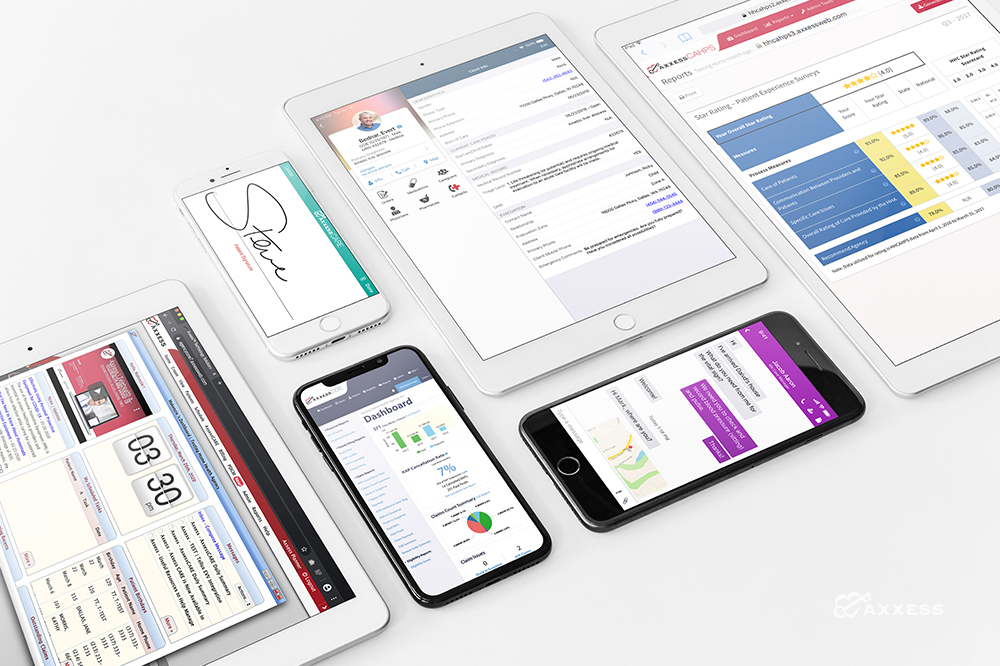 As we continue managing the current coronavirus (COVID-19) pandemic, the healthcare industry is directly impacted. Adapting to accommodate the most current needs of in-home care professionals is a core element of Axxess software solutions and delivering resources for success is vital now more than ever.
That's why Axxess platforms are filled with agile features that facilitate seamless coronavirus screening, continuous infectious disease monitoring, compliant emergency planning, automated documentation capabilities and ongoing industry news and updates on the crisis. Axxess streamlines your workflow so you can focus on delivering care that patients and clients need in this time of uncertainty.
Emergency Preparedness
An emergency preparedness rule requires enough planning for any disaster. Organizations must be able to identify individuals in charge of each task and the essential functions that they will need to put in place to be successful during an emergency. Axxess has provided features that enable organizations to quickly and easily manage their emergency preparedness planning information. It is also important to help caregivers and clinicians identify an emergency triage level for each patient. The emergency preparedness report enables users to sort clients by triage level, and quickly identify clients requiring immediate assistance during an emergency.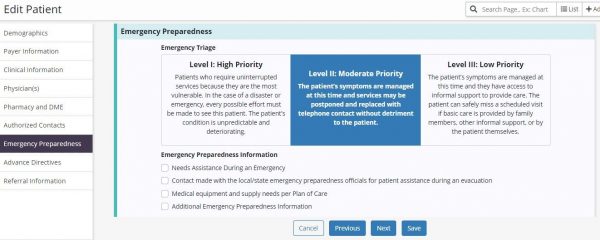 Infectious Disease Monitoring
Axxess has created an infectious disease profile that helps users track infectious diseases for patients, clients and employees. All aspects of infectious disease monitoring can be reviewed in one place under the infectious disease profile. This profile organizes all elements of completed disease screenings.

COVID-19 Screening
Some patients are at higher risk for severe illness from COVID-19. To implement infection control measures as soon as possible, it is essential to screen patients for COVID-19 before clinicians arrive at their homes. Axxess has created a disease screening tool within the infectious disease profile that enables users to screen and assign a risk level to patients and employees who may have contracted the virus. This functionality helps organizations sustain optimal safety measures and minimize the risk of spreading infections among patients and employees.

COVID-19 Clinical Documentation
Specific documentation features enable easy identification of COVID-19 cases and help caregivers educate patients and clients about the virus. COVID-19 diagnosis codes have been added to the software so users can identify positive cases and remain compliant with regulations implemented by the Centers for Medicare and Medicaid Services (CMS). Additionally, COVID-19 teaching templates throughout Axxess systems facilitate effective patient and client education, so users can maintain thorough records of proper teaching and disease documentation on COVID-19.

Telehealth Documentation
In the wake of COVID-19, telehealth is emerging as a way to deliver care and help prevent the spread of the coronavirus. Axxess systems enable users to set up custom telehealth visit notes for seamless scheduling and documentation of telehealth visits. An emergency rule making its way through the U.S. Office of Management and Budget could give providers the chance to be compensated for telehealth services. In preparation for possible regulatory adjustments, Axxess enables seamless inclusion of telehealth documentation on monthly claims, so organizations can position themselves for optimal reimbursement and financial security.
Industry News and Updates
Leaders at Axxess have been closely monitoring developments on the coronavirus and have taken steps to provide helpful information to the industry in these uncertain times. Axxess has created a resource page that provides useful resources, best practices and industry insights on everything COVID-19 related. We continue to make necessary updates to facilitate seamless, high-quality care delivery that improves lives.
For additional information on COVID-19 features in Axxess solutions, visit our Help Center or COVID-19 Resource Center.