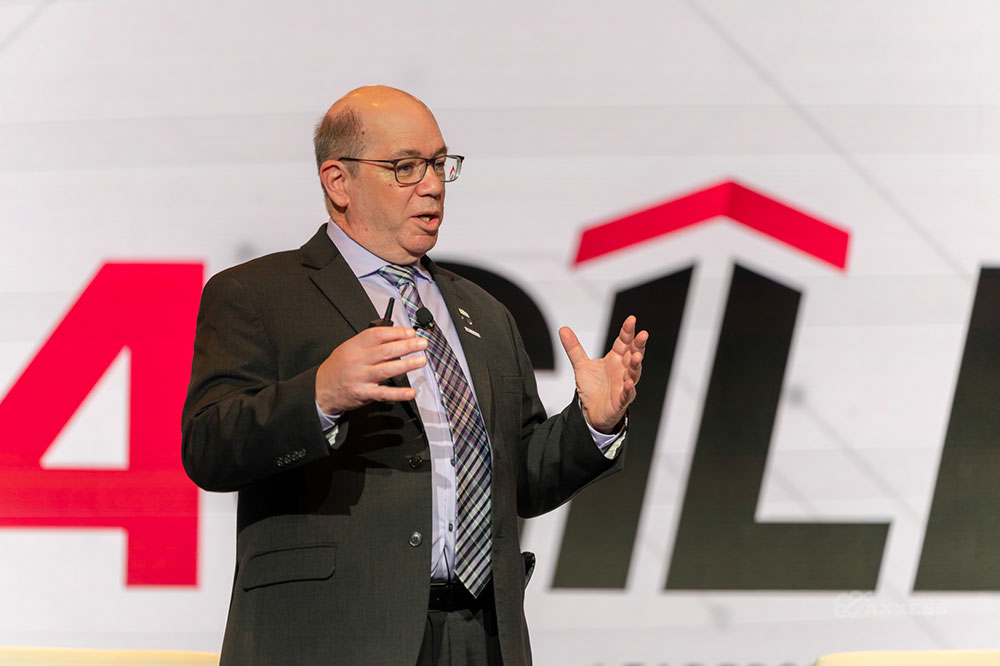 When the new Outcome and Assessment Information Set (OASIS-E) came into effect on January 1, 2023, clinicians and care at home leaders expressed concerns of longer completion times for the updated assessment, putting further strain on recruitment and retention efforts. However, it's important for clinicians to know they can save time gathering data by looking for clues along the way.
In an education session at the 2023 Axxess Growth, Innovation and Leadership Experience (AGILE), Tammy Ross, BSN, RN, Senior Vice President of Professional Services at Axxess, and Mike Carr, PT, COS-C, Senior Product Manager at Axxess, detailed how clinicians can simplify the OASIS data gathering process using the 15-Minute OASIS Walk and improve quality measures.
"I really put a lot of thought into how we can make this easier," Ross said. "What can we do so that nurses get it, so it clicks?"
Look for Clues
Throughout the session, Ross and Carr stressed the importance of viewing the OASIS as an assessment and not a questionnaire. Clinicians should begin gathering OASIS data from their initial interaction with the patient, often starting with a referral and a phone call with the patient.
"It really starts with referral, so as soon as you get that referral, you're getting clues about that patient," Ross said. "You're usually going to get a diagnosis, you're going to get a medication list, maybe you'll get some therapy notes for in-patient therapy. So that's really giving us some clues."
During the initial phone call with the patient, clinicians should pay attention to the patient's tone of voice, hearing impairments or forgetfulness. Clinicians should also use this time to remind patients to have items like medications and discharge papers ready for review during the home visit. Homebound eligibility can also be assessed over the phone.
Ross also advises clinicians to look at the outward appearance of the home for additional clues. Pay special attention to an unkempt yard or grass, newspapers on the driveway and the length of time it takes for the patient to answer the door. These clues can help assess the mobility of the patient before the formal OASIS data gathering begins.
Show Me Assessment
Clinicians should use the "show me assessment" when assessing functional OASIS items in the home. Rather than having the patient describe how they complete a task, they should instead have the patient demonstrate tasks to assess items like pain and mobility more accurately.
Examples of the show me assessment include:
"Show me how you get around your house and up and down stairs." This helps assess ambulation and locomotion.
"Where do you keep your grooming supplies? Can you get them out for me?" This helps assess grooming.
"Show me how you get on and off the bed." This helps assess transferring.
"Show me how you get a shirt out of the closet. Show me how you get pants out of your dresser." This helps assess upper and lower body dressing.
Plan of Care Collaboration
While demonstrating the OASIS walk, Ross and Carr shared that clinicians need to develop a collaborative approach to the plan of care and use both therapists and home health aides (HHAs) when necessary.
As one of the least expensive assets, HHAs can be the eyes and ears for clinicians, develop home exercise programs and assist in the prevention of falls, Ross said. They also provide a human touch element which can address depression in patients and ultimately lead to better outcomes.
"Never underestimate the value of a home health aide," Ross said.
Clinicians should also look to technology to help monitor patients, using telehealth or telemonitoring to assess the patient between visits.
OASIS-E Reimbursement and Value-Based Purchasing
The key to achieving the Home Health Value-Based Purchasing (HHVBP) quality measures organizations desire lies in accurate OASIS scoring. Carr emphasized that clinicians need to focus on getting the system right so reimbursement dollars are not left on the floor.
"There is much more of that underassessing and cost left behind," Carr said.
To succeed with HHVBP, care at home organizations need to keep these OASIS strategies at the top of mind: staying current on regulatory changes; remaining mindful of the impact on HHVBP, star ratings and the Patient-Driven Groupings Model (PDGM); training staff; and collaborating for accuracy.
With more than 250 attendees, more than 40 sponsors and countless connections made, AGILE 2023 was a massive success for everyone. Check out the recap video and mark your calendar for AGILE 2024, April 21-24 in Dallas.