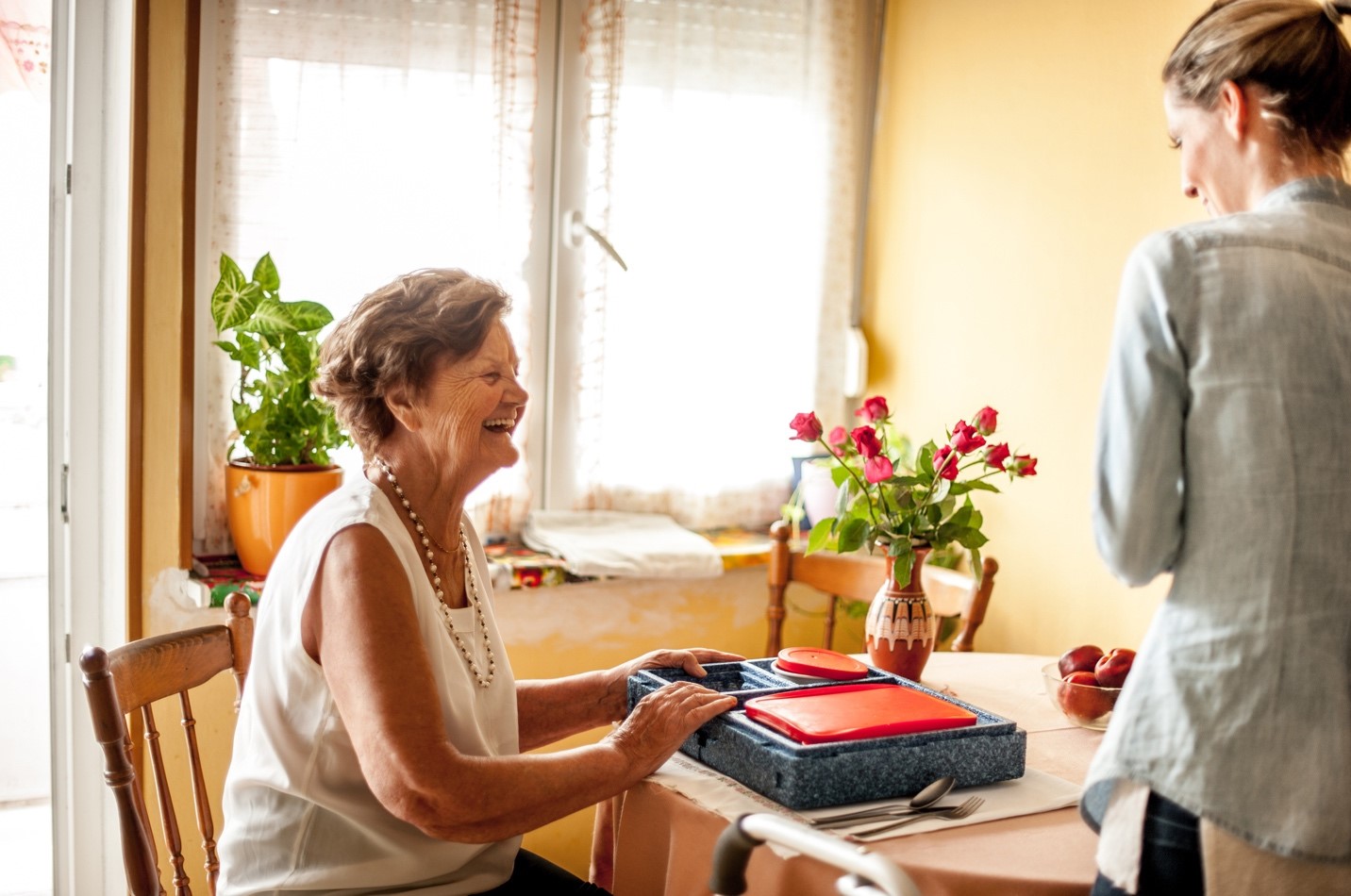 Research shows that a majority of seniors want to remain in the familiarity and comfort of their home as they age. To help make this happen, it's important to have a network of reliable community services available. One organization that helps make this a reality for seniors is Meals on Wheels America, the leadership organization that supports more than 5,000 community-based programs throughout the United States that provide seniors with a nutritious meal, a friendly visit and regular safety checks.
Ellie Hollander is the President and CEO of Meals on Wheels America and has been a long-time advocate for the health and wellness of vulnerable seniors. Founded in Philadelphia in 1954 as a grassroots effort to support local seniors who wished to age in place, Meals on Wheels has grown into a nationwide program that delivers nearly 220 million meals to 2.4 million seniors annually. A unique public and private partnership, Meals on Wheels America receives approximately one-third of its funding from the Older Americans Act and federal block grants, and the rest from private donations from individuals, organizations and businesses.
Community-Based Services
With the nation's senior population expected to double by 2050, the demand for community-based services continues to grow. One of the most fundamental needs is helping to ensure seniors receive proper nutrition. The Hunger in Older Adults study, conducted by Meals on Wheels and funded by the AARP Foundation and the Cesar Foundation, found that approximately one in six older Americans face the threat of hunger. According to Hollander, other research has shown that people who are malnourished age 14 years more than their current age, which in turn creates a variety of health issues. Hunger in Older Adults also found that 33% of older adults admitted to the hospital may be malnourished and that malnourishment can increase healthcare costs by 300%. Taken together, these statistics show the impact on a community when hunger is not addressed.
Meeting Vital Needs
Another equally important service Meals on Wheels provides, according to Hollander, is reducing social isolation. As many as 59% of Meals on Wheels recipients live alone, so their interaction with the Meals on Wheels volunteers is vitally important to their health and well-being. Having a nutritionally balanced meal and connecting regularly with a volunteer enables seniors to age in place and maintain their independence. In fact, nine out of 10 seniors say they feel they can live in their homes longer thanks to the Meals on Wheels program.
According to Hollander, nutritional needs change as a person ages, and Meals on Wheels follows dietary guidelines to ensure seniors are receiving nutritionally-balanced meals. Meal recipients are not denied services if they are unable to pay, and the program provides meals not only to individuals in their homes, but congregate meals at senior centers and other community spaces as well. Additionally, Meals on Wheels offers transitional support for short periods of time, providing seniors with nutritional meals and a friendly face following illness, injury or surgery in order to help them regain their independence.
Improving Health and Healthcare
As the senor population grows and as the definition around healthcare continues to evolve and expand beyond just traditional doctor-patient relationships, Meals on Wheels has taken the opportunity to build partnerships within the healthcare industry. This includes outreach to referral sources and educational programs that emphasize how Meals on Wheels improves health and health outcomes, and reduces healthcare costs by providing nutritionally-balanced meals to seniors in the community. Hollander points out that a senior can be fed for one year for the same cost or less than the cost of one day in the hospital or ten days in a nursing home. While Hollander says there is still work to be done to expand the partnership, a long-term goal is including nutrition as a component of all care plans.
To find Meals on Wheels services in your community, visit the Meals on Wheels America website, click on Find Meals at the top of the page and enter the zip code for the location you are interested in. While the programs may go by different names in some communities, the concept – to provide nutritious meals to vulnerable seniors – is the same. To get involved with Meals on Wheels, Hollander encourages people to reach out to their local program to donate, advocate, or volunteer. With less than 2% of individuals and corporations supporting causes that are targeted to seniors, every bit of support helps. Volunteers, who serve as the eyes and ears for the vulnerable seniors they visit, report receiving a great deal of personal fulfillment knowing they are not only providing a nutritious meal, but a friendly face as well.
The Help Choose Home Podcast
Listen to the full interview with Ellie Hollander in the Help Choose Home podcast series to learn more. This episode and others in the series can be found on Apple Podcasts or Google.
The Help Choose Home podcast series provides information and resources for families about senior home health options. Podcasts are hosted by Merrily Orsini, executive vice president of Axxess and president and CEO of corecubed, an award-winning home care marketing solutions agency.
Help Choose Home is a collaborative effort by the National Association for Home Care and Hospice (NAHC), Axxess, and corecubed to educate the public about the many benefits of the in-home care industry, which includes non-medical home care, private duty nursing care, medical home health, hospice, and other in-home health and wellness services.
If this episode has been helpful, be sure to leave a five-star review and share the podcast with your friends to help us in the national effort to help choose home! You can connect with Merrily Orsini on Twitter @MerrilyO.