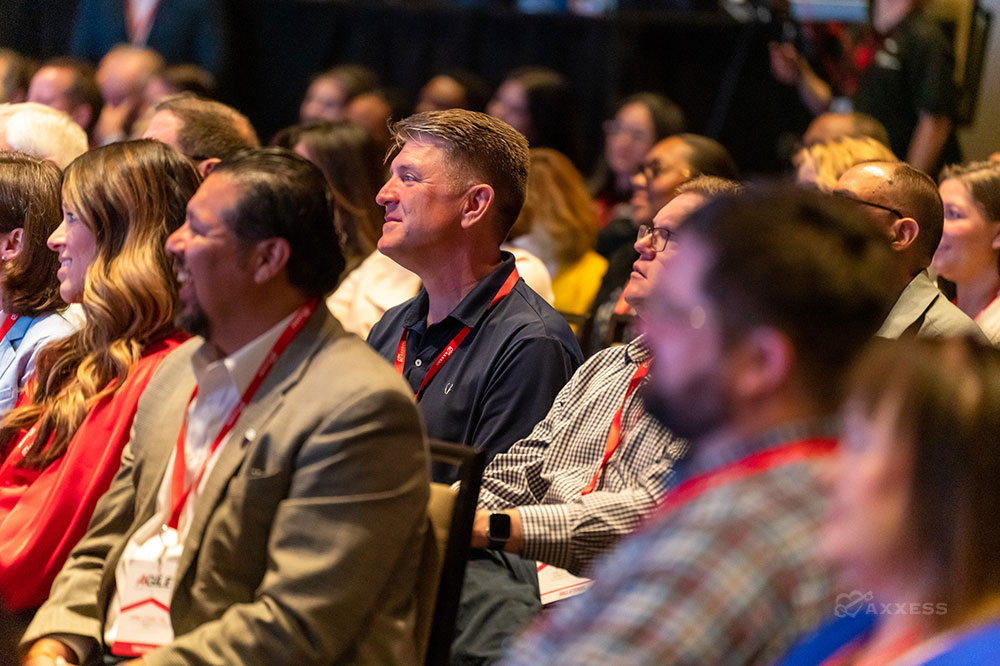 The Home Health Consumer Assessment of Healthcare Providers and Systems (HHCAHPS) Survey makes up 30% of an organization's Home Health Value-Based Purchasing (HHVBP) score. Given its direct impact on an organization's financial health, monitoring how patients respond to the HHCAHPS Survey questions is critical.
In an education session at the 2023 Axxess Growth, Innovation and Leadership Experience (AGILE), Jennifer Maxwell, CEO and Co-Founder of Maxwell Healthcare Associates, and Andrew Awoniyi, Vice President of Patient Engagement and Analytics at Axxess, discussed ways to enhance the patient experience to improve HHCAHPS Survey performance and sustain lasting financial success.
"At the end of the day, an improved patient experience will hit the bottom line," Awoniyi said.
Improving the Patient Experience
Maxwell and Awoniyi highlighted the following ways to improve the patient experience.
Educate staff on patient engagement.

Educate staff on what patient engagement means and what the care experience should look like for each patient. Create key performance indicators (KPIs) to track and benchmark performance.

"If we can get staff on the same page and we're all being held to the same KPIs, it makes it a lot easier to do interchanging of patients and schedules and things like that," Maxwell said.
Educate sales and business development teams to set appropriate expectations.

Bring together the sales, clinical and operational teams to identify what services the organization can and cannot provide. Remain consistent in branding and marketing to ensure the expectations of patients and referral sources align with the organization's deliverables.
Ensure timeliness to care.

"Timeliness to care is the most important thing," Maxwell said. "Having those operational efficiencies to get those referrals assigned and scheduled immediately is going to be really important to that overall patient engagement experience."
Remember most patients have loved ones who want to be involved.

"When you're not there providing services, family and loved ones are the ones [who] are there," Awoniyi said. "The more they know, the more they can support and continue to reinforce whatever interventions we're seeking to put into place."

Loved ones may also be the ones completing the HHCAHPS Survey on the patient's behalf, so their experiences can weigh heavily on an organization's survey performance and HHVBP scoring.
Enhance call center and customer service operations.

Maxwell highlighted the importance of having a call center to triage referrals that come in after hours, and indicated this is the area where smaller organizations tend to struggle the most. She encouraged all organizations, particularly smaller ones, to investigate how technology can be leveraged to automate customer service operations and ensure referrals that come in after working hours aren't lost.
Add communication elements to the care plan.

Create interventions and goals to ensure every patient and caregiver is having conversations about what mutual success looks like, and make sure these conversations take place at every visit. When the patient's goals change, evolve the care plan to accommodate their current needs and goals.
Be intentional about responding to concerns.

Address patient concerns quickly and thoroughly according to company policies and procedures. Maxwell discussed the importance of using complaints and concerns as opportunities to learn and revise policies and procedures.
Implement call- and text-ahead reminders.

The number one complaint on the HHCAHPS Survey is, "I never know when my caregiver is coming to my house." Prevent this issue by implementing technology that automatically reminds patients when caregivers are scheduled to arrive and gives patients the opportunity to indicate schedule conflicts so back-office staff can reschedule the visit and assign another visit to the caregiver.
Maxwell and Awoniyi encouraged session participants to build and implement a six-point patient experience framework consisting of leadership, stakeholder buy-in, strategy, technology, support and services, and patient journey mapping, which involves outlining and analyzing a patient's journey through the organization from admission to discharge and identifying any process gaps.
Scripting Key Touchpoints
When mapping a patient's journey, identify key touchpoints where scripting can be leveraged to promote positive patient experiences and improve HHCAHPS Survey performance.
Awoniyi provided examples of how scripting key touchpoints can target specific questions on the HHCAHPS Survey.
Question 15 on the survey is reported in the Communications Between Providers and Patients category and asks, "In the last two months of care, how often did home health providers from this agency keep you informed about when they would arrive at your home?"
In addition to leveraging technology to support this area, scripting touchpoints around provider arrival and anticipated delays will increase the likelihood that patients answer this question with "Always."
Review the survey questions in each reporting category to create scripting based on the areas being measured.
Awoniyi also encouraged organizations to create scripting for informing patients at the start of care that they may be contacted for a mail or telephone survey and that their feedback will help the organization provide the best care possible.
Measuring Success
Patient experience should be an ongoing focus for any healthcare organization. When implementing new initiatives to improve the patient experience, it's important to measure how effectively those initiatives are working by periodically reviewing responses to the HHCAHPS Survey questions and pivoting when efforts fall short of the desired outcomes.
"The data that you get back from the survey is invaluable for you to make changes within your organization," Maxwell said. "So, it's important to be able to take that, measure to it, and then continuously optimize to it, as well."
With more than 250 attendees, more than 40 sponsors and countless connections made, AGILE 2023 was a massive success for everyone. Check out the recap video and mark your calendar for AGILE 2024, April 21-24 in Dallas.