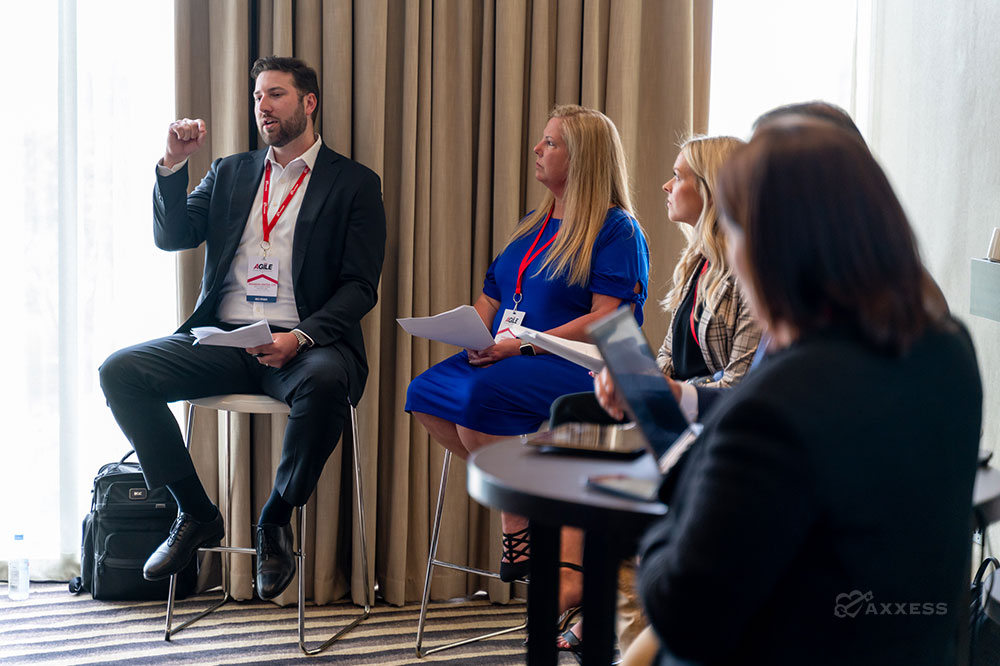 As the care at home landscape continues to grow and reimbursement models change, organizations are looking for ways to expand into new markets without impacting patient access to care. Unique revenue models enable a diversified approach to care delivery in home-based care.
In an education session at the 2023 Axxess Growth, Innovation and Leadership Experience (AGILE), a panel of industry experts shared insights on the current mergers and acquisitions (M&A) landscape, payer perspectives and strategies for optimizing revenue cycle management that increase access to care. Panelists included Staci Beltran of Agenda Health, Brandon Center of Texas Capital Bank, Scott Flannery of United Healthcare and Robin Free of Palmetto GBA.
M&A Growth and Technology
Coming into 2023, Beltran noted she is still seeing a lot of home health M&A opportunities come to the market, as well as a growing interest in home care that rivals the interest in hospice. Organizations of various sizes and types acquiring or merging with others, further showing the diversity in the M&A landscape. She highlighted the importance of investing in technology to get involved in M&A.
"Being able to get technology in place, that then helps the clinicians spend time at the bedside versus worrying about things like scheduling and administrative work," Beltran said.
Investment in technology can increase the value of an organization, especially as organizations across the country are looking to attract and retain talent. Many buyers are looking for organizations that are well staffed and connected to many payers. These factors also lead to improved access to care for patients.
Payers Looking to Value-Based Care
Contracting with different payers can also help organizations grow their business and provide care to more people in need. For those looking to build new relationships with payers, Flannery discussed the importance of differentiation and value.
"Many providers compete today in a sea of sameness," Flannery said. "To me, it's about differentiation. What does a provider, especially in the home, what do you bring to the table that's different from those that are already contracted? And then, quite frankly, where are you headed on the value-based care model?"
He also highlighted the need for collaboration and data sharing between payers and providers to demonstrate return on investment (ROI) and value.
"Several companies…have really great ideas, and then we say, 'But what's the end result of that?'" Flannery said. "Is it hitting the quadruple aim?…And quite frankly, it has to be a balance of those four things. If one of those four is out of whack, then it's probably not that great of an idea. Assessing through that is probably one of the biggest challenges."
Review Choice Demonstration Model Optimizing RCM
Free discussed the Review Choice Demonstration (RCD) model including how it could impact access to care by enabling compliance and organizational growth.
In the RCD model, providers can choose what type of review they want to undergo:
Pre-claim review
Post-payment review
Minimal post-payment review with a 25% payment reduction
After a six-month period, home health organizations demonstrating compliance through pre-claim review or post-payment review will have additional choices, including relief from most reviews. This model is only applicable in certain states now but will likely expand in the future.
Free shared that the program has not changed documentation requirements and could even optimize revenue cycle management, reduce audit scrutiny and ensure compliance. Participating organizations receive feedback on their claim submission process and can rest assured they will be reimbursed for every claim submitted to Medicare. This can ultimately make the organization more attractive for potential M&A.
"These beneficiaries are still being served, but they're being served by providers who really want to do the right thing and have intentions to make it a good benefit for the beneficiaries," Free said.
Working Capital
Steady working capital is also important for organizations looking to grow into additional markets and serve patients with different payer mixes. Center noted that there are many variables that can impact available working capital. He encouraged organizations to utilize revenue cycle management technology like Axxess to streamline processes and strategically allocate resources to other areas.
"The quicker you can collect from a business perspective, the quicker you can pay down your debt…or push that money to work for you," Center said.
All the areas discussed during the panel are important considerations for care at home organizations to explore. Patients across the country can have improved access to care while providers can grow their business and focus on quality care.
"As there's more capital infusion and there's growth, these executives are thinking, 'How do we let our clinicians be clinicians?'" Beltran said.
With more than 250 attendees, more than 40 sponsors and countless connections made, AGILE 2023 was a massive success for everyone. Check out the recap video and register now for AGILE 2024, April 21-24 in Dallas.