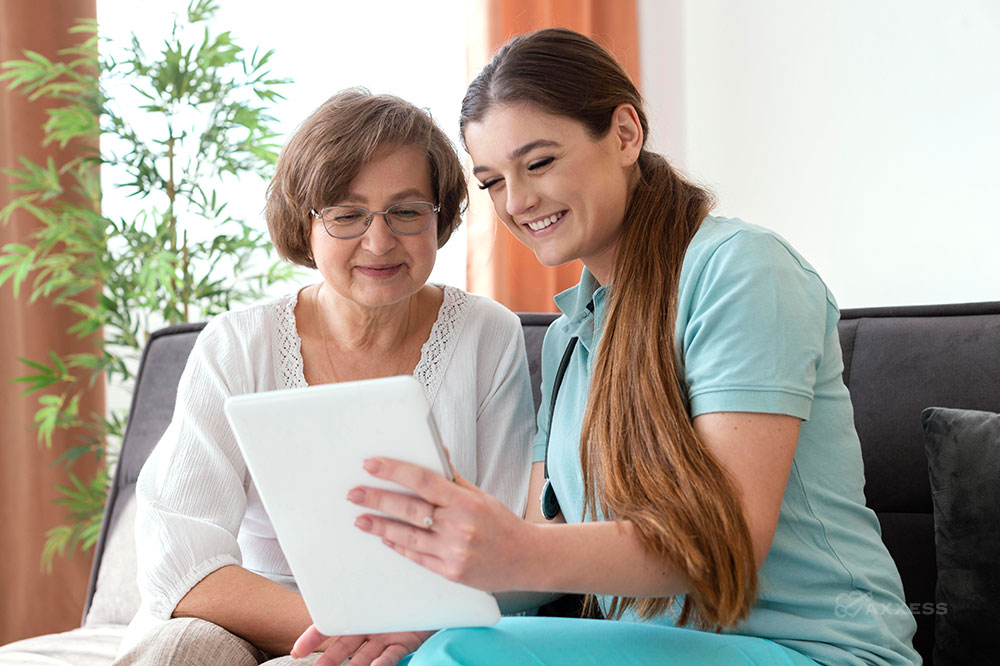 The number one pain point among care at home leaders continues to be recruitment and retention, followed by regulatory compliance and growing their market share, according to a 2023 Axxess and SimiTree survey.
In a recent webinar, Axxess Senior Director of Professional Services Christina Andrews hosted a discussion on navigating these workforce management and regulatory challenges with Nick Seabrook, Managing Principal and Senior Vice President at SimiTree; Trisha Crissman, Vice President and Chief Operating Officer at CommonSpirit Health at Home; and John Gochnour, Chief Operating Officer at The Pennant Group.
Recruitment and Retention
The care at home industry is more competitive for talent than it has been in the past, especially because many clinicians left the field during the COVID-19 pandemic. Gochnour noted that organizations need to create enticing opportunities to draw these employees back in, both financially and in a way that makes their work meaningful.
"It's about making sure [employees] feel valued and connected to the purpose of their organization and the purpose that they complete each day," Gochnour said. "How do we make sure that we are being innovative from a compensation standpoint, from a meaningful work standpoint, so that people feel like they can come here and they can create a career at the pinnacle."
Prioritizing employee satisfaction and reducing obstacles is a key strategy for talent retention. Crissman's organization conducted an employee survey to determine which obstacles were creating the most stress for employees so leadership could focus their efforts appropriately.
"There's a vital connection between leadership, a healthy work culture and the success of our industry," Crissman said. "Our ultimate desire is to increase [our staff's] loyalty to our organization and improve their overall well-being as they care for patients in our community. … We had to do [a survey and listening sessions] because what we thought was a problem before and we thought were solving for, we weren't."
Employee engagement is also important for staff retention. This includes effective onboarding and training, a culture of developing staff, low turnover rates and flexibility to focus on case management.
"If you're consistently having high turnover and you're having to hire new staff, those staff aren't going to be as productive," Seabrook said. "Really having a robust patient care management program is something I really think is most important to control driving those margins from a productivity and cost standpoint."
Productivity is important for an organization's operations, but it also can't be the only focus for employee engagement.
"A lot of [care management] requires training and education and development," Gochnour said. "If our approach is, 'Just go get 25 productivity points,' we're missing the boat and the opportunity to show those employees that we value them and that we are there to help them succeed," Gochnour said.
Regulatory Challenges
Changes to reimbursement and increased costs for patient care are creating regulatory challenges for care at home providers.
"The reality is we are facing a very unique and difficult environment, and it's going to demand more from us as operators than it ever has before," Gochnour said. "Reimbursement rate challenges force us to deliver care more efficiently. … Meanwhile, our clinical leaders are coming in and saying, 'We need more.'"
Panelists emphasized the importance of staff education, accountability around documentation quality, monitoring cash flow and measuring meaningful key performance indicators. This is especially important because home health organizations may be facing additional reimbursement cuts from Medicare in 2024.
"You need to take a good, hard look at your non-Medicare contracts rates," Seabrook said. "What are you getting, and are they sufficient to be able to maintain some kind of a margin? Otherwise, if not, you're going to be out of business."
Role of Technology
Strong technology partners can help care at home organizations navigate these challenges and efficiently implement strategies for success.
"Technology has, is and will continue to impact us profoundly around patient outcomes and patient experience," Crissman said. "Our challenges are around helping our clinicians understand that this is a good thing and that more is better. … We should be welcoming it to help us care for more people who need our help every single day."
Gochnour agreed, saying, "Ultimately, that's our charge, to care for patients in an extraordinary way to deliver extraordinary clinical outcomes and to change people's lives and do it efficiently. … At every stage of that effort, it benefits from great technology."