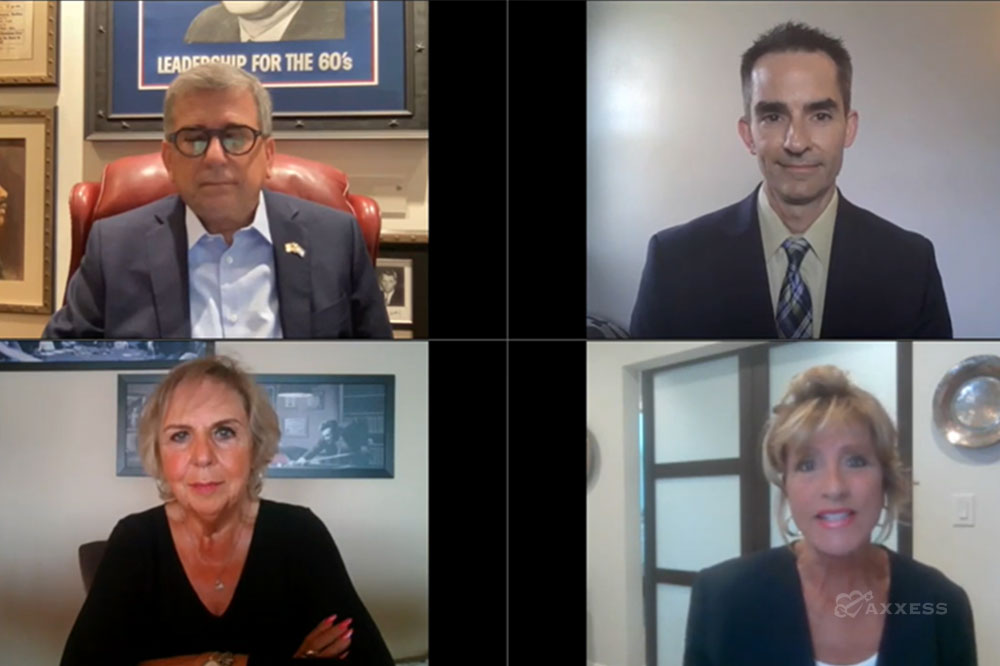 Home health providers are still digesting the fallout from the Centers for Medicare and Medicaid Services (CMS) 2024 Home Health Final Rule released on November 1. The rule brought a mix of good and bad news that will have a lasting impact on the industry and the ability for patients to access care in the home. Axxess hosted a discussion examining the changes laid out in the Final Rule, and outlining the advocacy efforts underway to mitigate the long-term payment cuts possible because of the methodology CMS uses to determine reimbursement rates.
Axxess' discussion featured expert commentary from Arlene Maxim, RN, HCS-C, Senior Vice President of Clinical Services at Axxess, Andrew Woods, Chairman of Liberty Partners, and Robert Markette, a health law attorney with Hall, Render, Killian, Heath and Lyman.
The 2024 Home Health Final Rule
Overall, CMS provided a 0.8% payment increase, which is a sharp reversal of the 2.2% aggregate cut proposed in June. "There's a game that's going on with CMS where they're really hiding the cut behind this inflation adjuster," said Woods. He pointed out that the 0.8% increase does not take into account the additional cuts planned by CMS. In the Final Rule, the federal agency also finalized deep rate cuts, including a 2.89% permanent prospective payment adjustment decrease. This is on top of the 3.95% permanent rate cut put in place in 2023.
Markette emphasized the disconnect between the data CMS is using for decision-making and the home health industry's reality. "CMS does not move off of their view of us as making a large profit, and that's the huge hurdle we face," he said.
Maxim urged home health organizations to look into the changes to understand that they may need to pivot to continue operating. "We need to pay more attention to outcomes," she said. "We can't do things the way we've always done them."
The fact sheet CMS provided for the Final Rule also details changes to PDGM case-mix weights and LUPA thresholds. And CMS revised the baseline year that will be used to determine payment adjustments under the Home Health Value-Based Purchasing (HHVBP) Model. The new baseline year is 2023, rather than 2022.
The change to the HHVBP baseline year disappointed Maxim and she urged home health organizations to get serious about the model. "We have to think about value-based purchasing as a report card on all of us. We have to think of it as a report card not only on our agency but also of the individual clinicians caring for our patients."
CMS also finalized technical changes, including requiring that home health organizations "must meet or exceed a data submission threshold set at 90 percent of all required OASIS and submit the data through the CMS-designated data submission systems," according to the fact sheet.
Home Health Advocacy Efforts
The home health industry has been united in its advocacy efforts to mitigate the impact of proposed cuts and garner more funding and support for care in the home. Woods outlined the current advocacy strategy, emphasizing the need for a comprehensive view of reimbursement rates. "We need more of that kind of thinking in the Congress…we must fix the Medicare Advantage rates and certainly deal with Medicaid," he said.
Markette agreed and called for better data collection. "We need that data in a format that is thorough, complete enough that CMS can't dismiss it," he said. "We are fixed income operators, so we've got to make that case and this is part of the industry has to become more sophisticated."
The National Association for Home Care and Hospice filed a lawsuit in July arguing that the methodology CMS uses to determine payment rates is flawed. That lawsuit continues alongside the industry's advocacy efforts with Congress and the Biden Administration.
Home Health Final Rule Resources
Maxim stressed the resiliency of the industry and the potential for technology to drive operational efficiencies.
"The future of healthcare is in the home and we have to do more with less, and technology is going to be the answer," said Maxim. She called on home health organizations to do research and investigate available technology that will help to understand how the Final Rule will impact their operations.
One tool that Maxim highlighted is Axxess' Revenue Risk Analyzer, which is a business intelligence dashboard that displays the revenue impact of the 2024 Home Health Final Rule to determine how key aspects of home health organizations' operations and revenue will be affected.
"Those types of things we need to research. We really need to be looking into what's available," said Maxim.
Woods also noted the potential for technology to play a role in advocacy efforts. He suggested that detailed data gathered through technology could help to make a more compelling case to CMS about the financial realities of the home health industry. "We have to get that message through," he said.
To watch the full discussion on the 2024 Home Health Final Rule, click here.
Axxess Home Health, a cloud-based home health software, streamlines operations for every department while improving patient outcomes.