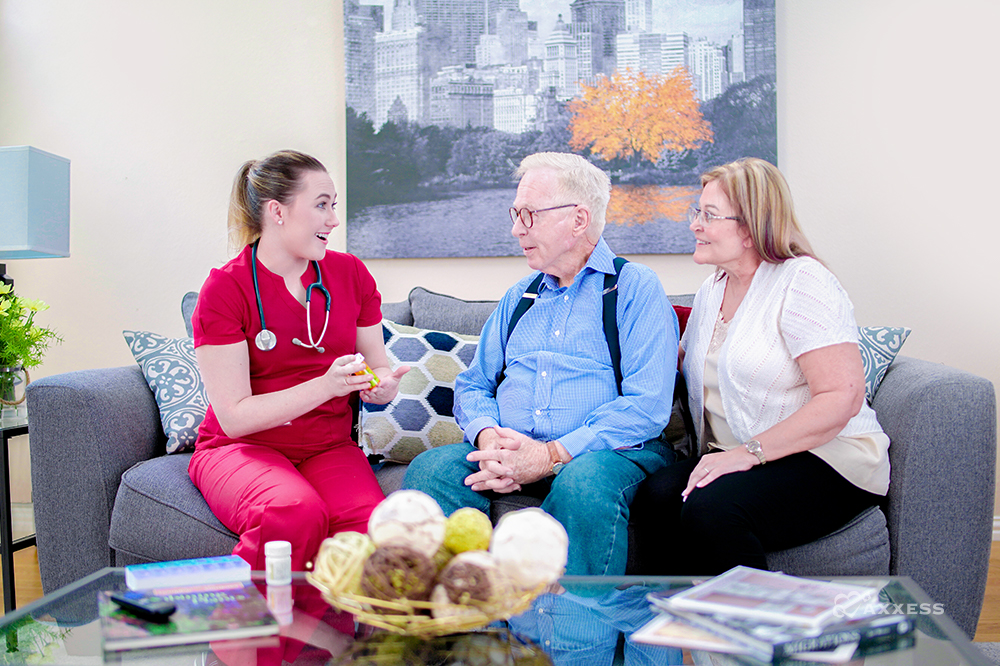 It's impossible to get through February without thinking about hearts. Thanks to Valentine's Day, we're inundated with heart-shaped boxes of chocolates and frilly heart-shaped cards. But candy and card hearts aren't the only things people should be concerned with this month. According to the CDC, heart disease is the leading cause of death for men, women, and people of most racial and ethnic groups in the United States. One person dies every 37 seconds in the United States from cardiovascular disease. About 647,000 Americans die from heart disease each year—that's one in every four deaths.
February is American Heart Month, and it's a good time to think about how to best care for our hearts. Heart disease can often be prevented when people make healthy choices and manage their health conditions. Here are things to remember to help home care clients with their heart health.
Move It
The most important thing to do, regardless of age, is to move. According to Dr. Bill Thomas, a well-known geriatrician who has been working in the field of aging since the 1990s, exercise is THE most important factor, and recent studies continue to confirm that. Even starting with very small efforts at moving more will show benefits.
Eat Heart Healthy
It is not that hard to eat right. Avoid fried foods. Use fresh vegetables. Avoid sugar. One of the best ways to treat our hearts positively is to eat right. Agencies who want to give clients a tasty treat while staying heart-conscious should try some heart-healthy recipes like the following:
Orange Rosemary Roasted Chicken: Low in fat and sodium, this recipe from MayoClinic.com is easy to make and easy on the heart.
Salmon with Olive Pesto: The American Heart Association's website offers some great low-salt dishes, including this one with healthy, lean salmon.
Cheesecake: For something sweet, try this low-calorie, nearly fat-free lemon cheesecake recipe. Pour the mixture into a heart-shaped pan before refrigerating for a festive cake to serve on Valentine's Day.
Helping clients stick to healthy eating habits can be difficult, but it is a start to encouraging them to live heart-healthier lives. Research recipe sites like MyRecipes.com and Epicurious.com for dishes that are low in sodium and fat or adapt client's favorite recipes with an eye on cutting down on butter, salt, and cholesterol. For some healthy substitutions, try the following:
When your recipe calls for butter, margarine, or oil, use baby prunes instead. (Best used in brownies or dark bread)
Instead of sour cream, try low-fat yogurt & cottage cheese. (Puree for best consistency)
Use lean ground turkey as opposed to ground beef.
Evaporated milk cuts down on fat and calories while giving you the same taste and consistency of heavy cream.
Elect for fresh herbs, not seasoned salt.
Use egg substitutes instead of whole eggs to cut back on cholesterol.
Encourage clients to make heart-healthy eating changes and eat food low in trans-fat, saturated fat, added sugar and sodium. Try to fill at least half the plate with vegetables and fruits and aim for low sodium options. For a free substitutions chart to keep in the client's kitchens, download American Heart Association's suggestions here.
Manage Stress
Exercise helps reduce stress, as well as listening to soothing music, focusing on something calm or peaceful, and meditating. Life is just too short to stress about things we cannot control. Learning to manage stress will help on many levels, but it is key to keeping heart-healthy.
February is the perfect time to learn about risks for heart disease and the first steps to take to improve heart health. By raising awareness about heart disease and ways to prevent it, communities, organizations, and health professionals can work together to create opportunities for people to make healthier choices.
Axxess HomeCare is a home care software that keeps clients and caregivers connected. Through our Family Portal, families can view schedules and medication lists to ensure the best quality of care for loved ones. Have some recipes or cooking tricks you use to make sure your clients are eating for a healthy heart? Have resources to help manage stress? Have any exercise tips that work for those who are aging or infirm? Please share them with us on our Facebook page. And enjoy this Valentine's Day, knowing that you are adding some sweetness and love by helping those who receive care at home have a healthier and happier time. Happy (heart-healthy) Valentine's Day!