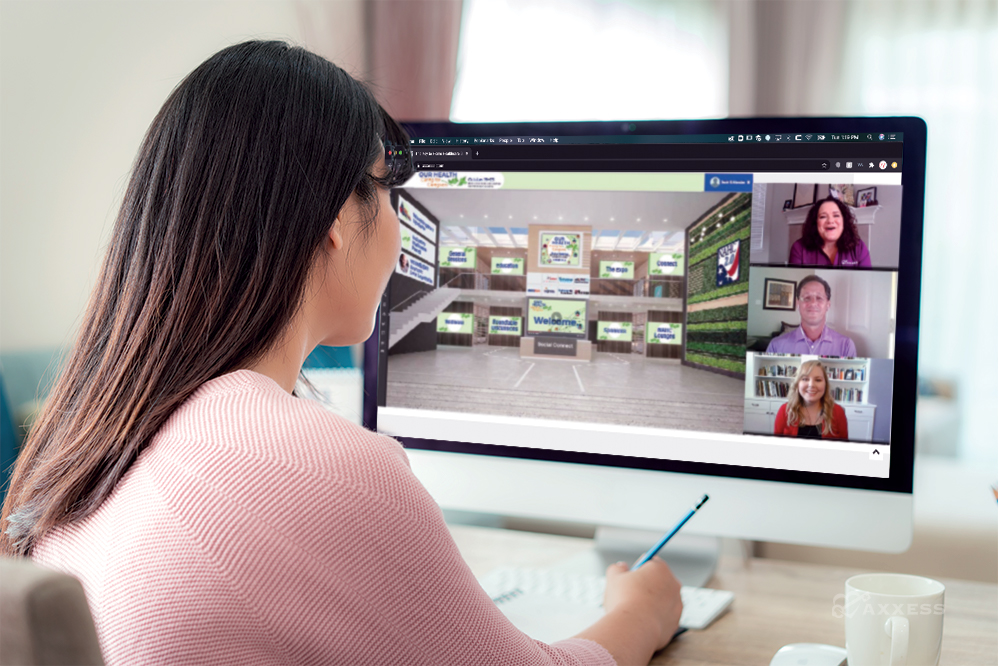 To get the most return on investment for any conference, it's important to take 15 to 20 minutes to plan ahead. With social distancing guidelines currently halting in-person events, preparing for an online event is essential because once the event starts there will be little time to stop and think about what to do next.
The month of October is full of in-home care virtual conferences that will feature insights and educational opportunities:
Attending a virtual conference is a new experience for many people. Here are five steps to get the most out of an event.
1. Set a goal of what you want to get out of the conference.
Approach this like any other important annual professional event by considering what you want to achieve and that will help you formulate a route to get there. Maybe you want to network? Maybe education is top of mind? Is this your chance to meet with various partners and vendors? Decide before you attend.
2. Prioritize sessions for your daily schedule.
Think of your professional goals. Maybe you want to explore new topics? Learning about different industry areas may help you think about trends, regulations and business segments from a new perspective. Or maybe you want to focus on a specific area to hone your expertise or work toward specific continuing education credits?
The conference sessions are posted beforehand, making a schedule easy to create.
Print the list of sessions or download the event app. Review speakers and short summaries, selecting or highlighting the ones of greatest interest. Some conferences allow you to "favorite" specific sessions within their event app, and the schedule is saved on your phone. Alternatively, if there isn't an app, add the schedule of sessions to your work calendar and include the link information on how to join the session for quick, easy access.
If you have any questions leading up to the conference, write them down. When you join related sessions or expert conversations, you can type those questions in the chat early in the session so panelists can be sure to get to your questions. If your coworkers are attending, be sure to connect and see what sessions people are attending so that there is less overlap. Splitting up the sessions will enable your team to cover more topics and share notes afterward. Try to download any session slides available beforehand so you can easily take notes on the slides during the event. Staying organized by writing headlines, starring important ideas and placing assets in their own folders with your notes during the event will make sharing much easier after the event.
3. Create a vendor list and plan for exploring the online expo hall.
Are you seeking new potential partners? Looking through the list and ranking vendors by importance will help you focus on getting to the virtual booths you want to learn more from in the short amount of time. For your top vendors, write down a few questions before the event that you would like to address with each of them to ensure you get replies to your key questions while making the best use of your time. Many conference booths offer scheduled time to talk, so be sure to schedule a time that works best based on your planned conference schedule. Be sure to get to your preferred vendor booths early to schedule specific meeting times if you want a one-on-one with any of the exhibitors and sponsors. When the expo hall opens, you will generally be able to search and browse vendor booths which will have informational videos, downloadable resources, raffles and virtual chat features.
4. Prepare to interact and network.
A conference is a perfect opportunity to meet peers, prospects, clients, potential hires and experts, so don't let the virtual atmosphere stop you from meeting people. Reach out to industry contacts to see if they will be attending and if they want to have a virtual lunch with you, visit expo booths at the same time or attend some sessions together.
If there are potential clients, partners, exhibitors or investors attending who you want to meet with, schedule time during or after the conference to connect. Wearing a nametag and dressing up is a great practice because you never know who you will end up meeting and when you may want to have a video chat. Write down the name, title and company of each person you meet, along with relevant details to help you remember your new contacts. Since you can't exchange business cards, send a LinkedIn request or email after the event to connect. Having a saved folder handy with demo materials or links related to your business will allow you to pull these items to quickly draft emails after the event to follow up on meetings.
5. Take care of yourself and have fun!
Set an out-of-office reply and block off your calendar during the conference time. Try to wrap up loose ends or transfer work early to limit the amount of time spent working during the event. Remove distractions in your home and ensure that you have a quiet space prepared before the day comes. Install and test any software needed for viewing the event on at least two devices in case one goes down. Make sure you also have a notebook and pen ready. For the best viewing experience, we recommend that people hard-wire plug into their internet. Keep any device chargers nearby. Grab a notebook and pen or install an organizing notes app like Evernote to take notes on your device. Don't forget to keep a glass of water nearby and include breaks and lunch in your schedule.
Finally, don't forget to share your fun moments and experiences on social media. Follow the organizers' social pages to see what's happening around the event like any exciting raffle opportunities. Take a photo or screenshot of yourself attending the conference to share on social media using the event hashtag. If you interact with our team, be sure to mention @Axxess or #AxxessEverywhere, as we would love to hear about your experience through social media!